Back in July 2016 I wrote about 10 sex toys for men that simulate oral sex. That post was really well received and so deserved a follow-up. This time though, I'm looking at 10 of the best sex toys for men that simulate anal sex.
I'm sure there are some lucky guys out there that get to have anal sex on demand. But back in the real world most of us would consider ourselves extremely lucky if our partner is willing to part their cheeks once in their lifetime, let alone once a month, or more.

That puts us men in a difficult position. If you absolutely must have anal sex and your partner is not quite as willing as you would like, then as far as I see it, you have three options. Well four, but the fourth would be going without forever, and I think you'll agree that option sucks.
Let's have a look at our three options:
keep asking, hoping that your partner caves in to our persistent demands
visit a lady of the night, and pray your partner never finds out
accept that your partner isn't quite into it as much as you, and buy yourself a sex toy to satisfy your needs
Of course, this being a site about the joys of men's sex toys, I'd imagine that you, like I, are down with option three.
It would be remiss of me to say that simply using a toy to simulate anal sex is going to provide you with the same satisfaction that you would get from anal with a real person. But as you're about to see, there are sex toys available across a wide range of price points, meaning if you can spend a little more, you can achieve a higher level of realism.
I also need to mention that with toys it's not only much more hygienic, but less complicated and there are a great deal fewer chances of any 'accidents' occurring!
The Big List of Anal Sex Simulators
Before we jump into the reviewing each of these anal simulating sex toys, here are some helpful tips to know before buying a anal sex toy.
Helpful Tips For Simulating Anal Sex With Toys
My toy smells!
Unfortunately the scent on a new sex toy is unavoidable by-product of the manufacturing process, and the chemicals involved in producing the lifelike skin that we enjoy so much.
After a few washes with soap and water, the new smell should have disappeared or be almost indistinguishable. However, the skin will always retain a funny smell. But unless you're getting your nose up close and personal with the flesh of your toy, it shouldn't be an issue.
My toy slips around on whatever surface I am using, how can I make it stick?
The best solution to this problem that I have found is to place your toy on a clean towel.
The downside to this is that the underside can get covered in towel fluff. Though you should be giving your toys a good clean after use, so this doesn't make too big of an issue.
Of course, you are most likely going to have to use one or both hands to stop your toy from moving about when you get too vigorous, so keep that in mind.
Keeping a towel underneath has the added benefit of catching any loose liquids, as many of the bigger toys have a hole in the bottom to for cleaning purposes.
How will I know if the entrance will be too tight for me?
Unless you were very well endowed, chances are you should be fine. Remember the majority of these toys are made for the average American, which if this map is anything to go by, means you should be fine. If you are from Ecuador, you may encounter a few problems.
However, some toys are just ridiculously tight so the first thing to do is to make sure that the one you're buying won't be uncomfortable.
To find out which are too tight be sure to read my reviews below, and also the reviews from other customers on the links provided. If you can't find other customer reviews, and you aren't willing to trust mine, then I suggest choosing a different toy, one that does have reviews you trust.
With all that said let's get on with the show.
The Toys
Here are 8 of the most inviting Anal Sex Simulators for men:
1. Riley Reid Anal Euphoria Fleshlight Girls Fleshlight
Beyond changing careers from whatever mundane (at least, by comparison) thing it is you do right now to Big Shot Male Pornstar, your chances of getting inside Riley Reid's knickers are fairly low.
But the good news is:
You can get between Riley Reid's legs – in a manner of speaking – thanks to her Fleshlight. And, once in her knickers you can take her up the arse. Or plump for her pussy, it's your call.
Her pussy and arse hole have been through Fleshlight's thorough and intricate body casting process to create a life-like replica of her most famous assets for your personal pleasure.
I have rather extensively covered the Fleshlight range elsewhere on this site already. So rather than focus on everything that is great about Fleshlights generally, I'm going to talk exclusively about the different types of inserts that Fleshlight offer to simulate anal sex.
Fleshlight Inserts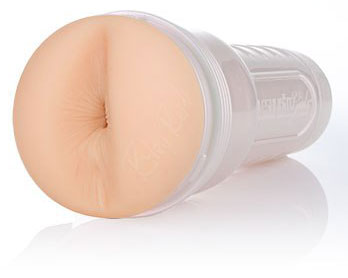 For those of you who are new to all of this I better quickly cover just what I mean by a Fleshlight insert.
The Fleshlight is a play on the word flashlight, with a skin-like arse, mouth, or pussy 'opening' contained within a hard outer shell that looks somewhat like a very chunky torch (or flashlight as our friends across the pond would call it).
When I talk about an insert, I'm referring to that skin-like sleeve that those of us who have used a Fleshlight before enjoy putting our dicks in so very much.
My biggest criticism of Fleshlight is that there are so many different inserts on offer these days that it can be quite difficult to know where to start. As I say, I'm only going to touch on (oo-err) those inserts designed to simulate anal. But there really is an insert for everybody, so if you would prefer a blow job or normal vanilla sex then click here to read a more in-depth review of the Fleshlight and its inserts in general.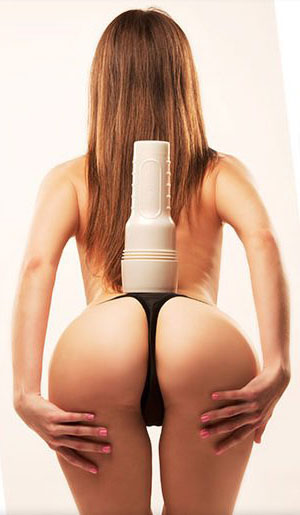 Anal sex is probably not for everybody, but I guess if you're reading this far then you are the kind of guy who can think of nothing better than plunging deep inside your partners arse hole. Part of the thrill is that this hole is so forbidden and taboo, just the sight of which is enough to get us anal connoisseurs going.
This fact hasn't passed by the design boffins at Fleshlight HQ.
They have painstakingly taken molds of some of the biggest names in adult entertainment (Jenna Haze, Stoya, Lisa Ann, Tera Patrick, to name butt a few) and created super realistic recreations for us to enjoy.
When the Fleshlight Girls range was first introduced it was only the outside that was different – the unique moulding of each porn star was the big attraction. As times have progressed, now the Fleshlight Girls range have a whole range of enjoyable inners to explore to match the selection of individual exteriors.
If you're anything like me, you may be wondering what those squiggles are on the outside near the arse hole. It is the girl's signature. Why they thought that having Riley Reid and co. sign their own arse hole is beyond me, but they did, and they have.
What does it feel like inside Riley Reid's Arse?
Well if you have plumped for the Fleshlight Girls Anal Euphoria insert, you'll be happy to know that this is considered one of Fleshlight's most enjoyable anal sex simulator sleeves.

The euphoria anal sleeve consists of three "chambers", which get progressively tighter as you are drawn inside. The three sections / chambers are loosely based on the muscles inside a real ass. The aim here is not for a scientific replica of a colon, rather for maximum fun and pleasure. And that's fine by me.
I always set out to take it slow when first playing with a new Fleshlight, but always end up going faster than planned.
What I had expected – from the pictures – was to find the third and final chamber a little too tight. What I found when actually using the toy was that I didn't reach all the way to the end (it's 9 inches long) and the entrance to the final chamber was extremely stimulating and just the perfect tightness around the tip of my cock. Pushing in as far as I could go was an absolute treat.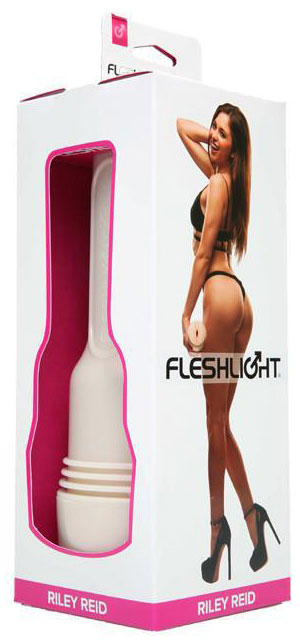 As this insert simulates anal sex you may be expecting it to be super tight. I expected it to be tighter, but I'm also thankful that it wasn't having tried some of the older super tight inserts which were borderline uncomfortable.
There are a mixture of both tight and wider sections. The initial push inside does – and should – feel tight. This is anal simulation, after all.
Once inside, the entrance to each "chamber" is wide, followed by a couple of inches of tighter notched and ribbed excitement, then again, the wider entrance to the next chamber, which this time is a bit deeper and tighter. It's honestly thrilling, and after use I could see why they called this insert Euphoria.
I'd say the skin on the Euphoria sleeve is the softest I have ever experienced when using a Fleshlight, even softer than the Jenna Haze Swallow Fleshlight which I adore.
One of my biggest gripes with any sex toy, especially the more detailed ones, is that once you're done it can be a real pain to clean some of the more complicated inserts, as the water rushing through just doesn't seem to get into every nook and cranny.
I found the notches and internal ribs a bit tricky to clean. If you've ever used a Fleshlight before you'll know you can unscrew the bottom cap (the batteries end, on a flashlight), and the sleeve itself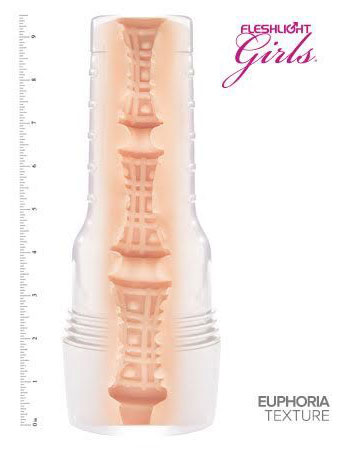 is open at both ends. I use this feature to run a warm tap right through the sleeve whilst washing with my fingers. Cleaning the middle chamber was trickiest, and required access from both ends to ensure the insert was completely cleaned after use.
If you've never tried anal before there is a chance the hype you have built up in your mind can lead, initially at least, to disappointment when using this sleeve or any other in this list for that matter. Once you push past that and start to enjoy this toy for what it is rather than what you think you're missing out on, I can't imagine any guy ever regretting buying one of these.
You really can't go wrong with a Fleshlight. They are priced right in that sweet spot where you instinctively know you're getting a quality product without overpaying. Also most guys these days have heard of the Fleshlight which is usually a good sign that plenty of other people are using and enjoying them, even if they would never admit to it in public.
The Good:
It's Riley Reid!
If you prefer another big name pornstar, there's loads of them available
Not painfully tight, just about right
Smooth and soft skin
Great quality and value
Easy to hide
The Bad:
Only the ass – some other toys here have the pussy included too
The middle chamber was tricky to clean
White Fleshlight casing is harder to conceal than the standard black
The Summary:
I love it. It's not just because it's Riley's ass (or pussy if you prefer) that I get to fuck, but because the insert is high quality, the case is relatively discreet and easy to hide, and as even most women know about Fleshlights these days, you're not going to cause too much controversy if she finds it.
Fleshlight – they really are the rampant rabbit for guys.
What's it cost, and where can I buy it?:
Pretty much any online sex toy shop should be stocking a Fleshlight in some form or other. Here's where I found them in order of cheapest to most expensive: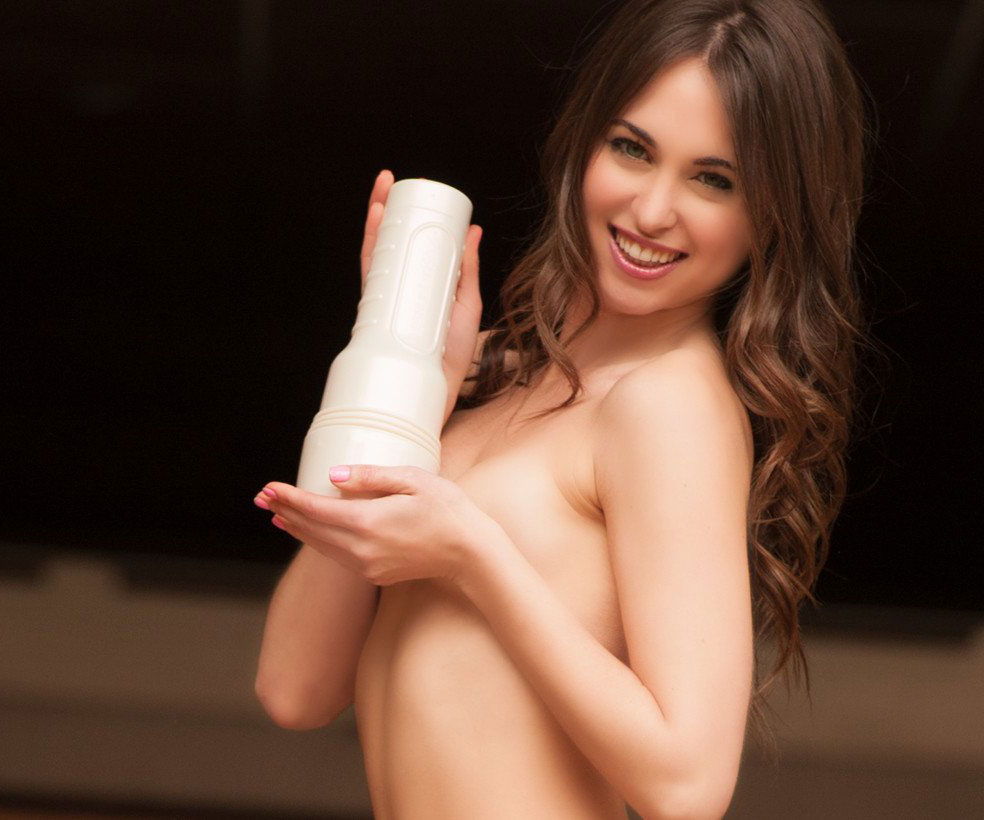 2. CyberSkin Realistic Vibrating Perfect Ass
Disclosure – I bought this toy in 2011 and have the ebony / black girl version which I don't think is on sale any more. The white girl version is the same, and as far as I can tell, this product has not been updated since I purchased it, but please be aware my review may be slightly different from the current product. 
From the Fleshlight which I believe as the toy for every man, to the CyberSkin Realistic Vibrating Perfect Ass, which is definitely a touch more niche.
Right away, there are two main points I need to address:
One is price, the other, size.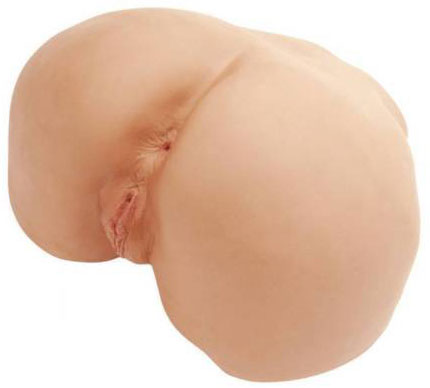 First up, at £250, this toy is expensive. Unbelievably, it's not even the most expensive toy in this round-up. I appreciate that for many, money is tight right now, so dropping £250 on anything, let alone a toy to simulate anal sex, won't be on the cards for everyone.
I've not covered everything I want to say regarding the price at this point, but before I come back to it, I do need to talk about the size.
As this toy's name alludes to, we are aiming from realism here. This toy is a full-size replica of a woman's ass and pussy. This is great when you want to fuck it, but not so great when you need to store it between uses. If you have a partner with prying eyes, keeping this toy hidden can be challenging.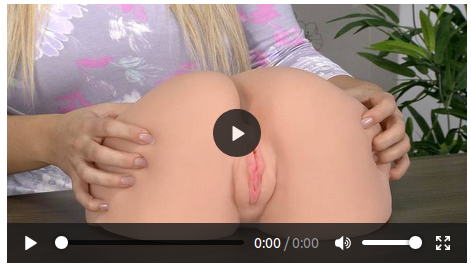 As a side note I recently saw this toy on the top shelf of my local bricks and mortar sex shop. It had one of those neon orange stars with a handwritten price tag of £369! –the exclamation point was added by them, not me. No wonder the box was covered in dust.
It's frustrating because the CyberSkin Realistic Vibrating Perfect Ass is an amazing toy, and if I had had the balls to buy this toy first, I doubt I would have had much need to buy any other one. But trying to convince someone who has never enjoyed a sex toy before to part with this amount of cash purely for their own pleasure is a seriously big ask.
With that in mind, the rest of this mini review is going to assume that you already own a toy and are looking for an upgrade.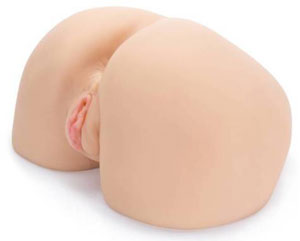 I'm sure that most guys like you and I start off with a Fleshlight, or one of its contemporaries. This is all well and good and those men's sex toys do a fantastic job.
But what if you want more? What if you want to look down and see her pussy, her arse hole, her jiggling arse cheeks, in all their realistic glory?
That's where these full-size anal simulators come into their own. And once you slide inside, all your um'ing and ah'ing about whether it would be worth it evaporates into lust filled bliss.
One thing to mention with the CyberSkin Realistic Vibrating Perfect Ass is that initial penetration of both the vagina and the anus can feel very tight. Obviously you should be using (water based!) lube, and plenty of it, but keep the bottle handy as regular top ups are required.
Thankfully, both entrances do stretch to accommodate you, and this issue does seem to resolve itself with subsequent uses.
Whilst the size and weight can be an issue during storage, it's a major benefit during use. It really feels like you're fucking her doggy style, and you can go from anal to the vaginal and back again at your leisure, with no worries of pain or hygiene issues.
The skin feels so soft, grabbing hold as you thrust tricks your mind into thinking this is the real deal. This said, I fully recommend watching your favourite porno to convince yourself further.
In terms of position, clearly doggy style is preferred, as if you're feeling adventurous you can have her riding you on top, or spun round for reverse cowgirl. This toy is heavy when it's on top of you, not uncomfortably so, but it's unlike pretty much any other toy you're likely to have experienced.
This toy comes with a vibrating bullet which slips in underneath – difficult to turn off and on whilst in use, so you have to decide beforehand. Personally I prefer using it without, as real women do not vibrate during sex, but it's nice to have the option, and using it does vary things up a little.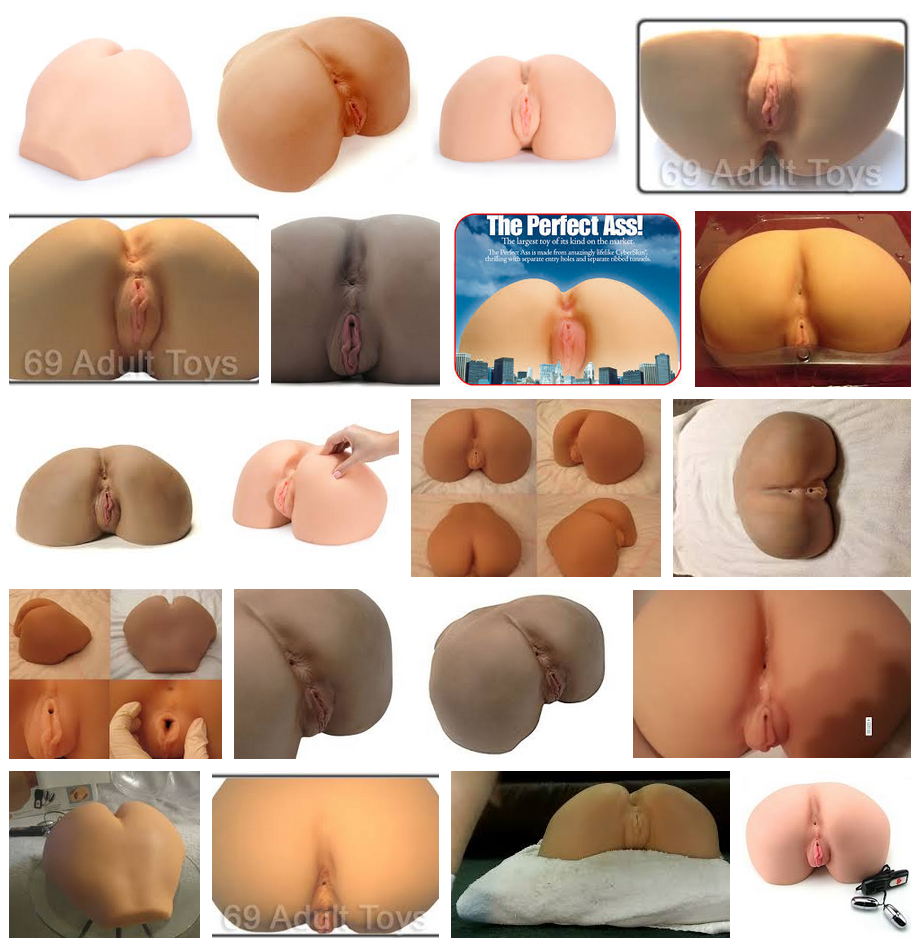 A good tip is to keep a large towel underneath this toy whilst you're using it. This helps with a couple of things – letting your wipe off excess lube from your hands, so you can get a better grip when required, and also to catch any lube or other fluids that drip out of the bottom.
Cleaning is relatively straightforward, as water can run straight through both holes. The entrance is open at both ends. Unlike a Fleshlight which fits into your bathroom sink, you're going to need to use the full bath basin here, and personally I find it easiest to use the shower jet to spray through when cleaning. If you don't have a shower though, keep a clean 2 litre bottle handy, which you can fill full of tap water and then tip in upside down, flushing through the entrances. Again, make sure you are in the bathroom for this – I shouldn't need to tell you this!
As with all of these cyber skin type products, they do seem to collect dust and fluff at an alarming rate. Be sure to give your toy a good rinsing before and after use. Running the toy under warm water prior to use can give the flesh a nice warm feeling too.
This is truly an excellent toy that is clearly not designed for everyone. If you want highly realistic sex on tap, and you understand that by spending a little more, you are getting a completely different experience to Fleshlights and other sleeves, then I strong recommend the CyberSkin Realistic Vibrating Perfect Ass.
The Good:
Life size
Weighty, gives an extra dimension of realism without being uncomfortable
Anal and vaginal sex to choose from – or double dip
Different textures in both holes
Easy to clean for its size
Perfect for big ass fans (watch an Alexis Texas or Brianna Love video when using for super maximus enjoyment mode)
The Bad:
Expensive
Harder to store than a simple sleeve sex toy
Gets dusty, so make sure to clean it before and after use
The Summary:
Yes it's expensive, and yes it's big, but also yes, as a way to simulate anal sex it is fantastic. This is a step above the usual Fleshlight style masturbator sleeves on the market, and it's truthfully not designed for everyone. But for those of us who like to get more realism and excitement from our sex toy experience, this one is second to none.
What's it cost, and where can I buy it?:
£249.99 – Lovehoney are the only stockist I can find, which is no bad thing as Lovehoney are great (12 other real customer reviews to read there too!)
3. Doc Johnson Palm Pal Frosted ULTRASKYN™ Masturbator – Ass
I admit I'm not a massive fan of budget sex toys. I come from the school of thought that you get what you pay for. But in the interests of fairness, and science, I can't skip over the Doc Johnson Palm Pal Frosted ULTRASKYN™ Masturbator (Ass).
That's a heck of a title for a simple anal sex toy.
You'd think that this price, just shy of £13, that you're going to get a basic insert much like those from the early days of Fleshlight. Thankfully things have improved, and increased competition means that toy manufacturers have to try harder.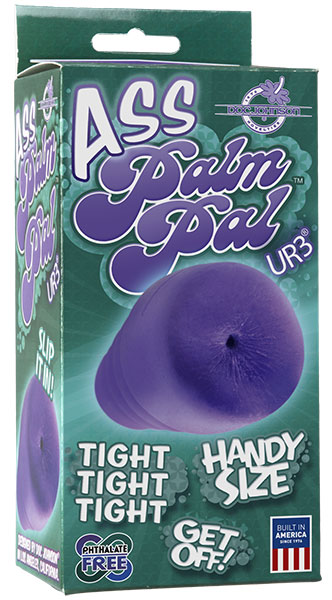 Externally this could be almost anybody's anus, and Doc Johnson doesn't feel inclined to enlighten us on whose back passage this was modelled off.
The fact that this anus is so generic means you can use it whether you're thinking of a woman or a man.
After using some of the more high end toys, such as the Utensil Race Extreme Hip Life Size Realistic Japanese Vagina and Arse with its zero diameter opening, the gaping hole greeting you here looks as though if it were real life, her insides would have dropped out through it.
The opening itself, even though from the pictures I expected it to be big and loose, was in fact very tight. The box itself says "tight, tight, tight" on it, which should give some indication. It's certainly not an unpleasent way to simulate anal sex however, just it does require a little steadying as you push your cock against the opening.
Once inside, it is ribbed, and nice and tight. As ever be sure to use plenty of water-based lube and consider keeping the towel or some wipes handy as this sleeve is open at the both sides, meaning all your liquids simply shoot out the other end.
The texture internally is a ridged design that is enjoyable but basic. On the positive side this does make it very easy to clean, just hold it under a running tap and the water will clean it as it passes through.
Disappointingly, internally this sleeve is only 4.75 inches in length, and I found myself popping out of the top when inserted fully.
Because this sleeve does not have a hard outer casing you need to make sure to keep one hand free of lube to ensure that you can retain your grip. Thankfully the ribbed outer design makes this easier than the typical smooth outers I'm used to from other products.
As this is a hand-held anal sex simulator, you can grip as loosely or as tightly as you require, and twisting as you stroke up and down adds an extra sensation.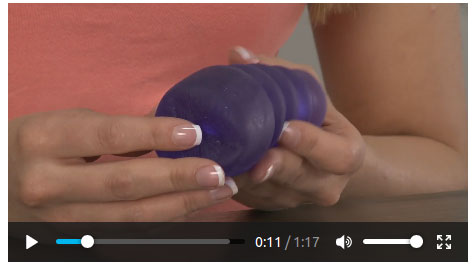 I guess at this price you can't complain too loudly about its lack of realism or internal texture. It's also funny to think some other manufacturers have this price point set for their one use throwaway items. You certainly going to get plenty of use out of this toy and it is a good introduction for those who don't want to spend a great deal of money.
Truthfully, I would say if you can afford to spend a little more to get yourself a Fleshlight. However if you are at all unsure about the idea of an anal sex simulator then for £12.99 you really can't go wrong.
The Good:
Cheap
Better quality than you'd expect for the price
Very easy to clean
Could be anyone's ass you can think of
Handheld so you can grip as hard as you want
The Bad:
Open at both ends, so messy
Not long enough
No outer casing
Smells like a pack of sweets
The Summary:
A really high quality, surprisingly cheap way to simulate anal sex. However, it's frustratingly too short.
What's it cost, and where can I buy it?:
£14.95 – at SexToys.co.uk

£12.99 – at Lovehoney (78 customer reviews to read)
4. Fun Zone Double Pumped Iron Anal and Vagina Stroker
I'm all for toys that give you two for the price of one as is the case with this anal and pussy stroker from Fun Zone.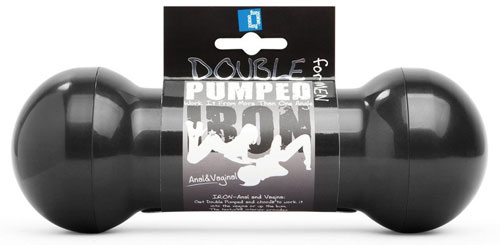 This toy comes in a hard plastic outer casing very similar to that of the Fleshlight, with the notable difference that the insert/sleeve here has orifices at both sides rather than at just one.
The outer shell / casing is designed to look – loosely – like a dumbbell. Hence the name – double pumped iron.

Given a cursory glance this toy may pass for a weight. It would be a small weight though – very similar to a lady weight, which might attract more attention than it would put off.
Once you pop the ends of both sides you're greeted by a set of tinted flesh toned lips, slightly parted and waiting just for you, and at the other side, a puckered arse hole that looks passably realistic and inviting.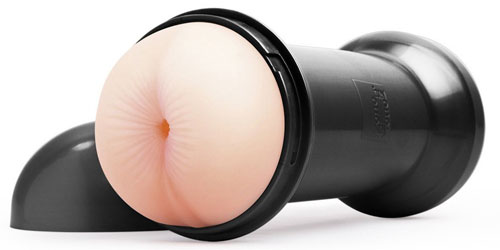 I think the most surprising discovery I made whilst using this anal sex simulator was that I was expecting to find myself popping out of the opposite side to whichever one I was enjoying. That wasn't the case at all. It's pretty much the same size as a Fleshlight and was able to accommodate me just fine.
Certainly not what I expected at £29.99.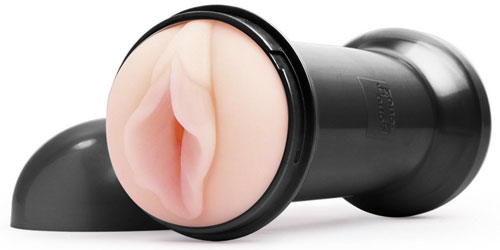 As you push past those pink tinged lips you're greeted by tiny nodules that rub against the head of your penis. Sliding further in, you reach a ribbed section that I liked to imagine was the back of her throat.
Flipping the toy around, this time the anus entrance is tighter, though not particularly painfully so. Be sure to apply a good amount of lubricant. Once you slip inside, this time everything is reversed and first comes the ribbed section and as you delve deeper, you reach those tiny nodules.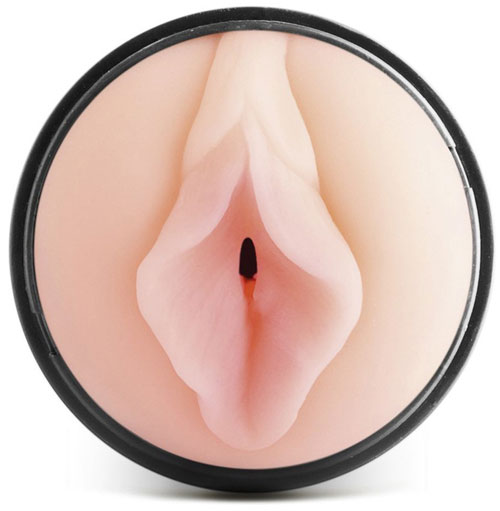 There is a downside to this toy. Much like with a Fleshlight, you can increase the suction by keeping one side – the side you're not currently enjoying – with its cap / lid on.
However, in keeping the cap on, a "slopping" sound is made with each thrust. You can stop this by removing the cap on the other side, but then that reduces the suction sensation. This isn't a big deal if you have an empty house, are alone in a hotel room, or are with your partner. But using solo, discreetly is tricky.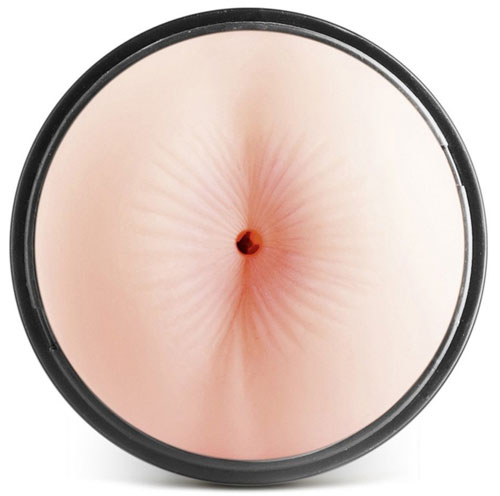 That said, I actually really liked this toy. And believe me for the price I wasn't expecting much. Even if you're not into alternating between pussy and simulating anal sex, you can ignore the shape of the entrances and just enjoy the sensations on your shaft. This is easier to do if you have some visual stimulation to help you along, so be sure to keep one hand free of lube not only to grip the tube, but also to find your favourite website or video.
Cleaning is straightforward, much like a Fleshlight you simply remove the sleeve from its tube and hold under a tap allowing a steady stream of water to run through it.
The Good:
Excellent value
Has a hard outer casing, like a Fleshlight
Anal and vaginal – the best of both worlds
A good size – you don't slide out of the other end
Easy to clean
Stylish outer design looks a bit like a plastic dumbbell – I liked it.
The Bad:
The sleeves inner texture isn't super detailed
The sleeve moves about a bit inside when you thrust
Keep both ends open if you are going to use them, as unscrewing with slippy lubed hands is a pain
The Summary:
An excellent, low cost entry point to simulate anal sex. Comparable to a Fleshlight in many ways, but not quite as detailed in the inner texture. There is a vagina and oral version available, but that one comes in a shiny silver case which is not to my taste.
What's it cost, and where can I buy it?:
£29.99 – at Lovehoney (50 more customer reviews)
5. Doc Johnson Balls Deep Extra Long Anal Simulator
I've reviewed the Doc Johnson Palm Pal already, and it's cheaper. Is it worth covering another offering from the same manufacturer? Is there any difference apart from the price?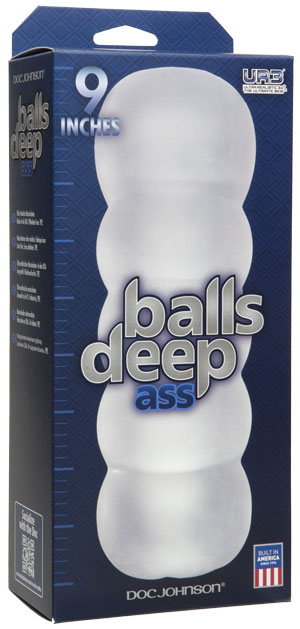 Well, yes, there is.
There's a pretty big difference here, and that's the size.
The palm pal is just 4.75 inches in length.
By comparison the Balls Deep is 9 inches long.
It's enough to take the vast majority of us, and that's not all.
It's close ended, which is not only great for catching all the spillage, but providing a much greater suction than any open ended toy can provide. The difference is noticeable, and if all you have tried so far are open ended toys then this type are worth trying for sure.
The whole toy is made from Doc Johnson's ULTRASKYN. This is the exact same incredibly lifelike feel that you get on the Palm Pal. If you've owned previous Doc Johnson toys, they used to use UR3. This ULTRASKYN is an improvement on this, the extra benefits being the extra elasticity of the skin. This should make for a much longer lasting toy.
Like the Palm Pal, the colour here is not made to mimic flesh tones. An opaque white colour is the only available option, and being semi see-through, it means you can watch yourself sliding in and out, if this is your thing.
Size-wise, this toy is big.
It will swallow you, likely whole.
The idea is that you can push right up to your balls. Balls-deep anal sex simulation, what's not to like?

Internally this toy has opted for the realistic, ridged / notched colon effect. I think it works. It's not complicated, or trying to be fancy, but it is tight enough without being too tight, and has a great overall sensation.
A personal gripe – there is no case. This not only makes it harder to hide, but also the skin tends to accumulate fluff like your belly button.
Without a case the toy can flop about, and for the price and size I expected it to be more thicker, or more rigid somehow. I'm not sure this could be done without a case.
Where this toy let me down was in the finish.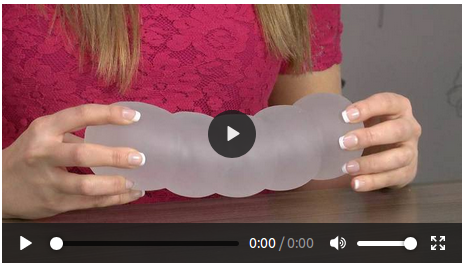 I had read the reviews at Lovehoney before purchasing which recommend not cumming in the toy.
Why not?
Well, it makes for a difficult cleaning operation.
Being closed ended is less popular because cleaning is harder. The common solution – as per the Fleshlight range, etc – is to have a case with a screw-cap on the bottom / other side. This gives an element of the best of both worlds. Suction will never be as tight as with a true close ended toy, but you can cum in your toy and still clean up easily.
With a toy, I don't want to practice the withdrawal method.
I want to go at it – balls deep, as the product name suggests – and I want to damn well enjoy every second the process. Especially the finish.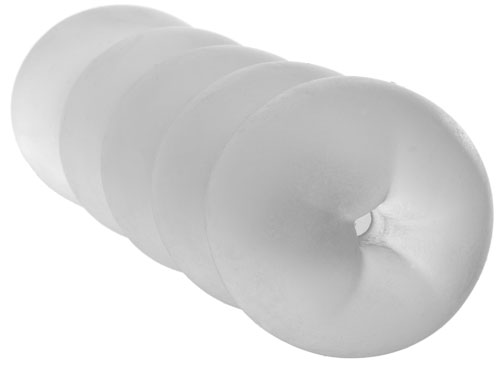 Cleaning isn't overly complicated. It just takes time, and patience. And lots of water.
Running the toy under a warm tap is the best way I found. You have to go slowly as otherwise the splash back is real.
Provided in box is a single sachet of the Doc Johnson Renewal Powder. I have an existing tub of Fleshlight renewal power, which is basically exactly the same thing. It's just corn starch.
The Good:
Twice the length of the Palm Pal
Suction is way better as it's a closed toy
Simple, and fun
Big, and weighty
Can really pound it hard – go balls deep!
The Bad:
It is not a visually appealing toy
No case, so picks up fluff
Not as easy to clean as an open ended toy
The Summary:
I really enjoy this toy, up until the finish. The Palm Pal offers the same awesome skin feel, most of the same sensations, is easier to clean, and cheaper.
What's it cost, and where can I buy it?:
£34.99 at Lovehoney – the only stockist I could find, also has 8 more real customer reviews worth reading before making a purchase
6. Utensil Race Extreme Hip Life Size Realistic Japanese Vagina and Arse
For those of you who haven't seen or heard of Utensil Race before let me introduce you: They are a Japanese men's sex toy manufacturer that offer highly realistic vagina and arse simulators.
Perhaps the biggest difference between the offerings from Utensil Race and their competitors is the zero diameter opening.
You can see from other toys in this list that the entrance holes are always open. This can not only look unappealing, but it's also not very realistic. Utensil Race addressed this issue and created a life like set of lips and arse hole that stretch around your shaft as you push between them, and as you withdraw the lips reseal just like in real life.
It's fantastic.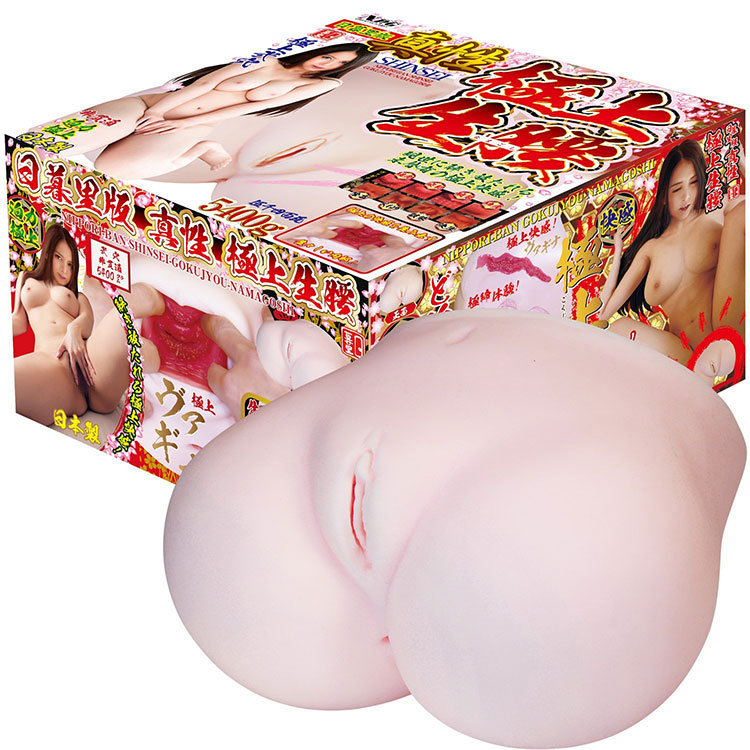 Once inside, both entrances are noticeably different and highly realistic in terms of both texture and sensation on your cock. Just take a look at this cutaway cross-section to see what I mean.
For the price I have a few complaints with the Utensil Race Extreme Hip. The size of this toy can make it tricky to hide, and it picks up dust like a magnet around iron filings. Also, it's a little jiggly.
Perhaps the biggest issue I have is in the tearing. From only a small number of uses (after the fourth or fifth use) I noticed that both entrances were splitting / tearing. This has no impact on the enjoyment of the toy, but visually and with cleaning, this is something to be conscious of. And for the price, was not something I was expected.
There are a bunch of really good things about this toy. The two entrances look and feel real. When my Extreme Hip arrived, just looking at this toy got me hard. Removing it from the box, the weight felt reassuring, and once you've got it somewhere steady you can really fuck it hard.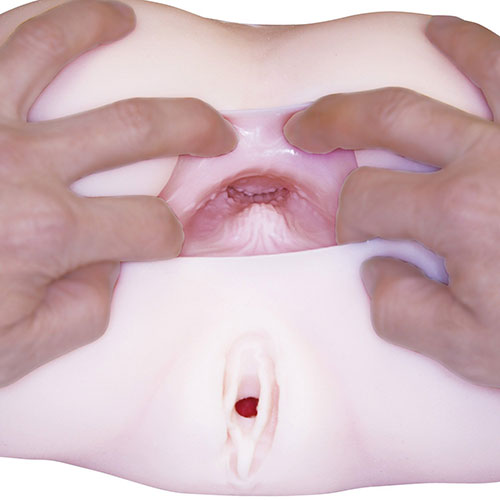 Personally I've really gotten into Japanese porn after playing with this toy. I still don't know who the woman is on the box, but she is definitely to my taste. I love how so many of the Japanese videos go for real women, curvy and natural. I'm so disillusioned with the typical American pornstar with her fake moans that by this point in my life, I need a new thrill. Jap girls, for me, are currently where it's at.
If you want the more realistic vagina and anal experience and you don't want to go down the route of buying (or renting) a full-sized doll, nor do you wish to have complete torso complete with breasts (scroll down or click through to see what I'm talking about!), then I heartily recommend you check out the Utensil Race Extreme Hip.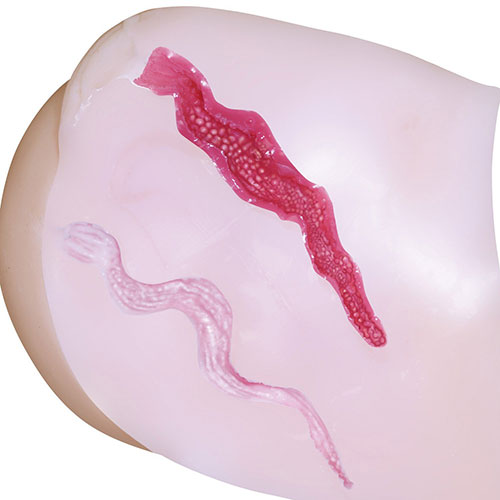 Yes it's expensive, but I've really enjoyed mine.
The Good:
Feels amazing – very wobbly yet sufficiently realistic
Two very different, very enjoyable holes
Zero diameter opening stretches around you like the real thing
The Bad:
Expensive
Very jiggly flesh may be off putting for some
Prone to tearing (visually distracting, not detrimental to the sex experience)
The Summary:
Very enjoyable.
I love Race Utensil as a producer of quality men's sex toys. I'm sure this won't appeal to everyone reading, but if you are like me, you will know just by looking at this toy that will enjoy it immensely. Simply put, some of the best fun a guy can have when he has an empty house and is feeling horny.
What's it cost, and where can I buy it?:
£349.99 at Lovehoney – 14 customer reviews, avg 4/5 stars
7. Pipedream Extreme Fuck Me Silly 2 Mega Masturbator
I am including both this and the Pipedream Extreme PAWG / Phat Ass White Girl (below) in this round-up because they are both on the list of extremely inviting looking anal simulators. I'm sure most guys would love a ride on either of these toys, if not just to satisfy your curiosity.
But I want to be perfectly clear: I have used neither.
I'm going to be completely honest with you here; the reason for this is simple: Cost.
This is not to say that I have never seen these products in all their Fanta-flesh glory.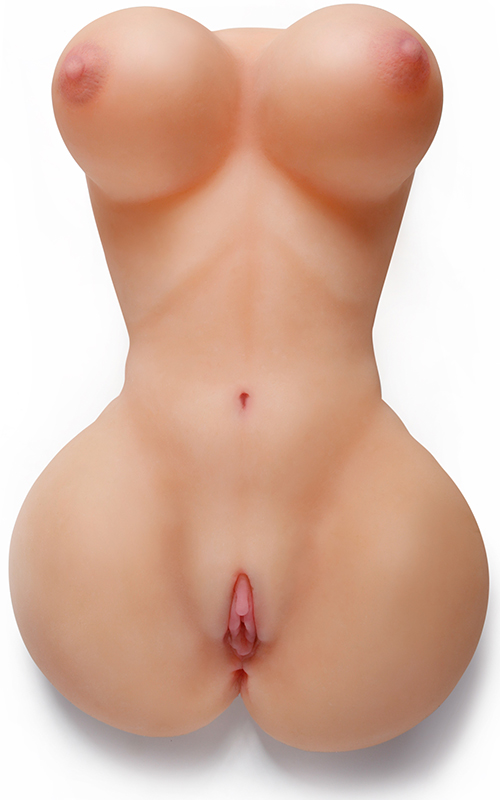 I first clapped eyes on both of these Pipedream Extreme anal toys at an adult trade show in London about two and half years ago now.
The Fuck Me Silly is maybe a toy you already know about. Certainly it's one of the most successful of the Pipedream Extreme line-up, with 3 different versions and both black and white skin tones available.
It's also extremely niche.
Not every man wants a pussy, arse AND tits toy laying around their house.
But for those who do – this one is something else.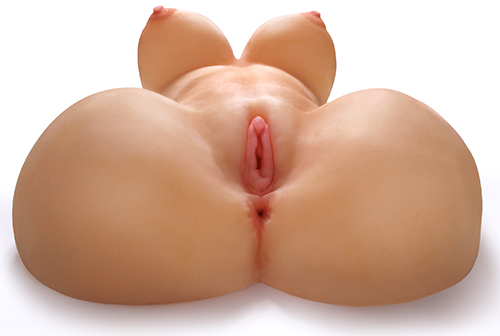 36DD tits are just the starting point. Grab, fondle, squeeze and tease her nipples. Remember, I had to do this at a trade show. You're going to get the luxury of doing this for as long as you like.
Inside, both pussy and arse felt very convincing to me. There's definietely less detail internally than with a Fleshlight, but the overall sensation is more realistic.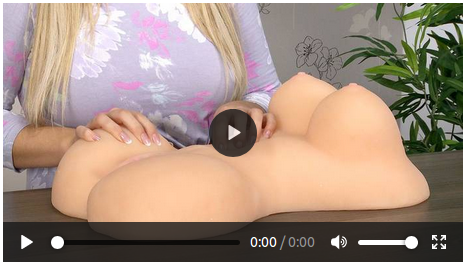 I really liked how the ass looked so real. Like a model from a porn photoshoot.
The skin feeling is made from the wonderful Fanta-Flesh which is a very lifelike approximation of the feeling of real skin. You'll know what I mean the second you touch this stuff. It's awesome.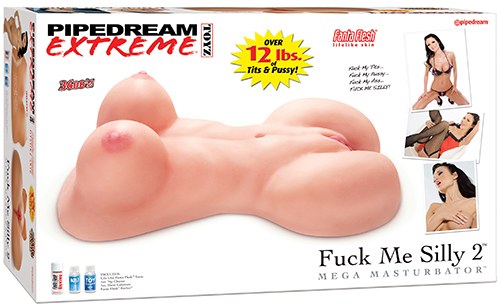 From speaking with the trade show rep I found out that having listened to customer feedback from the original Fuck Me Silly Mega Masturbator, Pipedream got their act together and designed the Fuck Me Silly 2 to have a drainage hole underneath to assist in clean-up. So with this one is just a case of running it under a tap allowing the water to flush through and clean as it goes.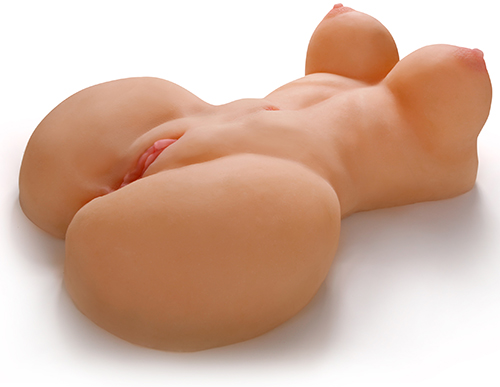 The Pipedream Extreme range have some of the most interesting looking men's sex toys available today. They go the extra distance to replicate various fetishes and fantasies, from feet, to big bubble butts, to fake tits. There really is something to satisfy your every kink.
The Good:
Pretty much full / life size
Tits, if that's your thing
Nice and weighty
Just looking at this should get your engine running – it will do in the full Fanta-Flesh, believe me
The Bad:
The Summary:
If you can afford this toy, I would be amazed if you're left disappointed.
What's it cost, and where can I buy it?:
8. Pipedream Extreme Phat Ass Vibrating Vagina and Arse Masturbator
For the benefit of those who skipped the review above, allow me to reiterate: I have not used either of the Pipedream Extreme toys on show here.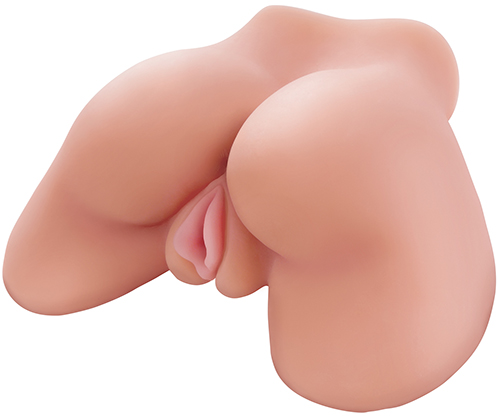 Much cheaper than the Pipedream Extreme Fuck Me Silly Vagina and Ass Male Masturbator is the Extreme Phat Ass, or as Pipedream themselves describe this toy: the Phat Ass White Girl.
Yep, you've very likely heard of the PAWG (I prefer when the P stands for Pretty) and now you can buy the toy. The sex toy industry is nothing if not up to date with their innovative naming.
Whilst with the toy above you get a simulation of a full body with fake 36DD titties and a life sized ass and pussy, with the Phat Ass White Girl sex toy you get a little less flesh for your cash.
Here you're only getting her rear half.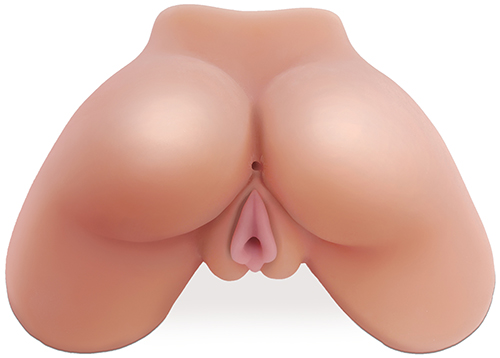 This toy lies flat against a surface – a table, or something equally smooth. I wouldn't recommend putting a toy like this on your bed, not even with a towel, as the skin (Fanta Flesh) has a tendency to pick up dust / lint like crazy. Washing this fluff off is a ball ache, so if at all possible, just avoid getting it on there in the first place.
The detail here is less refined also. The pussy lips look a little basic, and the simulated anal entrance isn't quite as refined as others in this round up.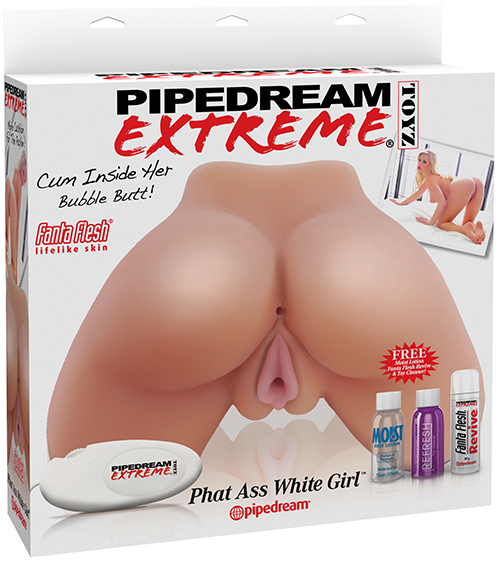 That said, when led down in front of you, this is still an inviting looking toy. Definitely not a bad way to simulate anal sex. The Fanta Flesh is really good. You can slap the cheeks like you would a real arse, and they wobble and then settle convincingly.
There are both black and white versions of this toy manufactured – fun whatever colour skin you like getting in.
One nice touch, and one that too many men's sex toy manufacturers scrimp on, is the inclusion of three different extras in the box:
Moist body lotion (for the toy, not for you :))
Toy cleaning liquid
Fanta Flesh Revive powder
That can't be bad, right? Most products expect you to buy all this stuff separately which adds up. Or you skip buying any and end up with a sticky, unpleasant smelling thing that's best put in the bin.
I guess it depends on whether you prefer a nice big juicy ass, or you are happier with a fake boobed porn star body. Personally I prefer the arse.
Both of these toys are very tight for the first few uses so be sure to use plenty of lube. The good news is as they stretch with use they become a lot more comfortable.
The Good:
The Fanta Flesh is awesome

Both pussy and arse holes available for fun
The vibrating bullet adds an extra sensation
The Bad:
Only one positional possibility – doggy

The pussy feels like the main event, with the ass playing second fiddle
… and it's not easy to hide

The Summary:
Much like the previous masturbator from Pipedream Extreme, this is a speciality item that won't be for everyone.
For those who do want two holes and a nice arse, then a PAWG is worth a look.
What's it cost, and where can I buy it?:
Just Tell Me The Best Way To Simulate Anal Sex!
Not a fan of reading eh? Well, not to worry, here is a very quick tour of my favourite anal sex toy simulators.