Just here to buy? Click here to find the cheapest online store. Otherwise, keep reading as we dive deep inside the Utensil Race Extreme Hip.
Every sex toy for men that I have reviewed up until now has been in the sub £100 bracket.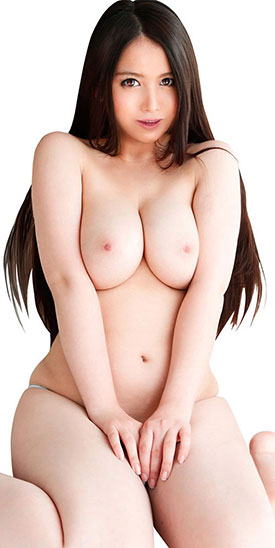 There is a good reason for this. I have been on a one-man mission to convince every reader of this site that owning a men's sex toy in 2018 is essential.
But it would take a daring man indeed – and a rich one – to think about spending £350+ on a sex toy, if he had never owned one before.
However:
For those of us who have owned one or more men's sex toys, chances are you are here because you are ready for a new experience, and you're wondering which one to buy next?
Well, for those of us who fit this category, I would be doing a great disservice if I did not cover the luxury tier.
This isn't going to be for everyone, and I'm not suggesting that if you already own a Fleshlight or a TENGA Flip Hole Masturbator that the next toy you buy should be so expensive.
Far from it.
Instead, you can consider this a look at what's available, should you wish to splash some serious cash on satisfying yourself.
Today, we are taking a look at one of the high end, high price men's sex toys, the Extreme Hip Life Size Realistic Japanese Vagina and Ass by uber-realism simulators, Utensil Race.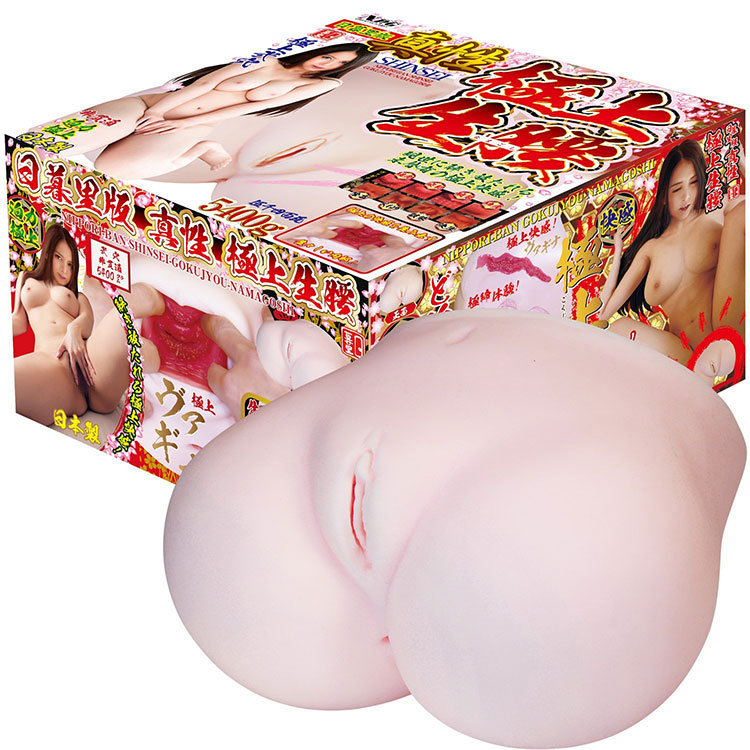 I'm not made of money
The +£200 range is a very interesting place in the men's sex toy market. Until now, you may well have had no idea it even existed. Or maybe you did, but you had written it off as simply the home of the expensive realistic sex dolls.
There are three big players in this arena, and they are:
There is one other toy that comes in around the same price point – and that's the CyberSkin Realistic Vibrating Perfect Ass.
Real Doll is the company behind the realistic, life size sex dolls range and they aren't something I have any experience with, so will simply say – if you can afford it, and you want a full size lady replica then click here and knock yourself out.
For the rest of us, the two biggies are going to be Pipe Dream, and Utensil Race.
Now, a little like the whole Utensil Race / Fleshlight / Tenga Flip Hole argument that I so frequently find myself debating, there are some interesting similarities and differences between Utensil Race and Pipe Dream's offerings.
Utensil Race go for the full on realistic male sex toy approach.
Pipe Dream, on the other hand, go for larger body parts – Utensil Race cover the obligatory pussy and ass, but Pipe Dream have full chest replicas (tits and all), and a combined feet, legs and pussy toy.
It's definitely good to have the choice available.
How realistic is the Utensil Race Extreme Hip Life Size Realistic Japanese Vagina and Ass?
In short: very.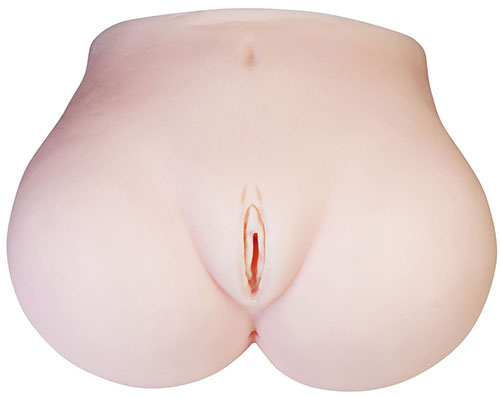 The longer explanation, of course, would have to point out that getting this much anal sex on tap is perhaps not that realistic at all.
Not unless you are a male pornstar. Or just very lucky.
So for guys that don't often – or may never – experience anal sex, then this could be a total Godsend.
But, as far as the anal experience goes, it's good but not perfect.
If anything, the inside of the anal cavity is a little on the small side. But the feelings and sensations when you are inside are nice and tight, and different enough from the front door (sorry to be so crude) to give you the thrills you crave.
Of course, you can slip and slide between the two holes – no real world hygiene problems here.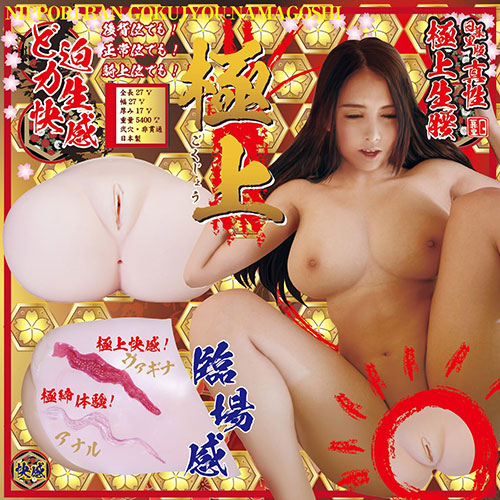 The pussy is where this toy really shines for me.
At 6.5inches, the entrances are deep enough to accommodate all but the biggest of guys, and it stretches so nicely around your shaft. It really looks and feels like the real thing. Much more so than a Fleshlight.
Part of this is down to the rather bizarrely titled 'Zero Diameter Passage'. More on that shortly.
It's refreshingly different to have the extra flesh around the pussy and the hips, and it gives you something to grab hold of – and thrust against – giving you the experience of a good few more positions than traditional tube based men's sex toys can achieve.
Personally, I found missionary position to be uncomfortable, but doggystyle and reverse cowgirl (lying on your back with her 'ass' on top you) to be most satisfying.
It's so unlike any other toy – aside from the Pipedream Extreme range – that you will get an amazing orgasm, quite unlike using your hand. It really is very close to the sensations experienced during real intercourse.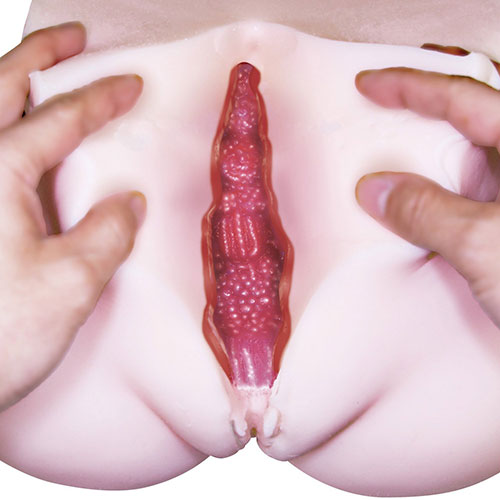 What if I am not into Japanese / Asian girls?
As there is no further mention to Japanese or Asian girls once you have unboxed your Utensil Race Extreme Hip Life Size Realistic Japanese Vagina and Arse toy, you are free to imagine that it's any girl you desire.
A few years back I wasn't into Japanese girls either. I thought their porn was full of weird noises, and I didn't much like the blurring / censorship.
But lately, it's a whole new deal for me.
Japanese porn is different. By Western standards its got so much more tease in there. They don't just jump into the fucking.
American porn in particular is full of scantily clad girls that – within moments of the guy arriving in shot – have stripped stark naked. And sadly, lost a lot of the thrill of the reveal.
By comparison the Japanese market want to see her panties. They love knickers, and what hides beneath isn't given up far too quickly. You're made to wait for it, and when it arrives, it's all the more exciting as a result.
Truthfully though, if you're concerned about it being marketed towards fans of Asian girls (and that's Internet porn Asian, not UK Asian), then don't be. It's simply made in Japan.
Besides, once you slide inside, you won't give it a second thought.
Tell me more about the 'Zero Diameter Passage'
Those ever-diligent Japanese sex toy boffins at Utensil Race HQ sampled over 70,000 vaginas to perfect the opening to the Utensil Race range.
Vagina Sampler – that's a job you rarely see advertised.
Only in Japan, eh?
Anyway. As a result of all this science, the pussy and ass openings on this Utensil Race men's sex toy has what's called a Zero Diameter Opening.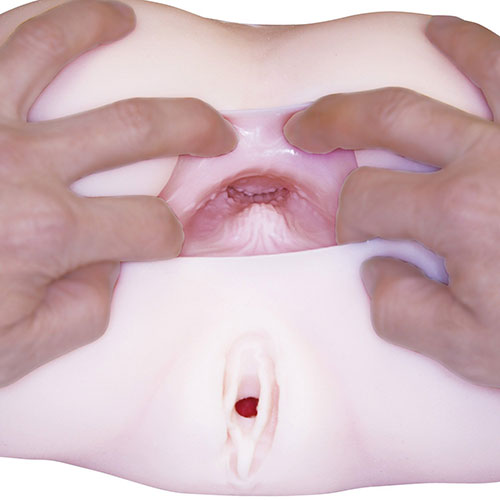 This is a techno-term that simply means an opening that's not permanently open.
If you own a Fleshlight, you will no doubt have noticed that the entry is permanently open, even if just by a little bit. You'll see this on most sex toys aimed at men.
Not so on the Utensil Race Extreme Hip Life Size Realistic Japanese Vagina.
Utensil Race have perfected the art of the super realistic pussy opening, creating a sensation of parting the lips and sliding inside that's really close to the real thing.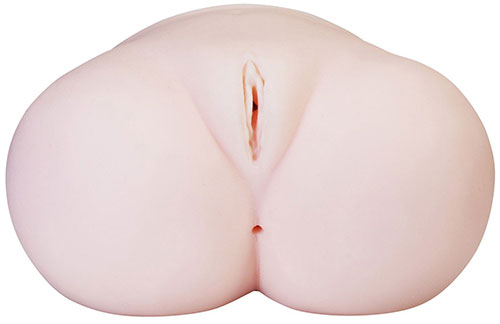 When not in use, the lips are closed, much like in real life. But once you push against them, they gently part, allowing you sublimely pleasurable access. As you slide in, the opening stretches oh-so realistically around your shaft.
Then, as you slide back out, the pussy tightens again, just like in real life. Thus creating one of the most enjoyable realistic sex toy simulations you will ever have experienced.
Lovely.
How heavy is the Extreme Hip?
The Utensil Race Extreme Hip Life Size Realistic Japanese Vagina comes in at a hefty 5Kg.
There are plus and minus points to this.
On the plus side, it feels weigh more (see what I did there) realistic than a Fleshlight or equivalent, simply because there is so much flesh on it. Trust me when I say, the sight of this toy alone is enough to get you going.
Also, one of my major gripes with the Fleshlight range is that because they are so light, they must be secured – whether inside a shoe, rolled up in a towel, pushed between your mattress and the bed, etc – before you can go hands free.
Not so with the Utensil Race Extreme Hip.
With its 5Kg weight, you can pump away and it will barely move. As I mentioned earlier, certain positions lend themselves to this more to this than others.
On the downside, putting the full weight off her on top of you could be a bit much for some.
Personally though, the weight is a big plus point for me.
As the flesh on this toy is so jiggly / wobbly, I've found I have to put the toy down on something for most of the time. A table is a good choice. Holding this toy whilst trying to thrust can feel a bit like fucking a jelly!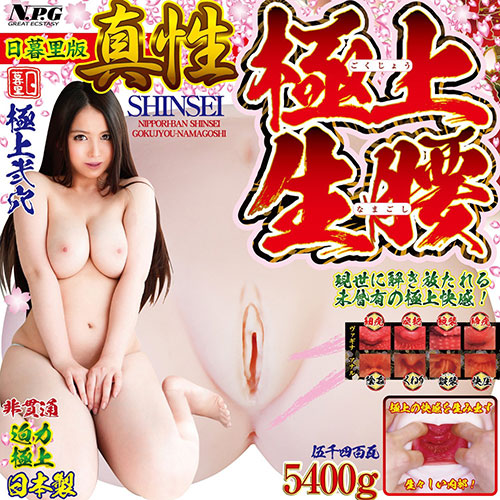 Do I need to use a condom with the Race Utensil Extreme Hip toy?
No.
However, using a condom does make cleaning up after yourself much simpler.
Which leads me nicely on to the next question…
Is the Extreme Hip easy to clean?
Not as easy as I would like, truth be told.
It's not an open ended sex toy – not like the Fleshlight sleeves.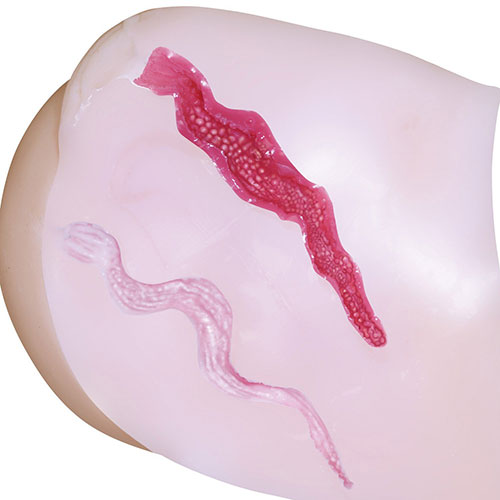 To clean your Utensil Race Extreme Hip properly, you have to have a steady supply of cool water that you can use to flush out the two entrances.
I found using hot water made the skin very sticky. Cold, or cool water works best for me.
I have heard other owners say that because the toy is not 'open' that they find it easier to clean than a Fleshlight. I would disagree with this, but it's possibly down to personal preference.
Getting your hands inside is a little tricky, so cleaning deep down can also be difficult.
One thing I would advise is to apply cornstarch (or something like the official Fleshlight Powder) after you have washed your Utensil Race Extreme Hip Life Size Realistic Japanese Vagina. This way you can soak up the excess moisture and keep your toy free from unsightly blemishes and nasty bacteria.
I read online that after use, a good way to dry out the internals is to wrap a dish cloth around an old pen, and then push this inside to soak up as much moisture as possible. It's awkward. I am also really wary about causing damage, as the flesh is not the most durable. It also looks weird. But it does work.
Unlike a Fleshlight that is pretty easy to clean in your bathroom sink, be prepared to put this one in the bath, and use the shower head for the laziest way to clean it easily.
My recommendation is to store your toy in the provided plastic bag. This stops the otherwise inevitable collection of lint / dust / fluff.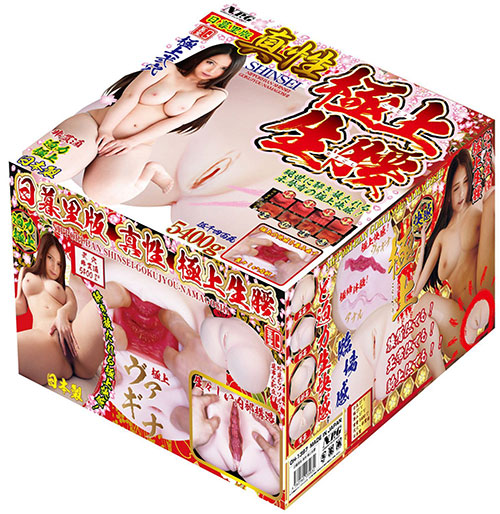 What's in the box?
I'll start by covering the Utensil Race Extreme Hip box itself.
As this toy is 27cm across, and deep (think: about the same size as a ruler you used at school), the boxes width and length are about equal. The box is a little less high than it is long, or wide.
Why I tell you this is because the box is adorned with Japanese writing in big, bold reds and golds. There's also a very attractive, very nude (mostly) Japanese girl on each part of the box.
Whether you choose to store, or throw away this box, it's likely you don't want others seeing it.
That said, the girl on the box did get me in the right mindset. I'd love to know what her name is. Unfortunately my Japanese is non-existant, and I Google'd all the different words from the box, but couldn't find a name for her. If you know it, please leave a comment below.
The top lid opens the box, revealing the Extreme Hip wrapped in a plastic bag. More on this in a moment.
As soon as you lift the toy out of its box, you will notice two things:
It's weighty – 5400g / 5.4 KG
It's very jiggly, like jelly (or Jello, if you're American)
When I unwrapped the toy I found the flesh to be 'creased' from where the plastic bag had been wrapped around it. This is, apparently, too be expected. As I store my toy it the plastic bag, and in the box, these creases have never fully gone away. That said, they do not detract from the toy's performance.
There are two included sachets of lube. Each sachet contains plenty – more than enough for lubricating both holes and enjoying a thorough session. Both sachets are covered in Japanese writing, and are significantly more understated than the box they came in.
The last thing I noticed – that I hadn't done before ordering – was that the Extreme Hip toy contains a belly button!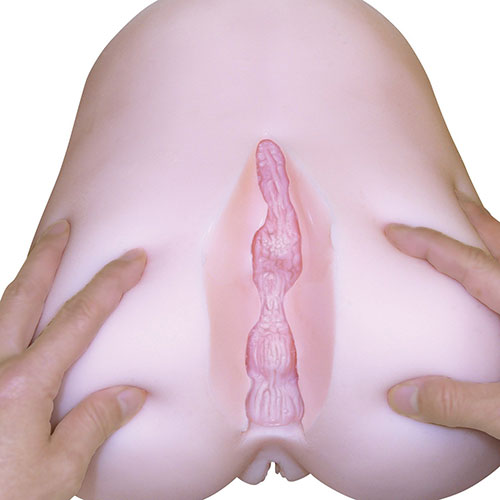 I couldn't help playing with both entrances right away. You can pull and stretch the flesh, and the internals are very lifelike. The pussy is so pink and real looking, and the ass hole… well, it's as realistic as I've ever seen on an anal sex toy.
How durable is the Race Utensil Extreme Hip?
If I'm spending a lot of money (and £349.99 is a lot of money to me) then I expect the toy to be super well made.
I was a bit disappointed here.
I found the 'gap', for want of a better word, between the anal and pussy openings to start to tear after just four uses.
Fortunately this gap hasn't increased (noticeably) since, but there are obvious tear marks from where I have used it. This is both visually detracting, and also reduces the sensations. The tightness is noticeably looser now than when I first used it, and I'm sure this isn't just my imagination.
Also, the vaginal insert has begun to peel away. This, from what I have read, is because the 'insert' is made of two separate layers. And the outer layer has a tenancy to peel. Not what I would have expected from a product this price.
What other options are available?
It would be wrong of me not to mention the Fleshlight / TENGA's Flip Hole / and other inserts from Utensil Race at this point.
Yes, they are cheaper – a whole different price point and target audience, but they are great and shouldn't be discounted.
But concentrating solely on the higher price point, hyper-realistic market, as I mentioned earlier in the review, really there are only three big competitors, and one wildcard entry.
These are:
There are three well known toys in the PipeDream Extreme range that, if you are considering the Utensil Race Extreme Hip, then you should check out. These are:
I have listed them in my order of crazy – the first being most crazy, or perhaps, Extreme would be the correct way to describe it.
For me, PipeDream and Utensil Race are like Coke and Pepsi of their industries. You will find one brand you love and keep going back for more. My favourite is Utensil Race, and every toy of theirs that I am lucky enough to get my hands on, has so far left me glad I bought the toy.
Where can I read real customer reviews of the Utensil Race Extreme Hip?
There are 6 customer reviews at Lovehoney for you to read – click here to be taken straight there.
Is there a video review of the Utensil Race Extreme Hip available anywhere?
Yes, there is one at Lovehoney – would you expect anything less?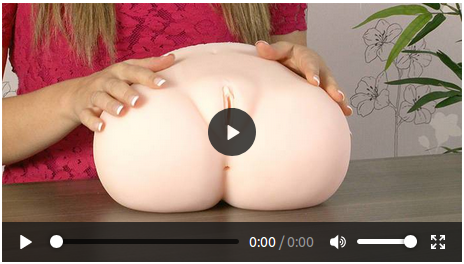 Click here (or on the video screencap) to watch the full video review!
In Summary
The Utensil Race Extreme Hip is as close to real sex as you are likely to get from a toy. The zero diameter opening is an innovative concept that other manufacturers have nothing, yet, to compete with.
Yes, it's expensive. Yes, it can be tricky to clean. But the pleasure you will get from this toy each and every time you use it (which just never gets old) more than makes up for any doubts you could possibly have.
I have tried many toys in my time before and during the running of this site, and this is one that truly stands out.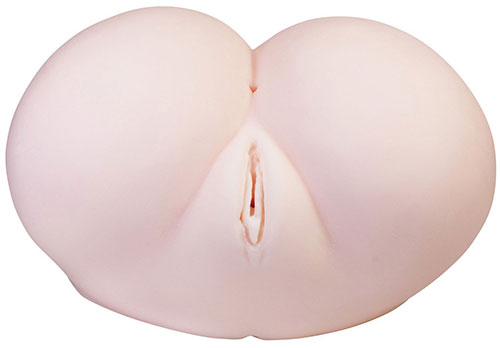 Where can I buy the Utensil Race Extreme Hip Life Size Realistic Japanese Vagina and Arse?
Amazingly, there is only one stockist in the UK that I can find, and that's the one I got my Utensil Race Extreme Hip from.
You guessed it:
Lovehoney do ship worldwide, and offer free discreet delivery.
Do you own a Utensil Race Extreme Hip? Leave a comment below and let the rest of us know how you found it.