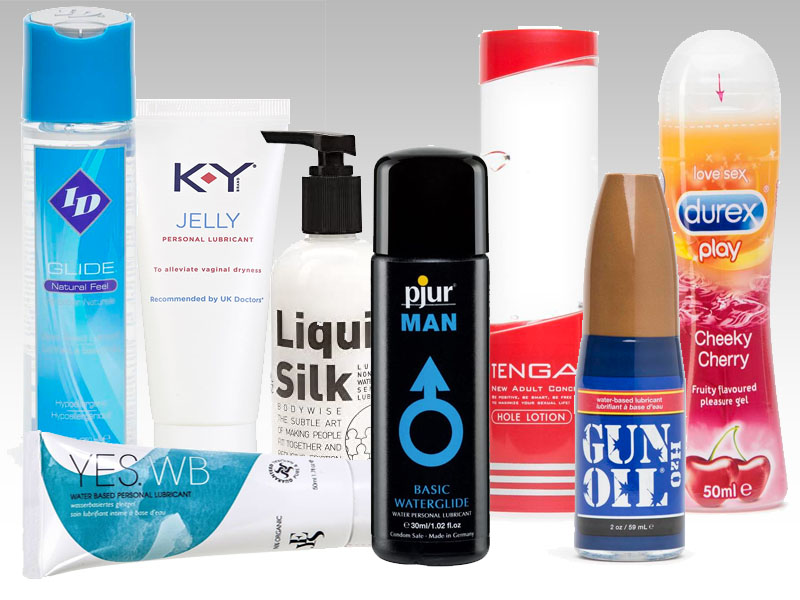 Don't have the time / desire / inclination to read all my words? Click here to skip to my 'best of' section.
Charlie Bucket: Dairy cream…
Grandpa Joe: Whipped cream…
Charlie Bucket: Coffee cream…
Grandpa Joe: Vanilla cream…
Charlie Bucket and Grandpa Joe: Hair cream?
Nothing better sums up how I felt when I started on my quest to review all the lubes. There are tons and tons of lubes. So many it was difficult knowing where to start.
In the past, my go-to lube of choice has been ID Glide. But that's because I got some free once and figured it was the best. Without ever really trying any of the others.
Sex toy manufacturers – or retailers – should take note of that and start giving away more free lube samples to customers when we buy our sex toys. It's one of the best ways to build up brand loyalty. But that's a bit business-y, and that's exactly the reason none of us are here.
Just one last note before I start – I couldn't review every single lube on offer. I tried to get free samples where possible – though barely anyone obliged 🙁 – and my funds just don't stretch far enough to buy a full sized tube of everything.
So this is a majority round up, and hopefully over the course of 2020, I will get to sample more of the rest.
Got it? Good, on we go!
The Big List of Lubes
Before we crack on further though, I think I best quickly cover exactly what lubricants are, and why you may (will) want to try them, if you haven't before.
What is Lube?
Lube is the shortened version of Personal Lubricant. The main purpose of lube is to reduce friction between body parts, or between body parts and other things – sex toys being the 'things' we are talking about here.
I can't imagine anyone has ever successfully used a Fleshlight or pretty much any other sex toy without some form of lube. Well, not without ending up in casualty with category 1 friction burns to your nether-regions.
I'm not going to go in-depth on the science or whatever, so if you are keen to know more, of course there is a large and informative Wikipedia entry on lubes.
And how do I use Lube?
Liberally!
As you will see throughout this round up, Lubes come in various packages, and depending on the type you choose (water, oil, or silicone based), the texture when it leaves it's container will be different.
But ultimately you just splodge a blob (scientific measurements these) onto your hand / cock / toy opening, and then use your fingers to smudge and smush it in, coating the surface.
Then you continue as you normally would. Simple.
Can Lube damage my sex toys?
YES – PLEASE READ!!!
Using silicone based lubes on sex toys will cause damage to your toys.
Silicone based lubes damage the surface layer of your sex toys, leaving them tacky to the touch. Worse, persistent use over time will cause the toy material to break down and disintegrate.
Having a pitted surface on your toys encourages bacteria to grow which leads to nasty black spots or God knows what else. Rank.
So just to re-iterate, don't use silicone lubes with your sex toys.
Can I use baby oil as Lube?
It says on the bottle not too.
Also don't use it with toys – see above as for why.
Use proper lubes. Seriously, they cost about the same and are specially designed for this exact purpose.
What other things can I use as Lube?
I don't know – and I won't be recommending anything other than shop bought products.
A note on Pricing
Each lube has a price given for various retailers around the web. These prices were correct at time going to press (30/10/2012).
Durex Play Sweet Strawberry Lubricant (Water Based)
This review incorporates the Durex Cherry lube also, as they are the same product with a different taste.

Durex, the mainstream friendly brand that we all know and trust. And now they make flavoured lube.
So, what's it like?
Well – first up, flavoured lube was a novel concept to me, having never tried it before. But it had over 380 reviews at Lovehoney, so I figured there must be something to it, right?
Secondly, it's cheap – 50ml for £4, what a bargain. It's so cheap I felt obliged to get the Very Cherry flavour too, because, what the heck, right?
Apparently cherry and sex go together better than strawberry and sex, as the cherry lube has an astonishing 580 customer reviews at Lovehoney. They say only 1 in 1000 customers leave a review at Amazon, so if Lovehoney's stats are anything like the same, you're looking at over half a million tubes of cherry lube sold and counting!
But sales stats and such like are not why we are here.
As far as lube goes this is very average. It doesn't stay 'wet' for long, though as I said it's cheap enough to keep re-applying. But it does get sticky, especially when you're done.

As a solo product or for toys, unless you enjoy putting them in your mouth, I just can't see any point here. It might be good for gay or bi-curious guys practicing their oral skills on a dildo, but sticking strawberry lube on a Fleshlight is completely pointless.
I know, I know, not exactly the market they are aiming for. Though chances are, if you have experimented with lubes before, you may have a bottle of this stuff in your bedroom drawer. And I just wanted to let you know, there are so many better lubes out there. Don't just stick with what you got.
The Good:
Cheap, and you get a decent amount for your money
Tastes OK, more like slimey food colouring than real strawberrys – the cherry one tastes the better of the two
Could make practicing oral more fun for bi/gay guys
Pump applicator makes re-application easy using the back of your sticky hands
Novelty lube that won't scare away your Mrs
The Bad:
Doesn't last long before re-application required
Pump tends to gunk up after a few uses
I don't think the taste masks the slimey feeling of swallowing lube
Bath / shower required afterwards, or you have a sticky strawberry smelling cock
Pointless when used with most toys
The Summary:
Can't recommend this for toy use as the lube isn't great and if you are riding solo, there is no need for flavour.
What's it cost, and where can I buy it?:
Durex Play Tingle Personal Lubricant (Water Based)
Another lube from household name Durex. There is a gimmick this time, and it's not another flavour.
No, this time it's all about the sensation – the tingle.

The tingle sensation comes from the cooling effect this lubricant has on your skin.
If you have ever used that Raljex stuff for a sporting injury, or just because you are a little bit of a sadist, you will know the sort of thing I am talking about.
Except this stuff doesn't heat you up, but rather makes you feel cold, and, well… tingly.
It's good, it's not overpowering, and it adds an extra dimension to masturbation, toy play, or penetration.
The downside is that again, it doesn't last very long before going 'sticky' and you need to apply more.
On the plus side though, at about six quid a bottle (for 50ml), it's cheap enough that you can apply a good liberal dollop without feeling like you're splooging away your cash.
Don't apply too much though as the sensation comes on more and more. But if it's too much, you can always stop and wash it off.
Taste-wise, it tastes rank. So don't bother with that!
The Good:
Fairly cheap, starting at £5.99 for 50ml
Interesting sensations
Water based, so good for solo, toy, and sex situations
Pump applicator for easy use with slippy hands
The Bad:
Like the flavoured durex lubes, it dries up too quickly
Tastes horrible
Pump tends to gunk up after a few uses
Leaves a tacky / sticky feeling when done, so be sure to wash
Tingle sensation can be over-powering, especially if used for penetration
The Summary:
A fun and different lube that wouldn't be my everyday choice, but is cheap enough to stick in the drawer for when you fancy something a little different.
What's it cost, and where can I buy it?:
Available at Lovehoney for £5.99 for 50ml
Bondara stock Durex Play Tingle lube at £5.99 for 50ml also
Gun Oil Personal Silicone Lubricant

First thing to mention – silicone lubes don't play well with toys, so this is for masturbation / anal-play, or sex only!
You don't get much more manly than having your lube shaped like a bullet. Even the Gun Oil logo is riddled with bullet holes. I think the packaging is cool – but that's not why we are here, so how is the lube?
Underneath the lid you get a pump – no squeezing here – so you can control the amount you get out. That's good because you only really need 2 or 3 drops and you are good to go.
Don't be put off by the seemingly small size, 120ml of silicone based lube is equal to 200ml or more of water based lube, for your money. That's my personal opinion.
As it's silicone based, so it lasts for ages – 10+ mins without re-application, but you may want to add a drop of saliva / water to keep things super smooth.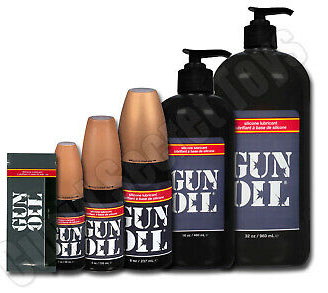 There is a slight smell to this lube, and I didn't like the taste – certainly wouldn't have wanted a mouthful.There is a water based Gun Oil lube available, but I haven't had chance to review that one yet.
This lube is advertised as being condom safe, making it a good choice for hygienic anal play.
Like all silicone based lubes, it's a pain to get off – a bath and shower combo does the trick, with plenty of soap. You know when I mentioned earlier that a drop of water re-activates it? Well that's why it's so hard to get off!
The Good:
Lasts a good long time
Pump applicator makes it easy to control how much you use
You don't need much for a good time, two or three drops
Condom safe
The Bad:
Doesn't play well with your toys
More expensive than water based lubes (all silicone lubes are)
Not got a very nice taste
The Summary:
A great silicone lube that's been around a while and has a loyal fan following.
What's it cost, and where can I buy it?:
Lovehoney have it in stock at £16.99 for 120ml, and more in the gun oil range too (do a search on their site)
A Video Introduction to Silicone Lubes From Lovehoney
There is a helpful video introduction to silicone based over at Lovehoney, which I advise you to check out if you have never used silicone lubes before. You can see the video by clicking here, and then either scrolling down about half way down the page, or clicking the 'video' link just under the main product picture on the left.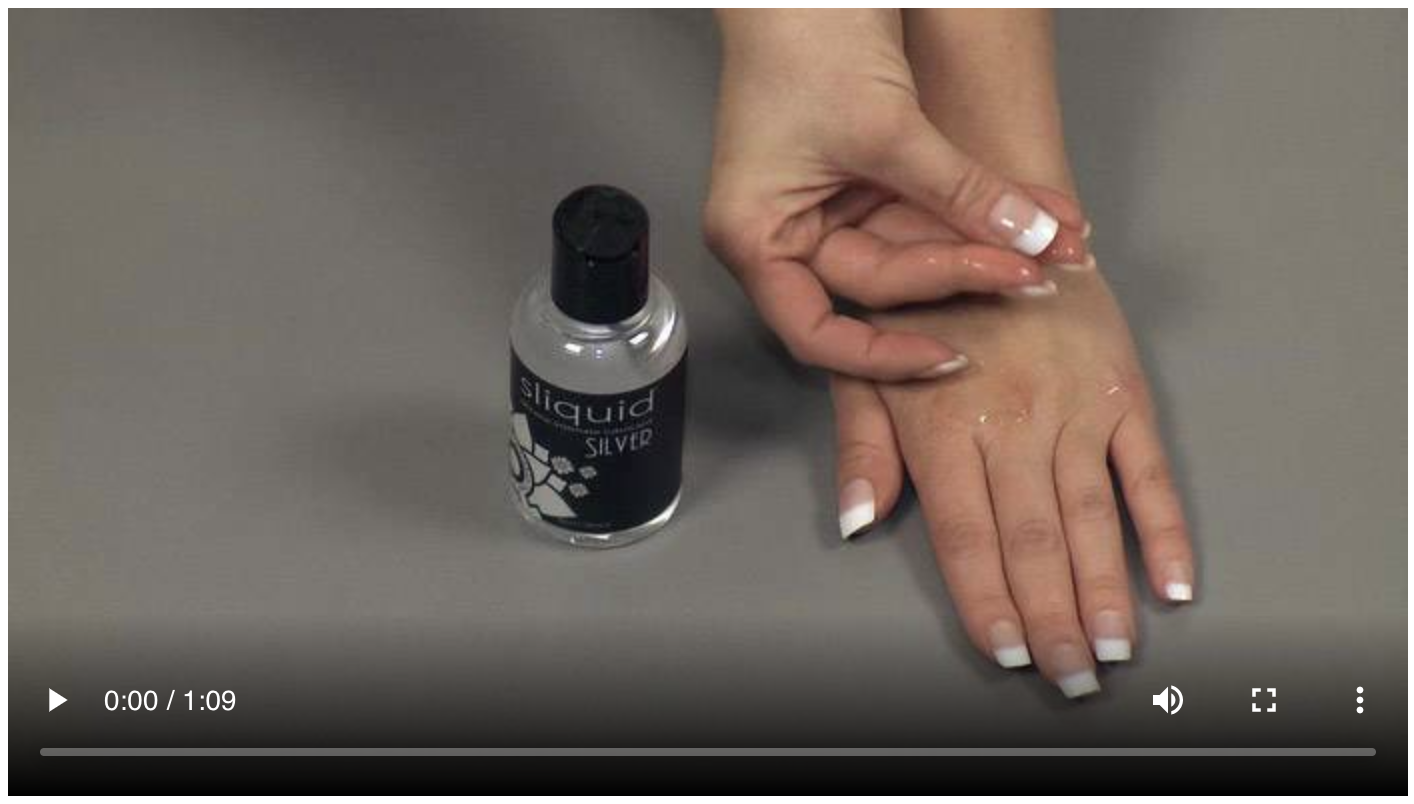 ID Glide (Water Based)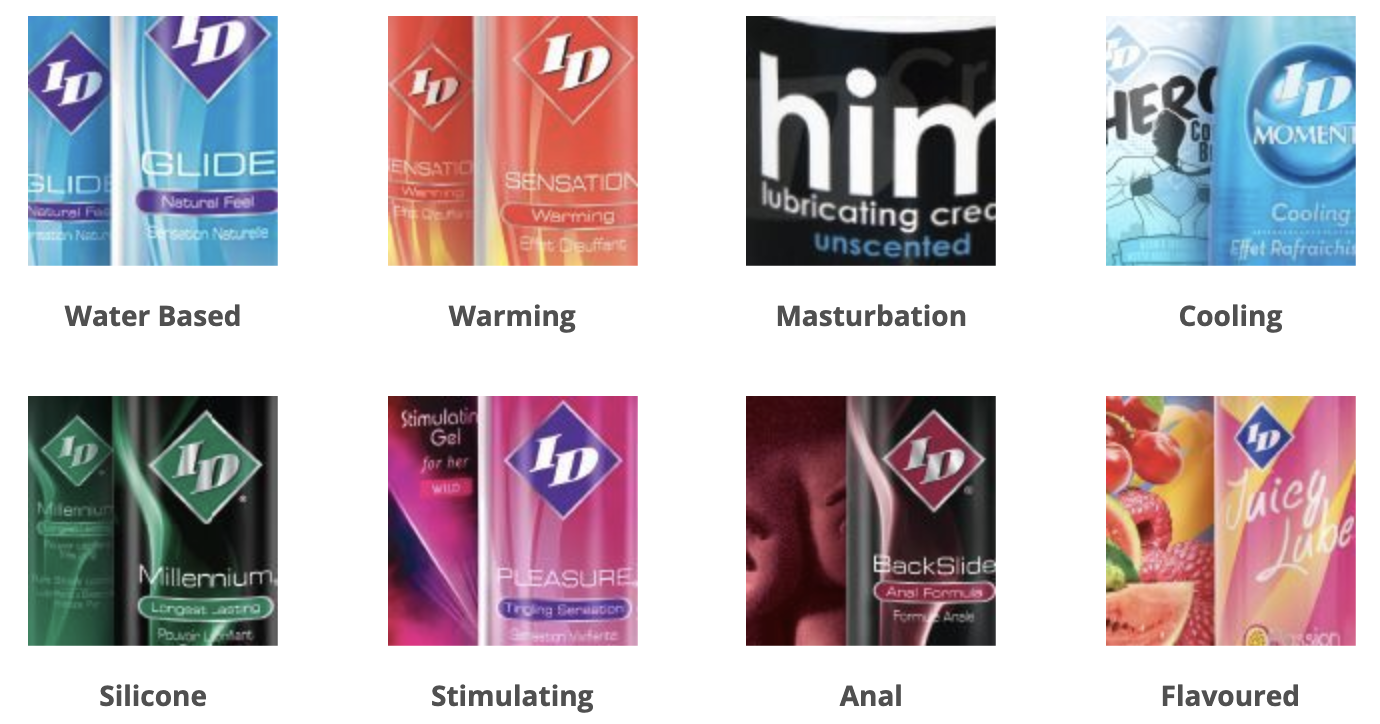 ID Glide is the lube I have most experience with, as I have been using it for years.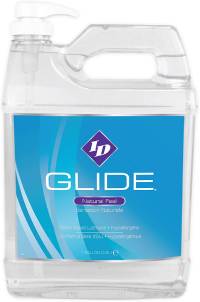 I used to think it was amazing. It's certainly good value, especially if you buy the bigger sizes. And honestly, ID Glide goes up to some big sizes. Like, almost industrial.
But after doing this round up I think ID Glide is perhaps in the middle of the pack.
It's sticky, gloopy, and it dries up quickly, leaving a sticky residue on your skin.
It also leaves weird darkened marks where it drops on your carpet – oops. That might be the case for all lubes though, I'm surely not going to risk the wrath of my Mrs by carpet testing them all.
It has a very slightly chemical taste, not unpleasant, and no smell.

Overall, even though you do need to re-apply relatively frequently, it's cheap enough to be financially stress-free to do so.
I would consider ID Glide to be the benchmark lube in this round up, on which all others are judged.
The Good:
Good value, especially when you buy at larger sizes
A good all round lube
Water based, so friendly to sex toys / latex condoms, hands, feet, etc
No taste / scent
Easy to re-wet with spit or a drop of water
The Bad:
Tends to dry up relatively quickly (5 minutes or so)
Gloopy to the touch / thicker than other water based lubes
Prone to drying up on the nozzle, leaving a little bit of gunk – kinda like leaving the lid off toothpaste
Stays tacky on the skin if unwashed
The Summary:
ID Glide doesn't stand out in any particular area, but it doesn't let itself down in any area either.
A great lube if you are unsure, and the 250ml or 500ml bottles will last you absolutely ages.
What's it cost, and where can I buy it?:
There are a wide variety of sizes on offer, from 12ml (travel sized) to the industrial 3800ml bottle, which I imagine only gets bought for porn studios.
I recommend the 250ml or 500ml bottles.
Lovehoney have a good range of sizes in stock, starting at £7.99 for 65ml and heading up to £99.99 for the industrial size 3800ml jumbo bottle
Bondara have a variety of sizes available starting at £6.99
ID Pleasure Lube (Water Based)

I already had ID Glide in my possession so felt that splashing out on another option from the ID range would be no bad thing.
I plumped for the ID Pleasure lube, but they also do a few others, such as Moments and Warming Sensation. I based my choice mainly on how many other customer reviews were available at Lovehoney – might as well go with what's popular, right?
Unlike ID Glide, ID Pleasure is a lube with a gimmick – that is, it 'warms' up your skin on contact. And by warm up, I mean cools down. It's one of them strange goes-cold-but-is-actually-hot sensations, or vice-versa. Basically it's menthol.
The warming sensation is nice. It's not over powering and not desensitising either, it just tingles a little bit after a short period of contact with your skin.
Very nice with toys, though I was a little dubious about tasting it – I didn't want a tingly tongue! I didn't need to worry though, as there wasn't any real affect with the small dab I tasted, and as far as taste/scent, it's very neutral, just like the Glide lube.
I picked up a smaller sized bottle (250ml) than I would normally have purchased if I was getting another bottle of Glide. This bottle size came with a squeeze applicator, rather than the pump on the bigger bottles. That was a little disappointing, and re-application during use was messy.
I don't have anything amazing to say about ID Pleasure Lube, but neither do I have anything very negative. It's basically ID Glide with a gimmicky cooling / warming sensation thrown in.
The Good:
Cheap, 250ml for £16.99 delivered – you can't go wrong
If you like other ID Lubes, you will like this
No taste / scent
Water based, so fine with toys, solo, sex etc
The Bad:
Squeeze cap is messy and difficult to use with wet hands
More expensive than a same-sized bottle of Glide, so if you don't want the tingle, just get Glide
Goes sticky / tacky to the touch after about 3-5 minutes of use, but re-activates with a drop of water
The Summary:
If you are a fan of ID Glide, but want something a little different for your next lube, this one is an easy recommendation.
What's it cost, and where can I buy it?:
Various sizes are available from Lovehoney, starting at £7.99 for 65ml
KY Jelly (Water Based)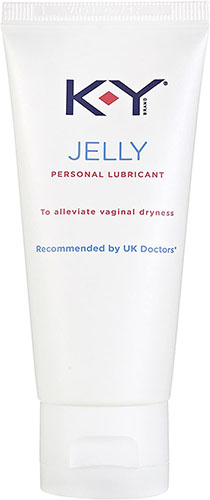 Even the sex toy industry has its fair share of household names, and KY Jelly is one of them. OK, it's not strictly a sex toy, but you know what I mean.
KY Jelly is most synonymous with the joys of anal sex, but even though this round up focuses on use of lubes with toys, I just had to check out the KY.
The big thing for me is that to become a household name, there must be something to KY Jelly, right?
Well, actually: yes, there is.
It's really, really good.
There's no gimmicks here. Just a clean, clinical looking tube for a steal of a price.
The Good:
The only lube with its own Wikipedia page!
Cheap, starting at £4.99 for 50ml
Condom safe, toy compatible
No nasty smell / taste
Available pretty much anywhere
The Bad:
Reputation for anal sex, though that's hardly a bad thing
I would prefer another option to the squeeze tube
The Summary:
Amazing, cheap, does everything you could want. And with the advent of online shops, you no longer need to stand red faced in front of the Saturday girl on the counter at Boots.
What's it cost, and where can I buy it?:
Bondara sell the 82ml tube for £6.49
Lovehoney have a couple of different sizes with the cheapest being £4.99 for 50ml
Liquid Silk Lube (Water Based)
If you have ever watched a porno and seen what appears to be a gallon of 'slightly unrealistic' cum sprayed all over the unfortunate actress, then congrats, you have seen Liquid Silk.

It really is the defacto standard lube used on porn shoots to simulate cum.
Many shoots use this stuff for showing the woman have a cum-in-mouth shot – especially if she doesn't want to take a load of the real deal.
I can tell you though, from my own experiences testing this stuff that it tastes fucking rank. I honestly can't tell you how it compares to the taste of semen, as that's one test I'm unwilling to do – even for this review – but if this stuff is preferable to semen, then yikes.
There is no scent to this stuff.
The other reason I'm guessing it's used a lot is that it's great value. At a tenner for 250ml, it's the best value lube in this entire list.
On the up side, the feeling is quite silky. I mean, it should be, it's made out of a ton of crazy chemicals that no doubt gives it its healthy, glistening sheen.
A small amount of Liquid Silk goes a long way – the bottle has a pump head, though I would advise you not to press the pump down fully, as you don't need that much.
I also have down in my notes that it didn't get sticky, and lasted a good long while (5-8 minutes) before needing re-application.
The Good:
A little goes a long way
Best value in the list
Has no discernible scent
Relatively easy to clean
Used by the pros 🙂
The Bad:
Squirty pump squirts out too much at once
Really horrible taste
The Summary:
Aside from the taste and the pump being over-eager, this is a really strong lube and one I highly recommend.
What's it cost, and where can I buy it?:
Bondara stock Liquid Silk in a couple of sizes, starting at £6.99 for 50ml
Lovehoney have the 250ml bottle for £12.99
pjur Man Basic Waterglide Lube (Water Based)

pjur (pronounced 'pure') were one of only two companies who sent me free samples. That's not going to bias their review, but their customer service is brilliant and I wanted to bring that up for reasons of impartiality.
When I say pjur sent me some free samples, I mean they sent me an entire box. I have been able to thoroughly test their 'pjur Man' lube extensively, on every toy I own, and in other ways too.
I can't comment on the container, as mine were sachets, but I have read that the regular bottle has a screw cap, which is tricky to put back on when one, or both, of your hands are lubed up. That's a fair point, hopefully they will address it.
Truthfully you probably only need a pea sized amount of this stuff, so I could – had I not received so many – have got two or more uses per sachet. As it is, I apply it liberally. And it feels good!
It's very similar to the ID Glide lube in many respects. Same lack of taste / scent, lasts a long time, easy to re-moisten back to full slipperiness with a bit of spit / water.
The pjur Man is fine for use with sex toys as it's water based.
The Good:
Nice and thin feeling, like water
Lasts ages, and easily becomes re-moistened with water / spit
Fine for solo use / sex toys
No taste / scent
Lots of size options
The Bad:
Expensive compared to some others in this list
Tends to dry up relatively quickly (5 minutes or so)
Can be hard to wash off, as water seems to make it super slippy again (that's also a good thing!)
The Summary:
Whilst more expensive than ID Glide, I do believe this is a better quality product. It has a nicer feel to it when using your hand. But when used with a sex toy, it is hard to tell the difference between pjur Man and ID Glide.
What's it cost, and where can I buy it?:
Expect to pay around £10 for 100ml.
Stroke 29 Personal Lube (No good with toys!)
I'm going to hold my hands up here and say, truthfully, I had never heard of Stroke 29 before starting this round up. It's re-assuring to know that actually, I haven't seen it all just yet, and there is always something new and exciting to try.
I was surprised that a product with over 40 customer reviews via Lovehoney had never come onto my radar.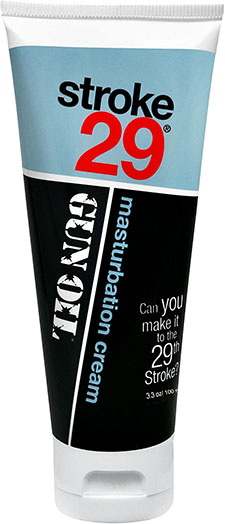 A little research told me that this is a lubricant designed purely for masturbation. No toys, no anal play, no sex, just pure hand jobs for one.
Also, I found out that Stroke 29 is a sub brand of Gun Oil, the same company from earlier in this round up. So we are in safe hands… no pun intended.
The packaging goes somewhat towards explaining this 29th stroke concept – basically, at or around the 29th stroke, the lubricant begins to change texture. Going from something resembling a pot of face cream to a smooth, silky feel that is both hot and tingly yet smooth and slick.
It's hard to write about this lube in the same context as the rest on offer here. It's in a category of it's own.
Once you get past the weirdness of applying the thick, hard white paste, and you begin stroking, you will be very pleasantly surprised.
It's a little messy – as I went crazy thinking I needed much more than I did, but when you have the 'dosage' sussed, it's easy to use, feels amazing, and ultimately left me wishing I had bought a bigger tube.
The Good:
Completely different experience to regular lube
Being a paste when packaged, feels like you get a lot for your money
A little dab is all you need
Feels amazing!
The Bad:
Not toy / sex / anal compatible (not marketed as such)
Hard to judge how much you need for the first few times
Sticky after use, requires a good shower
The Summary:
In a category of its own, this is a completely different experience and one I am really glad I tried. Fully recommended if you want something a little different for solo fun.
What's it cost, and where can I buy it?:
Lovehoney have this one for £14.99
TENGA Real Lotion (Water Based)

TENGA's Real Lotion is among the most expensive lubes in this round up.
You may be thinking, as TENGA are a big name brand in the toys market – well known for their Flip Hole, Cups, and Eggs – that perhaps they are just cashing in on their name.
In which case, their lube better be amazing.
Now, if you have ever bought one of the afore mentioned TENGA products, you should have received at least one free sample of the Real Lotion lube. So you may well already know whether or not you like this stuff.
I found it to be among the thickest feeling of all the water based lubes I have tried. I didn't particularly like how sticky it felt, but it did last over 8 minutes without re-application, which is much better than most other water based lubes.
This stuff is messy to use – the tube is a unique design that tries to suck back in any unused lube – but I found myself cleaning up the tube with toilet roll after all fun had ceased. It did feel a bit annoying wiping away the excess as this stuff is expensive.
There's no discernible taste, other than the standard slightly chemically one you would expect.
Perhaps the best point is that even though this is thick for a water based lube, you don't feel like you lose any sensation as a consequence.
I'm not convinced it's worth the cost though, but as ever, that's just my personal opinion.
The Good:
Lasts almost as long as a silicone based lube
No need to re-apply during use – saliva / water reactivates nicely
No sensations lost even though it's thicker than most water based lubes
The Bad:
Tube is messy to use
Expensive
The Summary:
An expensive water based lube that lasts a good, long time and is thick enough to use for pretty much any occasion. Thick lube that manages not to lose any sensation.
What's it cost, and where can I buy it?:
Yes Organic Oil-Based Lube
Note – 'Yes' were kind enough to send me a sample of their Water and Oil based lubes, I want to disclose this for impartiality reasons. 
This was the first oil based lube I had ever used, so I was confused when a squeeze on the tube sent out a strange coloured paste.
I thought this lube was faulty. I thought it had dried up in its tube. Oops.

Anyway, it took me a few seconds to realise that oil based lubes must come in this semi-solid state. And that once you rub it together with your fingers, it turns into that slippery stuff we know and love: Lube.
On the plus side, as a paste, you do seem to get a lot of lube for your money. Maybe it's just my imagination, but it does feel like you get more for your money with a solid than a liquid.
Unlike it's water based counterpart, there doesn't appear to be an use by date on the oil based lube.
Now, this being oil based, I did not test with my toys. I know their website says you can do, but I am not risking £60+ worth of Fleshlight to take that chance.
I think oil based lubes are meant for anal honestly. Or just regular sex in general. Just not for toy fun.
Though you should be OK using oil based lubes with silicone toys – which a lot of anal toys /plugs are made from.
This is a high quality lube, make no mistake. You won't find too many products in the adult industry that are guaranteed pure and safe as a result of a Soil Association organic certification, that's for sure.
My main criticism isn't aimed specifically at this lube, rather all oil based lubes. It's a ball ache to get off once you are finished. Basically it's shower / bath time when you have been playing with oil based lubes, because it just doesn't come off easily.
On the flip side of that though, it lasts for ages when you are enjoying yourself.
You can combine this oil based lube with the water based lube for super slippy enjoyable fun. If you are going to do this by the way, make sure you apply the oil based lube first.
Oh, and there's no smell. Which is always nice.
The Good:
Organic lube, organic for God's sake!
Lasts for ages
Feels like better value for money than the water based lubes
No smell
Lovely packaging
The Bad:
Only silicone toy compatible
More expensive than most other lubes here
Takes ages to clean off – bath time required
The Summary:
I love that this lube is organic. It makes me feel good about myself, my neighbours, and the planet in general.
But seriously, this is a high quality product and as far as oil based lubes go, it's number 1 in my book.
However, if you want the ultimate lube, check out Yes's Water Based Lube below.
What's it cost, and where can I buy it?:
Lovehoney have a couple of sizes in stock starting at £6.99 for 40ml
Yes Organic Water-Based Lube

Note – 'Yes' were kind enough to send me a sample of their Water and Oil based lubes, I want to disclose this for impartiality reasons. 
Saving the best till last?

Yes are a company that, I will be honest here, I had never come across until I started researching the range of available lubes for this review.
That's such a shame as this stuff is amazing.
As you can see from the title, it's water based so it's perfect for use with sex toys, solo use, sex, etc.
But that's not the best bit.
Even the fact that this lube is Organic (!?) and has no funky chemicals isn't my favourite part.
No, that is reserved for the fact this stuff just works – then absorbs into your skin, leaving you feeling moisturised! I swear, I'm not making this up.
I could go on and on about how good this lube is, but you might think I am just over hyping it so I am going to stop.
But in short I wouldn't hesitate to recommend this to anyone: man or woman.
The Good:
Feels very nice, natural, and like water on your skin
Naturally absorbs into your skin leaving you moisturised!
It's organic
No smell / taste / irritation
The Bad:
The cost – you pay for quality
Comes out of its tube a little too fast
Has a 6 month use by date, from date of first opening
The Summary:
The best lube I have ever used. Pricey, but worth it.
What's it cost, and where can I buy it?:
Lovehoney stock YES Organic Water-Based lubes starting at £6.99 for 50ml
Just Tell Me Which One Is Best!
Ok, that was a lot of words. Here is the tl;dr version.
I don't feel I can give a 'best silicone lube' option as I haven't reviewed enough of them, sorry!
Have you used any of these lubes and want to voice your opinion on them? Please consider leaving a comment below to let us all know how you got on. It's completely anonymous (don't need your real name or email address) and makes the site better for everyone.
Thanks for reading.