In this guide we are going to cover how to Measure for a Cock Ring. We're also going to cover:
the many types of cock ring that are available
different materials used in cock rings
the right cock ring if you're a beginner
cock rings for hardcore metal heads
how to experiment with cock rings
There's a ton of stuff to cover, so let's dive right in.
What's the Purpose of a Cock Ring
A cock ring serves two general purposes:
A cock ring, properly in place and tight around your balls, will keep you harder, longer.
As a result of #1, your cock has a stronger and firmer appearance.
Both of which help with confidence, mood and everything else required for good sex.
If you're wondering whether cock rings make you bigger then the answer is that they certainly aid in appearance. If you are concerned about making your penis bigger than a cock ring can help you feel bigger, and harder. In this way cock rings can serve as a confidence aid.
Simply put: cock rings feel good. They make you harder, for longer. It's a win for you and your partner.
How Does A Cock Ring Work?
In order to understand how a cock ring works, you must understand (just a little) about how an erection works.
Your cock is a kind of sponge that fills with blood when you're turned on.
Blood builds up inside two cylinder-shaped chambers, causing your penis to get hard. As your dick swells, this blocks off the veins that normally take blood away from your penis.
Later, as your erection disappears, the arteries in the two cylinder-like chambers narrow again, allowing blood to drain away from your cock.
Cock Ring's work by trapping the blood that naturally flows into your penis during an erection.
A cock ring helps simply by letting less blood out than your body otherwise naturally would.
This is additionally beneficial if you have a dysfunction which would normally allow the blood to escape more easily. If too much blood escapes, this can keep your penis from staying hard.
A cock ring – when applied properly to the base of an erect cock – will help stop the blood that is keeping the penis hard from returning to the body. And it's in this way, that a cock ring helps maintain a firmer erection.
How to Measure for a Cock Ring?
With most stretchy cock rings, measuring isn't necessary. One size fits most.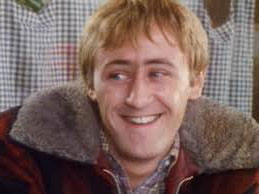 However, certain types of cock ring – particularly metal / steel cock rings – will need you to break out your measuring tape.
Cock rings are measured by diameter. Working out the diameter of a circle / ring is something you may not have had to do since your days of GCSE maths.
Fortunately, you're not going to have do any of the hard work here – as I've done it all for you.
Ready to measure for your cock ring? Ok, good, let's go!
Step 1 – Find a Tape Measure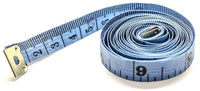 You'll ideally have a tailors tape measure.
A rigid DIY one will do at a push, but you'll need a piece of string.
Don't just guess.
Step 2 – Get Your Rod On

Ok, I'm going to stop with the Only Fools and Horses puns now.
In order to make sure your new cock ring fits, you need to be hard / erect before measuring. It's a tough life.
A cock ring should be a close fit in order to best keep your cock at its hardest / most firm looking.
Step 3 – Measure Your Lad
This is the awkward moment where someone walks in on your unexpectedly.
Wrap your tailors tape measure around the part of your hard cock where you want to wear your cock ring.
If you want to wear the cock ring around your shaft then measure there. If you want to wear it around behind your balls, then measure there. Come on now, this isn't rocket science.
Step 4 – Do The Math
Maths. It has an 's' on the end. It's maths. Bloody Yanks.
Use the handy calculator below that I made to determine the size of cock ring you need.
Cock rings are typically measured in millimetres.
The circumference is the thing you just measured – the length of one loop around your cock.
Ideally you want your cock ring a bit smaller than your actual measurements – but the smaller you go, the tighter it will be. So at most, 10mm less will be about the tightest I'd recommend.
My Essential Cock Ring Measurements Calculator
(Works best on a proper computer – looks bad on a phone :()
Bosh.
Now you know exactly how to measure for a cock ring.
Pretty easy eh?
If you're still not quite confident, Lovehoney have a decent guide on their site, along with a helpful video.
How to Put On and Use your Cock Ring
Whether you already own a cock ring or two, or you are thinking of buying your very first, this handy video guide will help you actually use your cock ring properly: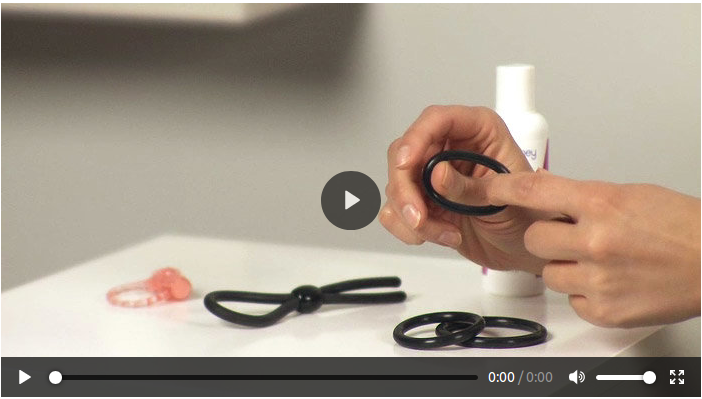 In what I consider a huge flaw in the Sex Toy industry, and not just the Men's side of the market either, but the sex toy industry in general, your typical Cock Ring won't come with instructions.
It's like there is some unwritten rule out there – harking back to the School playground days – where Men are expected to know how to use a sex toy instinctively. Because they are for our willys. And we have had them since birth :/
There's no shame in not knowing how to do something the first time you do it. Our ego might take a knock, but we don't always just instinctively know how to do everything perfectly first time, every time.
I can imagine my female readers being taken aback by such a statement.
What Types of Cock Ring are Available?
There are loads of different types of cock ring – from the "beginner" to the more hardcore types.
You will notice that the cock rings that are aimed at beginners are usually pretty stretchy. These are generally very easy to get on, and take off.
The more hardcore metal cock rings for example, require a bit more planning and practice. This is a good idea for any new sex toy, especially one which you use with a partner. But in my opinion they not only look better, but produce a much tighter fit that helps you stay harder for longer.
Cock Rings For Beginners
For a complete beginner to the world of cock rings, the recommended starting point would be with either a stretchy, or adjustable cock ring.
An adjustable cock ring gives you the most flexibility in finding your perfect fit. In many ways they remind of a Boy Scouts woggle. Slip it around, pull it up, adjust to fit. You can always pull it tighter if Brown Beaver is doing her inspections.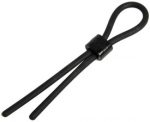 Adjustable Cock Rings for Beginners
There are two, potentially three adjustable cock rings I would happily recommend to any beginner. These are:
Tracy Cox Edge Stamina Ring –£9.99
Lovehoney's Mega Boost Vibrating Cock Ring – £7.50
Fifty Shades Again and Again Cock Ring – £2.70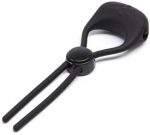 I've put these in the order I'd recommend.
Each of these adjustable cock rings follow the same design. They are a long piece of soft and bendy silicone, folded back on itself. An adjustable toggle pulls the whole thing together, and with a gentle pinch on the toggle you can pull tighter, or easily loosen the grip on your shaft.
Honestly, this couldn't be easier.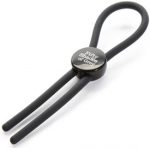 I like the simplicity of the Tracy Cox Edge ring. The design is minimal, and I like the very light contrasting black on the silicone. I've never felt disappointed buying a Tracy Cox toy.
Lovehoney's Mega Boost vibrating cock ring comes second. At the time of writing this is on offer, cheaper than the Tracy Cox Edge – and it vibrates. However, this cock ring needs batteries – three LR41 (the little round ones you easily lose / can never find). Fortunately it does come with batteries included, but for me, I prefer simplicity.
Lastly, the Fifty Shades Again and Again cock ring is honestly decent, but I don't like the Fifty Shades branding. If you can ignore this, the cock ring itself is decent.
Stretchy Cock Rings for Beginners
Stretchy cock rings can – as the name implies – stretch to fit most any man.
They are made of either rubber or silicone. Typically these stretchy cock rings are covered in ridges, nodules, bumps, and other textures designed for you, and your partners pleasure. As ever, use with plenty of water-based lube.

I'd recommend the following three choices:
The BASICS Doughnut Cock Ring (3 pack) – £2.80
BASICS Triple Cock Ring set (3 pack) – £4.00
Jack the Lad Vibrating Cock Ring – £5.99

The two Lovehoney BASICs cock ring sets seem almost identical. The difference is whether you prefer smooth, or textured rings. The doughnut being smooth, the triple being ribbed.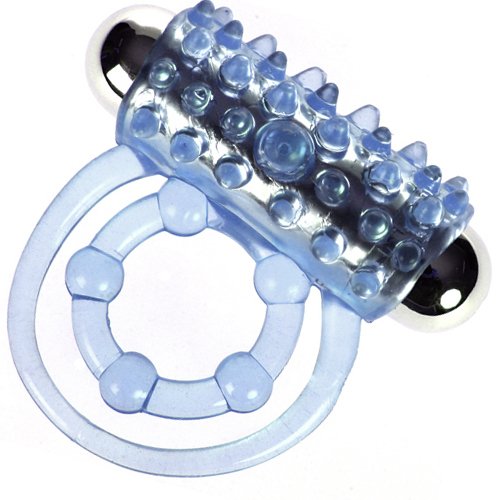 I received a Jack the Lad Vibrating cock ring as a freebie with a different purchase. It's a combo of both ribbed / notched, and smooth.
The ridged ring goes round the base of your cock, and the smooth ring goes over / under your balls. It's tight, but it feels really nice.
Also, the provided bullet by itself is powerful and can be used standalone. The bullet slides in – with a little effort – into the heavily textured surround to provide your Mrs. with a satisfying clitty stimulation. Also it sends vibrations up and down your entire cock, which is … nice 🙂
Best Couples Cock Ring
You might think that a cock ring would only ever really be useful for couples. But some of the other cock rings in this guide can be used for solo pleasure as well.
This next section focuses on those cock rings that are 100% designed for pleasuring your partner, but that doesn't mean that you'll be forgotten about.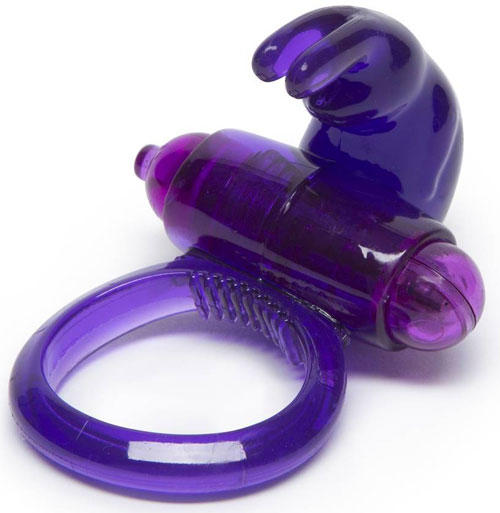 BASICS Vibrating Rabbit Cock Ring
Every girl knows about the Rabbit. Heck, most every girl likely owns (or has owned) at least one. So, if nervous of introducing a cock ring into your love life, or simply looking for a gentle female-friendly introduction to cock rings, consider this BASICS Vibrating Rabbit.
There's a lot to like about this toy.
The provided bullet vibe is simple, yet powerful enough to get the Rabbit's ears buzzing.
Speaking of which, those rabbit ears are going to turn your cock into her own 100% natural, extremely lifelike, and very realistic vibrator 🙂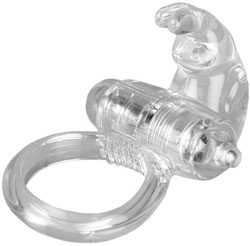 As ever with a vibrating cock ring, it's not only about her pleasure. The constant hum / buzz transcends the length and girth of your shaft with it's steady, heady electronic tingles.
There is a requirement for the little round watch style batteries – LR41 is the type you're after. The bullet takes two at a time, but four are provided.
At just £6.00 this is a great buy, cheap enough to take a punt on, with plenty of bang for your buck.
If you fancy a rabbit style vibrating cock ring but the BASICS Rabbit isn't to your taste, then good news: this is a popular design style, and plenty of variety exists. Bondara's Silicone Rabbit cock ring (£9.99) may be more to your taste.
Lovehoney Bedtime Bullet 10 Function Vibrating Cock Ring Set
I'm fairly sure this was the first sex toy I ever bought. Sadly, I don't still own this one, and I'll explain why in a moment.
At £19.99 this is on the pricier end of a typical cock ring. However, you do get a lot for your money.
First there's the "tennis racket" – which is distinctly how I remember my Mrs describing the larger – and we found this the more frequently used of the two rings.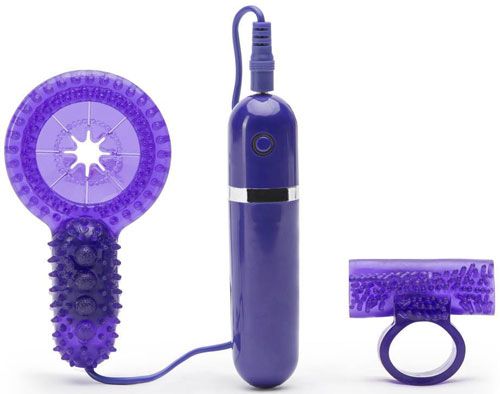 Secondly there's a completely separate ring – this time with a different shaped clitoral stimulator, and a ring which I didn't enjoy as much. I found this one a bit too thick, and as such the flexibility was limited.
In order to switch between the two you need to extract the bullet and swap over. This is basically a no-go once you've lubed up, so whichever ring you choose is the one you will be using for the entire session.
There's a few things I don't particularly like about this cock ring set, however:
No batteries included – not a huge problem, but still I felt cheaped out at the price.
The wire between the remote control and the bullet is a bit meh in 2018
As mentioned I no longer own this toy. We lost the remote control whilst moving house. Without it, the whole concept is a bit pointless. As such it ended up in the bin. Oh well.
Lovehoney Bionic Bullet 5 Function Vibrating Cock Ring
Sometimes simplicity is king. The Bionic Bullet combines pretty much everything my partner and I want from a cock ring:
Easy to put on and use
Combines both cock and ball rings, with different textures
The clitoral stimulator is simple but effective
It goes without saying that you need plenty of lube (water based) to get the most out of this cock ring.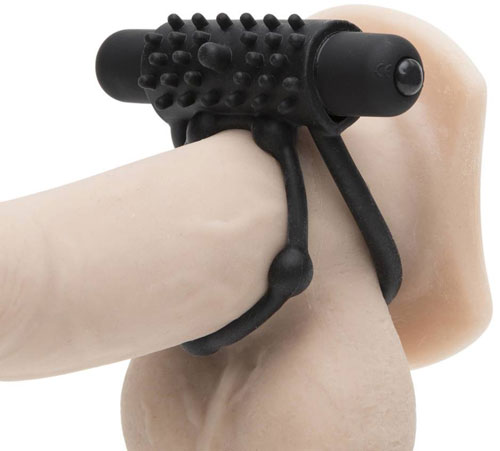 As far as a couples toy goes, the removable bullet vibrator can be used by your Mrs when you're not around. It's a bit noisy, but not overly so.
I managed to buy this when it was on offer at just £8. The RRP is £19.99, which is definitely too expensive for what it is.
Possibly the only criticism is that the cock ring in particular can get too tight after an extended period. This isn't specific to this ring, but if I were looking for a complaint, it would be about the only thing that comes to mind.
For me, this is about everything I'd want or need from a cock ring. Keep it simple, silly!
As it's a Lovehoney cock ring, the only place you can buy is at Lovehoney, of course:
Best Cock Rings For Hardcore Guys
For hardcore cock ring fans, only metal will do.
It is essential to have measured properly before buying / using a metal cock ring.
Once a metal cock ring is on, and you've got an erection, you can basically forget about taking it off. And if you start freaking out at its tightness or whatever, you could be in for a rough ride.
Being completely rigid, metal cock rings are amongst the most powerful and effective cock rings you can buy.
Even after you've cum, you still need to wait a while for your hard-on to subside before you can think about removal. Again, this is not for everyone.
That's why I am listing them under the 'hardcore' section. I wouldn't advise you try a metal ring until you have cut your teeth on a stretchy rubber ring.
In my opinion, metal cock rings look the best. They also have a definite heft, a weight that is totally different to a plastic ring – no matter what the price.
Now, I'm guessing that steel / metal cock rings are not big sellers. At the time of writing, Lovehoney only sell four different metallic cock rings. Bondara, by comparison, sell 14. Bondara have a more BDSM feel, and certainly metal cock rings fit more firmly in that subculture.
Lastly, being metal / steel you can use whatever lube you like here. I would suggest applying lube all over the ring, and on / around any nearby skin. Chafing is a bitch.
Bondara Ball Stretcher and Wedding Ring
Quite an odd name, but stick with me.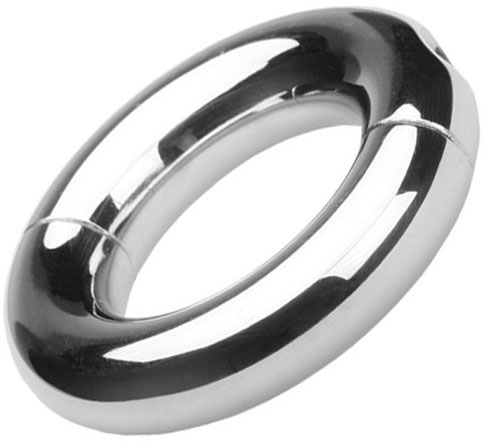 Bondara's ball stretcher and wedding ring cock ring goes beyond your typical bedroom toy, and into the lifestyle category.
Not every man wants to stretch his balls. Personally, I don't. God knows they droop enough as you get older anyway – why prematurely age your tackle?
Wondering about the "wedding ring" aspect of this cock ring? Well, there's a whole range of metal cock rings that aim to look like a wedding ring. Yeah, bit unusual. Whatever turns you on though, I don't judge.
Still, aside from the funky naming, and ball stretching aspect, this metal cock ring is a serious bang for your buck. And I do mean bang.
With the extra weight of a metal ring slapping against her pussy, my Mrs absolutely loved this.
It's thick and chunky, weighty and shiny, and it feels as nice as it looks. I found the extra weight pulling on me was a massive turn on. Highly recommended:
£29.99 at Bondara (various sizes to choose from)
Lovehoney sell something similar – though only in a single size (1.9 inch circumference) called the DOMINIX Deluxe (£13.19).
Bondara Steel Cock Rings
Ready to feel like your part of a Biker Gang?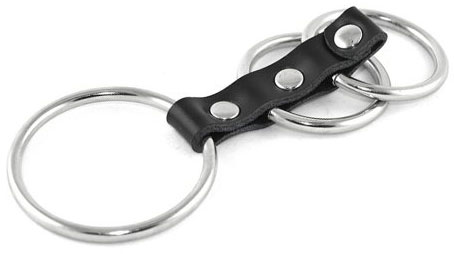 I was, shall we say, skeptical about the Steel Cock Rings.
I'm not the kind of guy who would ride a Harley – I don't have the build, nor the beard. And that's exactly where my mind goes when I see anything like this.
But, at£7.99
Ok, so this is a one size fits some kind of thing. As mentioned already, metal cock rings need to fit. Here the cock rings are both 1.5 inches, and the ball ring is 2 inches.
Lube, lube, lube. Sweet jesus, lube. Getting that ball ring on the first time was painful. Once it was on, Sweet baby Jesus and the orphans. I was hard as a fucking rock. And I stayed hard. And she loved it.
I was curious what the leather would be like for both of us during sex. Truthfully, I slapped so much lube all over it that I couldn't even notice it was there. The rings though, I definetly felt.
Speaking of the leather, it's decent quality. Maybe not premium grade – like I would know – but it felt nice and soft, and smelt like real leather to me.
Again, Lovehoney sell their own similar version at £14.99. Theirs is slightly more adjustable, and also has a "ball splitter". Looks interesting, one for the future I think.
Bondara's Nipple Clamps and Cock Ring Harness
Ready to go uber kinky?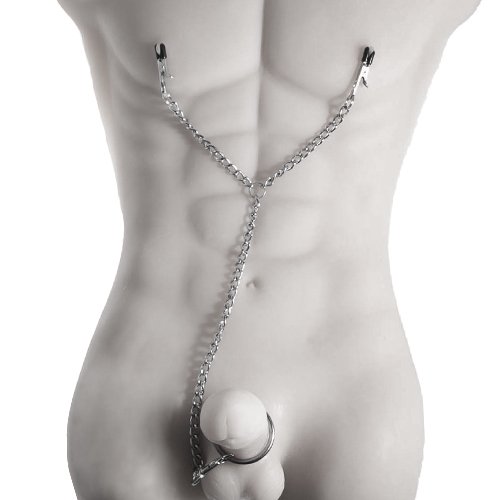 When this toy arrived it came with two other items from Bondara that I'd ordered for a different review. My Mrs, being nosy, opened the box as she often does when she recognises the sender. The packaging is discreet, but she knows the return address by now.
Anyway, when I got back from work I was met by her with this toy in her hand, and massive grin on her face.
What's this you've been buying then?
A classic smirk / cheeky grin, and my usual get out of jail free card – hey, it's for a review. Don't judge me. I'm a pervert in the name of science.
Well, she was keen to give it a try. A try on me, that is. There were giggles of delight as I winced in pain. We're not sadists, and putting what both looked and felt like crocodile clips on my bare nipples was a fairly painful experience.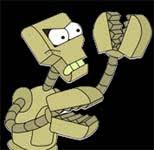 Once on, they stayed in place. Fortunately only light tugging at the chain was experienced, as I reckon a tight tug might pull your nipples clean off. Trust me, they are tight as fuck.
I didn't get to see myself in them. And I didn't want to put them back on again when sober / not as horny in order to get a glimpse. But she definitely enjoyed them. More than I expected.
It's a pity I couldn't get her to try them on herself. That was met with a playful but stern "no chance".
For me, the cock ring played second fiddle here. It was decent, but the star of the show for our session were the clamps.
If you're up for something a little different then this is an interesting, if slightly painful experience. I definitely enjoyed it, very kinky. Prepare for pain.
Best Cock Rings For Open Minded Guys and Gals
What would you say to having your cock, balls, prostate / male g-spot, perineum, and ass hole all stimulated by one toy?
If you're saying: Fuck yes, that sounds awesome then clap your eyes on the Rocks Off RO-Zen Pro Twin Cock Ring and Butt Plug.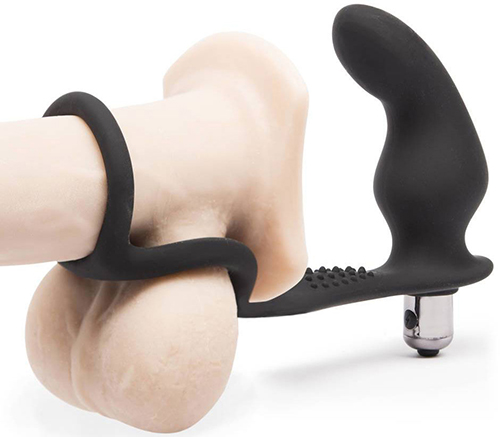 The name RO-Zen is a bit weird. It means this toy uses the award winning 10 setting RO-80mm bullet for vibration. And in stimulating 4 erogenous zones simultaneously, you may achieve a form of Zen 😀
Speaking of the RO bullet, it's removable and USB rechargable. Hoorah, welcome to 2018.
Both the cock / shaft ring, and the ring that goes around you ball sac are thick, but soft and stretchy. They look and feel like they won't tear – something that can't be said for some of the cheaper cock rings.
Between the cock / ball rings comes the ridged perineum tickler. You're going to need plenty of water-based lube – more on that momentarily – and a liberal application here is essential.
Speaking of lube, generously dollop plenty on the butt plug and gently push home for a sensation you may never have experienced before. Your first insertion can be a little – ahem – eyebrow raising, but just wait until you power up that bullet vibrator. I guarantee you will have exploded faster than one of Elon's early rocket launches.
I'll be honest, I had no idea this toy existed until I started preparing for my cock ring buyers guide. My partner is quite accommodating to my toy-based explorations, and this isn't my first plug. Most sex toys we use as a couple tend to focus on her pleasure. I don't mind this.
The RO-Zen was all about me.
This honestly felt like all the best bits of an MMF threesome, with – in my mind – none of the drawbacks.
Fantastic. I cannot recommend this enough.
Where to buy the RO-Zen Vibrating Cock Ring
Bondara also sell a 7-speed vibrating variation, with a slightly different butt plug. I haven't tried this version, but the plug doesn't appear to directly target the male G-spot.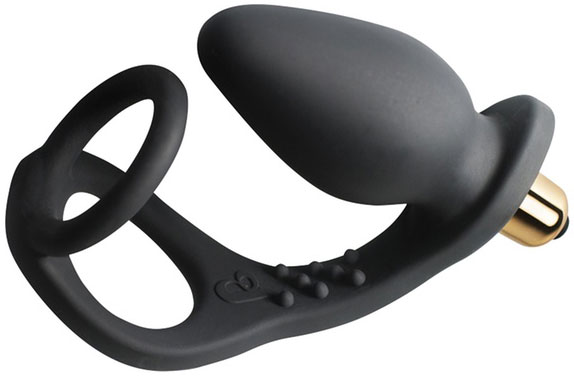 It is cheaper though:
£27.99 at Bondara (7 Speed Variation)
Fun Factory Bootie Ring Silicone Butt Plug with Cock Ring
If you fancy doubling your fun, but don't want or need the extra vibrations, Fun Factory's Bootie Ring may be a good choice for you.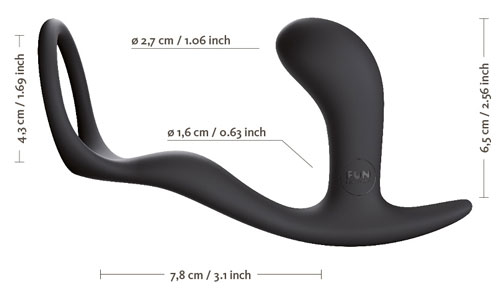 Similar, but not identical to Rocks Off's RO-Zen, you get the cock ring, perineum pleasurer, and a G-Spot tickling butt plug.
There's no batteries to worry about here, no vibrational complications. This means any bath time fun, or water play are completely safe.
The cock ring itself, being made of silicone, stretches to fit most men. The silicone is soft to the touch, but stretchy. Be sure to use water based lube when playing with silicone toys.
With a toy like this, even though it may not be immediately obvious, you can have as much fun solo as with your partner. A wank with a butt plug is something to behold – I encourage you to try it, if you haven't already.
The bulge of the butt plug is thicker at the top, then tapers off. This is perfect for beginners to anal fun. Whilst the Rocks Off RO-Zen offers a different kind of pleasure, the thinner taper of the Bootie Ring's base will benefit beginners.
Bondara do sell just the butt plug without the cock ring. Not a huge price saving here though at £21.99
Lovehoney Double Fun Beaded Vibrating Double Penetrator
The previous two cock rings involving anal play focus on the male's anus. What about if she wants a bit of bum fun?
Of course the sex toy industry hasn't forgotten about such things. There really is a toy for every occasion.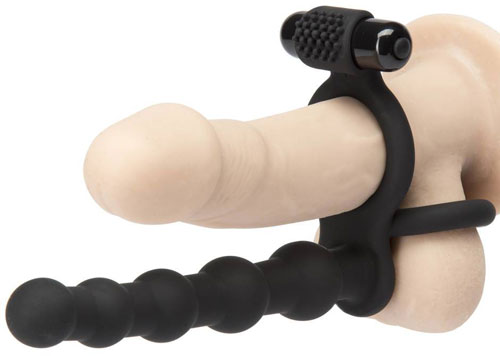 Alas, I do not have any direct experience with this toy.
What I can tell you is that there are both silicone cock and ball rings available here. This is a two part toy – the cock ring, ball ring, clitty tickler, and anal dildo are all one piece of silicone. The battery powered bullet vibrator is removable.
The bullet offers two speeds and 5 patterns of vibrations, though as ever with these toys, once slathered in lube it can be tricky to gain enough grip to change the settings. The batteries are those tiny circular LR44 type, of which the bullet needs 3 at a time, but 6 are included. So that's nice.
If your Mrs is feeling adventurous, why not give her the anal pleasure that only you enjoyed with the other two toys.
Cheapest Cock Rings
Cock rings can be surprisingly cheap. As far as sex toys go, for sure most cock rings are very much on the cheaper side of the spectrum.
The bigger online sex shops such as Lovehoney and Bondara have regular sales all year round, and bargains can always be found. What I'm about to cover are the cheapest cock rings from both Bondara and Lovehoney at the time of writing. It's fairly trivial to do your own research here though, simply click through to either Bondara or Lovehoney, and click 'sort by price'.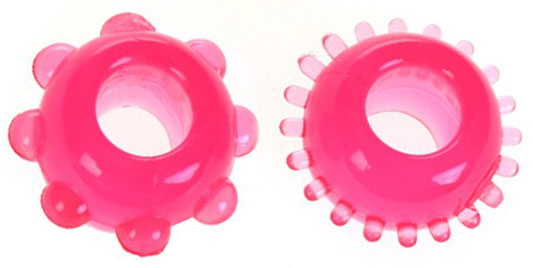 At this price – just £0.99 – for not just one, but two stretchy cock rings you could afford to use the Maximum Pleasure Cock Ring set just once each and then throw them away. Oh the huge-manatees, think of the environment!
These aren't throw away items though. You'll get more than just a single use out of them, that's for sure.
You could even wear them both together – one on the base of your cock, and the other behind your ball sack, and you've doubled your pleasure.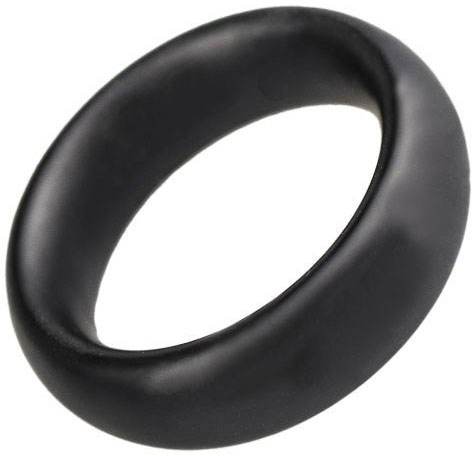 Another absolute bargain is the Black Silicone Cock Ring from Bondara. Available in three different sizes and prices at just £1.49
Think about it, this cock ring is basically half the price of a coffee shop latte, and a lot more fun.
As there are three sizes available it's important to properly measure yourself before ordering.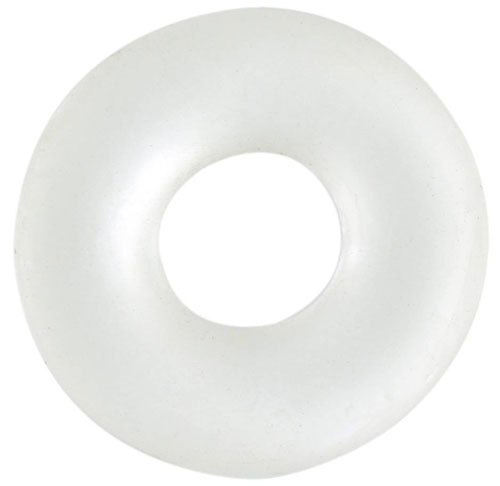 I've covered a few of the Lovehoney BASICS range earlier in this cock ring buyers guide, so won't be repeating myself here. There are variety of sets available that are similar to this Doughnut stretchy cock ring.
Just because these cock rings are cheap doesn't mean they are one-time use, or throw away items. This is good. I don't think I could live with myself knowing my cock was contributing towards global warming.
There are a bunch of super cheap cock rings available. An honourable mention is Lovehoney\'s Good Vibes at £3.75
Most Expensive Cock Rings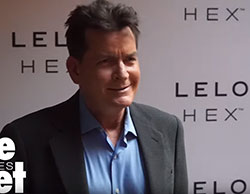 When you think of expensive sex toys, you think of LELO, a company who sell sex toys to celebrities and the like. Beyonce and Jay Z famously dropped over $6000 dollars on a golden LELO dildo. And Charlie Sheen was, for a while, the face of their condoms.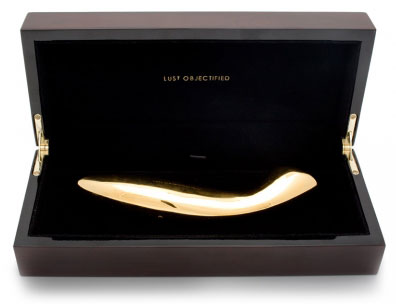 So it should come as no surprise to find two of the three most expensive cock rings available today are from LELO.
Oh, I should mention, they are expensive, but they are good. So like everything in life, you get what you pay for…. With one exception:
LELO Oden 2
This is the LELO Oden 2, which I believe is the most expensive cock ring available today, at £128.99 from Bondara. If you really want to prove how rich you are, consider buying direct from LELO themselves, where it retails for £159.99.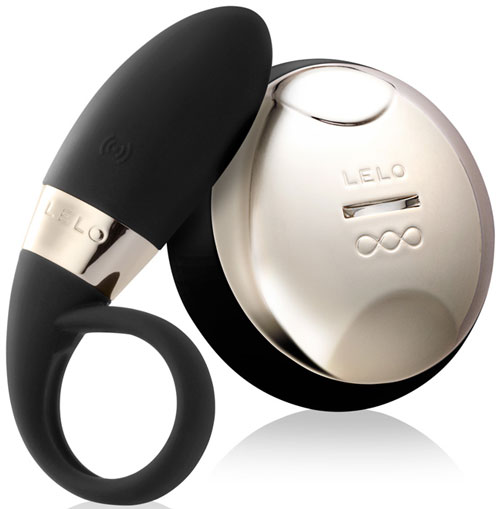 For such a mighty price you'd expect this to be the absolute perfect choice. Alas, not so.
To the best of my knowledge, Lovehoney stopped selling this cock ring as it reviewed so poorly.
Now, I have no first hand experience of this toy – I'm not made of money, sadly – so instead I'm going to recommend you read the customer reviews at Lovehoney (even though this product is discontinued) as they tell the story better than I could ever hope too.
If all that wasn't off putting enough, it's worth pointing out that the LELO Oden 1 – the original – was also poor. Maybe third times a charm?
Not put off by LELO's pricing? Looking to blow over a hundred quid and want something that reviews a little more positively?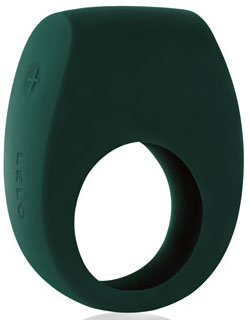 LELO Tor 2
This is the LELO Tor 2.
It's a rechargeable vibrating cock ring that features a microprocessor CPU to adapt the vibrations as you desire.
There's 6 different vibration modes to choose from, and LELO reckon it should last you the lifespan equivalent of 10,000 disposable cock rings. Which is nice. Especially as I harped on about the environment earlier.
But with that said, are they expecting you to be handing down your cock ring as some sort of family heir loom? Can you imagine how rank it would be after 10,000 lifetimes? Blerrrghhh. Why yes, there's your great granddads fossilized pubes :/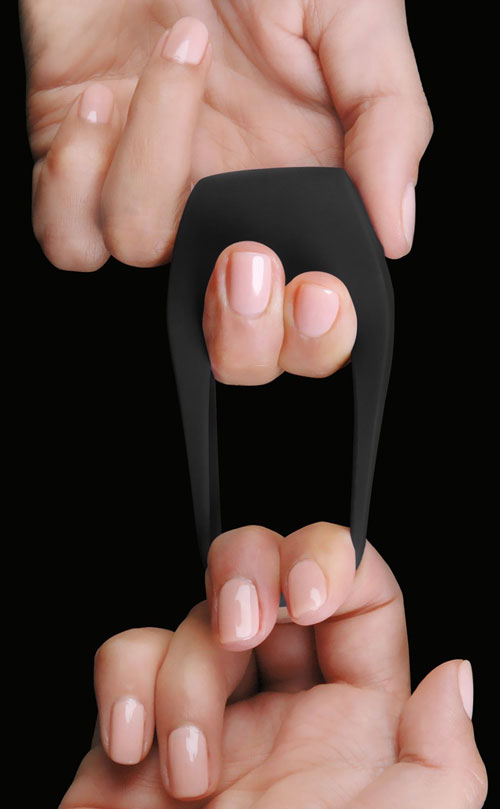 As you might expect from a toy further up the luxury scale, this cock ring arrives in posh packaging – akin to the older iPhone / iPod boxes, only with more velvet. Inside the box you'll find instructions, a charger, the cock ring itself, and a satin travel / storage bag.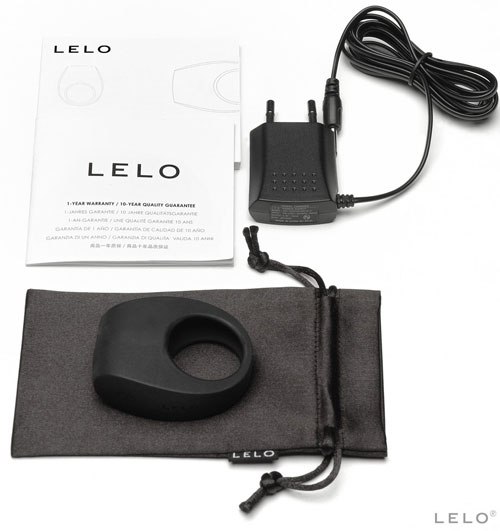 The TOR 2 is fully waterproof to a depth of 1m, and there's a 1 year warranty, and 10 year quality guarantee.
As far as expensive cock rings go, the LELO Tor 2 reviews the most favourably.
Where to buy the LELO TOR 2?
We-Vibe Sensation Unite
Including the We-Vibe is a bit of a cheat.
Whilst this toy is definitely expensive – £149.99 at Lovehoney – it's actually two toys in one.
You get both a hands-free clitoris vibrator, and also the cock ring – which they call a "love ring".
Both toys have ten different vibrating settings, and can be controlled by both the remote control, and an app for your phone.
I'm not going to say too much about the We-Vibe Sensation as I've had my say about We-Vibe generally already. I'll leave it up to you to decide if this is a good fit for your needs.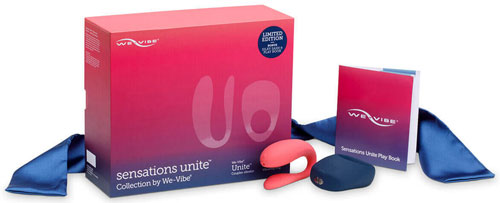 Cumming Full Circle
And there we go, pretty much my ultimate guide to all things cock ring. I hope you have found this guide helpful, useful, or at the very least, mildly entertaining.
We covered how to measure yourself for a cock ring, what cock ring might be suitable for you, and cock rings for the more adventerous (and loaded) guys amongst us.
Let me know in the comments section if you have any questions, feedback, or want to share your opinion on which cock ring you think is best.