If you are ready to buy, and don't want to read my Fleshlight Flight review, then simply click here and have fun!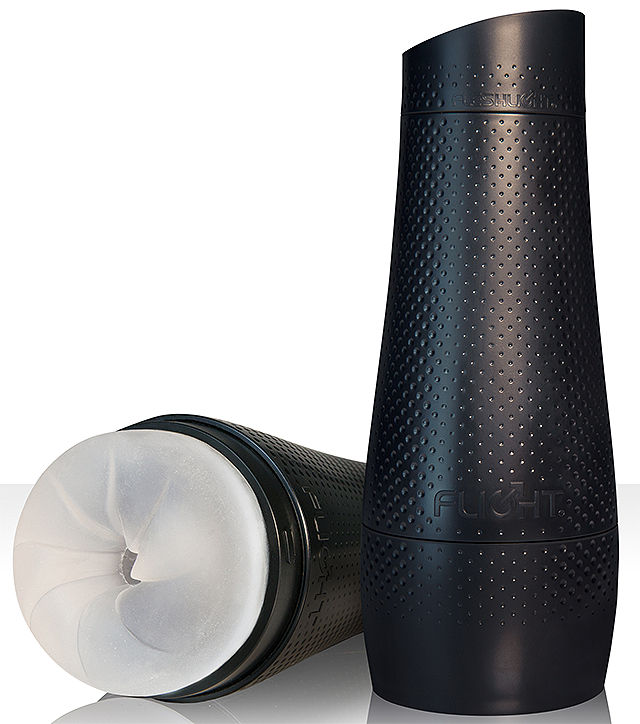 Still here? Excellent.
I want to start by telling you an embarrassing, yet funny story.
It was about 4 years ago now, and I was on a week long course down in London. Not surprisingly for a guy who runs a web site about men's sex toys, I had packed my trusty Fleshlight in my luggage.
Little did I know, the building where I was taking my course did mandatory bag searches on entry.
Let's just say that from the Tuesday – when it dawned on me that come Friday, I would be having my bag searched – I was in full scale panic mode. I came up with quite a few wild schemes:
Box up, and mail my Fleshlight home
Say it must have been left in there by someone else
Throw my Fleshlight away…
Needless to say, none of those options were particularly attractive, especially binning my shiny new £70 sex toy.
When Friday Cums
Fortunately, when Friday did finally arrive, my bag was sent through the X-ray machine and the security guard didn't blink an eye. I could only conclude that I wasn't his first deviant.
But that got me to thinking.
I am surely not the only guy travelling up and down the country every week, spending many a lonely evening in a budget hotel.
Sure, a guy has options – use your imagination, and your hand; do what I did, and bring your bulky toy with your; or heaven forbid, find an escort.
Or, you could wait four years and let Fleshlight invent a travel-sized, discreet version of their super popular men's sex toy.
Well, thankfully you don't have to, as those four years have passed, and we now have this Fleshlight Flight review here.
So, just how discreet is the Fleshlight Flight?

Of all the cases in the Fleshlight range, the Flight is the most discreet.
I have seen some people say it looks like a swanky bottle of aftershave. There is some truth in that, but it won't hold up to close inspection.
There is a stealthy, embossed logo on the side with the male sex symbol encompassed into the text, so that's also a give away to most.
But the Flight is certainly less conspicuous than a standard, full sized Fleshlight. So if keeping your toy away from prying eyes is a big concern for you, then the Flight should be high on your list.
What does the outer casing look like?
As mentioned above, some say it looks like a bottle of aftershave.
Others say the exterior is very aerodynamic. Well, that's marketing claptrap of course, playing on the flying theme.
Overall, I think it looks cool. Especially for a sex toy. I mean, you're never going to find a men's sex toy with the design beauty of an Apple product, but this is several steps in the right direction.
What kind of opening does the Fleshlight Flight have?
Technically it's a stealth opening. That is, it's not shaped like a pussy, arse, or mouth.
The boffins at Fleshlight took the Flight concept a little too far and styled the outer part to look like an Airplane turbine. I am yet to speak to anyone who thinks that was a good idea.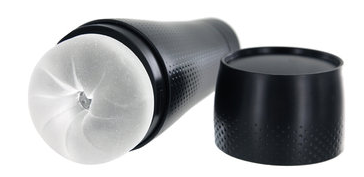 But don't let that distract you, after all, that's just the exterior. And aside from looks, it gives you no direct pleasure whatsoever.
It's all about what's on the inside, and thankfully, this is where the Flight takes off.
What does the Fleshlight Flight feel like inside?
This is where the Fleshlight Flight review is set apart from a regular Fleshlight.
The chaps at Fleshlight HQ have had to get smart.
They have had to maximise the amount of sensation available in a more compact space than a full sized Fleshlight.
Luckily for us, Fleshlight's design team have taken some of the best elements from their highly regarded existing range and combined them in the Flight's sleeve.
If you have ever experienced either the Ice Crystal, the now discontinued Barracuda, or the Fleshlight Girls Swallow textures, then you have at least 1/3rd of what this feels like.

Except in the Flight, these are all combined in to one super sleeve.
The closest comparable full sized Fleshlight is the Fleshlight Girls Stoya 'Destroya' insert.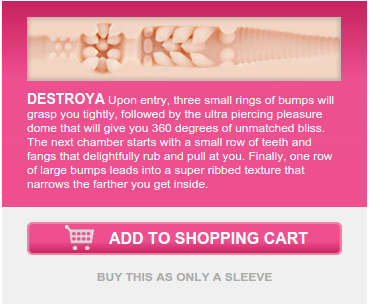 When you first enter the Flight, there are some small bumps, followed quickly by the first 'chamber' of large nodules.
This is the section that's most similar to the Ice Crystal.
As you slide further inside, you brush past the tingly notches similar to those that were in the old Fleshlight 'Barracuda'.
Notches is perhaps not the right word, but it's a hard feeling to describe. It's very nice though.
And the sleeve ends in the ribbed, bumpy canal that's so similar to the Fleshlight Girl's Swallow deep throat section.
This might all sound like overkill, but when you are in the heat of the moment, you don't feel each section working individually. Rather, they combine to produce one overall, very enjoyable and satisfying sensation.
As you come closer to orgasm, each individual section becomes more noticeable. This only adds to your enjoyment, and will guarantee sending you over the edge.
What are the Fleshlight Flight case's exact dimensions?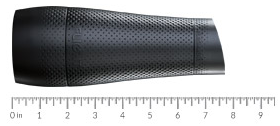 The sleeve opening is 0.5 inches, and the internal sleeve is 6.5 inches long.
Externally, the Flight measures 8 inches tall, and 3 inches around at the thickest section (the opening).
The casing is covered in tiny recessed bumps, which help nicely for grip in slippy situations.
Can I use my existing Fleshlight inserts?
No. But…
You can use the inserts from Fleshlight's Sex in a Can range, and the insert from the Fleshlight Flight Instructor. 
Being smaller than a full sized Fleshlight, the 'normal' sized inserts unfortunately do not fit.
So, you may be wondering…
Which is better: the Fleshlight Flight, or Fleshlight's Sex in a Can?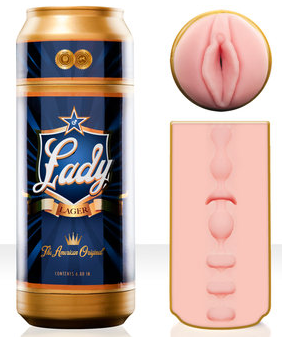 Ok, this is a tough question.
Firstly, insert's wise – for me – the Flight has the best insert in this smaller sized insert category. That, of course, is personal preference.
When it comes to aesthetics, the Flight wins hands down.
I think the 'Sex in a Can' (SiaC) range look a little tacky. Again, it's personal preference, but I think the external graphics on the SiaC range are the polar opposite of discreet.
If I wanted to hide my Fleshlight, shoving a dark cylinder in the back of a sock drawer is much less likely to draw attention than a brightly coloured, fake fizzy drink can.
Also, the Flight casing has tons of little recessed bumps on it. This helps massively for grip, if you are using your Flight with your hand. Especially if you accidentally spill a bit of lube on the casing.
Once you're inside the SiaC or your Flight though, it doesn't matter much what the case looks like. The inserts from the Flight and SiaC range are interchangeable, so that may be a deciding factor if you already own a Sex in a Can toy.
Does the Fleshlight Flight have a removable insert?
Yes, the inserts are removable.
The insert IS NOT interchangeable with those from the full sized Fleshlight range.
However, the insert is interchangeable with those from the Fleshlight Sex in a Can range.
I'll take it… do you have it in White?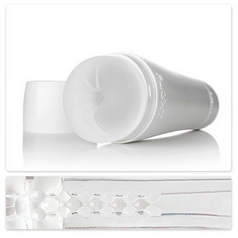 The Fleshlight Flight Instructor is a variation on the Fleshlight Flight.
The Flight Instructor has the same case dimensions and profile, but a slightly different insert. These inserts are interchangeable, should you happen to own both.
There is currently no difference in price between the Fleshlight Flight and the Flight Instructor.
What didn't I like about the Fleshlight Flight?
There's a couple of points that struck me as odd.
Firstly, the external part of the bottom lid is at a funny angle, so it doesn't stand up on that end. It's not such a big deal, I mean, it stands up fine on the opening end. Maybe I am just being fussy.
The other thing is the weird turbine shape of the insert opening. Fortunately, that's just aesthetics, and has no bearing on the internal sensations whatsoever.
What Did I Particularly Enjoy During This Fleshlight Flight Review?
This is the first Fleshlight I could realistically describe as being discreet.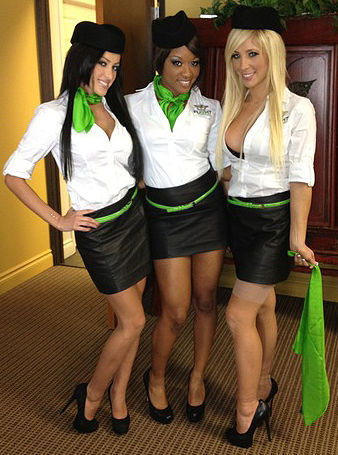 The outer casing, with its tiny bumps, makes it feel more 'grippy' in your hand. It's also much less bulky than a standard sized Fleshlight.
Also, the screw top and bottom both feel much higher quality than a standard Fleshlight.
I don't know if that's because it's smaller, so they had to make the screw thread finer, or whether this is going to be an improvement across the whole range, but it's much easier to control your suction using the bottom screw top, and overall feels nicer.
The insert is great, and should be a perfect size for the average sized (5.5″-6″) UK guy. It's all very well having a full sized, super detailed Fleshlight insert, but if you're missing out on a 3rd of it or more, then you could feel a little miffed.

Lastly, because the overall dimensions of the Flight are smaller than a standard Fleshlight, the insert definitely feels tighter than a standard Fleshlight.
Oh, and the price. It's a full £20 or more cheaper than a standard Fleshlight.
How big is the insert / Will the Fleshlight Flight accommodate my overly large member?
The sleeve opening is 0.5 inches, and the internal sleeve is 6.5 inches long.
You could be a little bigger and get by with unscrewing the bottom cap, allowing you to poke out of the bottom.
But if you are larger, go with a full sized Fleshlight.
Should I buy a Flight or a Full Fleshlight if I have an average sized (5.5″-6″) willy?
There are benefits to both.
The fact is, the Flight has a smaller insert and therefore, if you aren't going to get the full benefit of nearly 1/3rd of your full sized Fleshlight, it could make more sense to you to buy a Flight and get to experience the entire sleeve.
However, if you already own a full sized Fleshlight and maybe a few different inserts, you can get an almost identical experience to the Flight by using the Fleshlight Girls Stoya Destroyer insert.
A full sized Fleshlight offers more flexibility, but the Flight definitely offers improved portability.
If you're a guy on the go – the Flight is aimed directly at you.
Do I need to use lube with the Fleshlight Flight?

Yes, absolutely.
God, imagine the pain if you didn't. Let's just say it would be a rather excruciating experience to try and dry hump your Fleshlight.
However, with lube, it's absolute bliss.
Personally, I recommend ID Glide's lube – not just for your Fleshlight (and other men's sex toy fun), but for all round bedroom behaviour.
Grabbing some ID Glide lube with your Fleshlight has the added benefit that you can tell your Mrs that you simply ordered some more lube, should you wish to hide your true purchase from her.
Is the Fleshlight Flight waterproof?
Yes.
The case is made of plastic, and the insert plays well with water, should you wish to use your Flight in the bath, or the shower. Lube is still required though.
Make sure you dry your Flight thoroughly when used, as if you don't, you can end up nasty black spots over the 'skin' of your toy.
Thankfully, the insert is fully removable from the plastic case, so leave it out to air, once you have shaken and towelled off most of the moisture.
It is advisable to use some Fleshlight powder to keep moisture to an absolute minimum.
How is the build quality on the Flight?
Really good.
Over the years, and with every Fleshlight I have reviewed, overall build quality across the Fleshlight range is improving.
The solid, snappy feel to the both screw caps, along with the smooth, soft feel of the insert are at the cutting edge of Fleshlight's technology right now.
I hope that the improvements made on the Flight get incorporated in to the next generation of full sized Fleshlights.
Can I see a video of the Fleshlight Flight?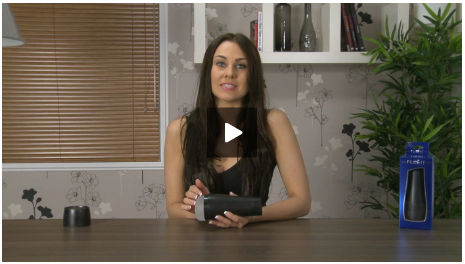 Yes, there is a great Fleshlight Flight preview / mini-review video at Lovehoney, which you can watch by clicking here.
Where can I read more customer reviews of the Fleshlight Flight?
Lovehoney – 100 more real customer reviews available, at the time of writing
Where can I buy the Fleshlight Flight?
Lovehoney – they are the only store in the UK to stock the Flight, and offer free, discreet delivery, and you also get some free official Fleshlight lube
The Official Fleshlight Site – especially good for European readers, as all the prices are in euros