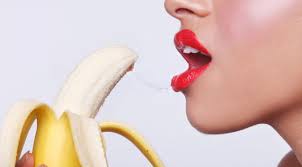 Once you have owned a male sex toy for a while and you have got over the initial thrill that comes with simply owning a men's sex toys, you will most likely want to expand your horizons, experience new sensations, and inevitably expand your collection.
This puts you in a funny position where you have to choose whether you're next toy's orifice will be:
a hot girl's (or guy!) mouth
a sexy little pussy
her arse
As far as life's little decisions go, it's quite a nice dilemma to have.
I have no solid figures to back this up – other than the trends I see from visitors to this men's sex toys review blog, which generally tells me that men go for pussy or arse based toys.
Ooh, I should just clarify that, I mean the most common toys that men buy after reading this blog are those which have a pussy or arse shaped entry, not toys for the pussy or arse 🙂
Anyway, I'm straying somewhat from my original point.
I want to show you there are some great alternatives to the 'traditional' pussy / anal entry.
I think most lads would like to increase their blowjob frequency quota, no matter how often you get the pleasures of oral sex. We are a greedy bunch who are just never satisfied.
And the sex toy designers and manufacturers are all too aware of our never expiring need for more sucking. Which has rather fortunately for the modern male, led to a wide range of blowjob simulator sex toys for us to enjoy.
So, today we will be looking at the best blowjob simulating sex toys in 2016.
First up is the ubiquitous…
Fleshlight (Jenna Haze Swallow)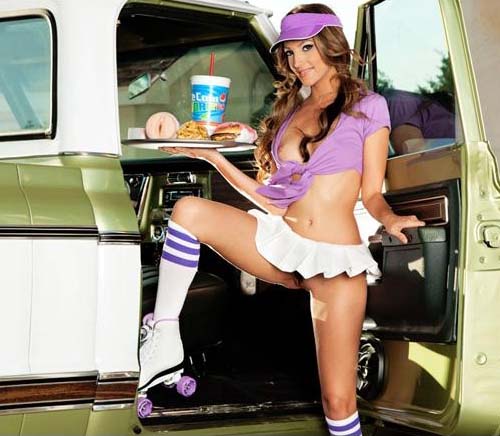 It's a very close race between the Fleshlight and the Spider for the most popular sex toy amongst readers of this blog.
But as the Fleshlight has been around much longer, has an absolute ton of different inserts (including all your favourite 'celebrities') available, and was the toy that got me started personally, it would be rude not to include this in pole position.

Way back when I first bought my original Fleshlight (the generic ass entry for anyone who might be wondering), the technology was kind of crude but it did a good job and you could definitely see a lot of potential.
Here we are, maybe seven or eight years later and as the range has expanded, the technology involved in making the soft skin-like rubber inserts has come along leaps and bounds.
If you've never used, held, or experienced a Fleshlight before, let me very quickly introduce you to the concept.
The idea – like many great ideas – is very simple in its origins, yet elegant in its execution.
The concept is that you have a pussy, ass, or more relevant to this article, mouth, held inside a discreet(*) looking tube very loosely modeled on the look and feel of a typical torch – or if you are American, a Flashlight.
Hence the name.
I put the asterix next to the word discreet because truthfully it wouldn't take too long for someone to figure out exactly what it is. Especially if they had any experience whatsoever with sex toys themselves.
Thanks to the case / flashlight style shell, it's definitely more discreet than a dildo though!
The hard plastic casing also has a dual purpose of being sturdy enough to grip hold of as you thrust in an out of your toy, and also perfect for pushing into tight crevices – such as between your mattress and the bed – for a good pumping session.
I can no longer simply say just buy a Fleshlight, and that be enough information to send you on your way.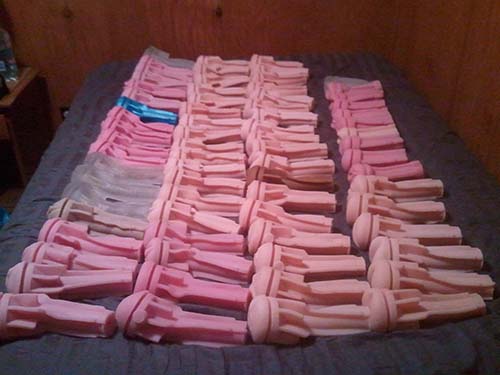 You see the range now includes everything from the traditional pussy, arse, and mouth openings, in both white, ebony, and 'ice' skin tones, along with stealth, zombie, Dracula, Frankenstein, and cyborg entries, amongst the more unique of which I have seen.
It doesn't end there. Once you slip inside your choice of opening, there is yet another range of textures, ridges, bumps, and sensations to experience.
Truly, there is something here for just about everyone. The key is to pick the one which you think you will enjoy the most. In fact, that's where the fun begins.
Today however, I want to focus on the Fleshlight Girls.
This is yet another extension to the product range, this time allowing you to indulge in your fantasy of being sucked off by your favourite porn star.
And yes, this could be your favourite female or male porn star.
There is a decent range of available porn stars, from MILF's such as Lisa Ann and Tera Patrick, and Nina Hartley, ebony pornstar Misty Stone, Asian pornstar's Asa Akira and Katsuni, through to your more 'typical' porn stars including Stoya, super cute Riley Reid, and my favourite, Jenna Haze.
If you prefer men, there is the equivalent range of the Fleshlight Girls, known as the Fleshjack Boys.

This range includes:
Trenton Ducati
Spencer Reed
… among many others!
I don't have first-hand experience with the Fleshjack Boys range.
But what I can tell you is that all but the exclusive/signature textures are identical to those used in the Fleshlight Girls range.
It's worth pointing out here that with very few exceptions, it doesn't matter which girl or guy you go for, once you are inside the inserts of the same type, they are all the same. That is to say Lisa Ann's mouth insert is exactly the same inside as Jenna Haze's insert, and the butt inserts are a different insert but the same across the range, as are the vagina inserts.
I hope that made sense!
I have really strayed from my original purpose of simply looking at the mouth inserts.
So let's get right back on topic.
My model of choice was dictated by my love for all things Jenna Haze.
And, let me tell you, I enjoyed the Jenna Haze Fleshlight arse insert so much that within two weeks of receiving it, I had placed an order for the mouth insert. That's what inspired me to do this roundup!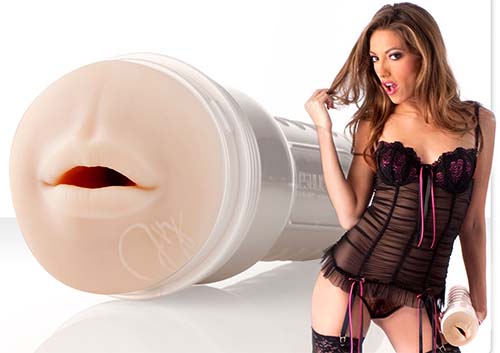 Fleshlight gave the name 'Swallow' to the inner texture of the mouth insert for the Fleshlight Girls and Flashjack Boys range.
And that's exactly what it feels like.
It's not identical to getting a blow job, but it's a darn fine and enjoyable substitute. Once you slide inside, there are little nubs that I assume are supposed to feel somewhat like teeth – but in a good way, haha.
Following this is a set of ridges and bumps that feel like her tongue and the roof of her mouth. Definitely enjoyable, especially if you're watching Jenna Haze (or any other) blow job scene whilst you're at it.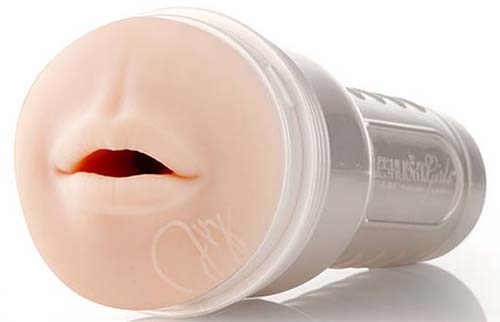 Past the bumps, the 'throat' gets much tighter, for which one can only assume is the Fleshlight R&D department's take on deep throat.
Because you're in control, you can vary the sensation exactly to your liking. You can go with the traditional up-and-down pumping method, or opt for a gentle twisting motion giving a completely different sensation.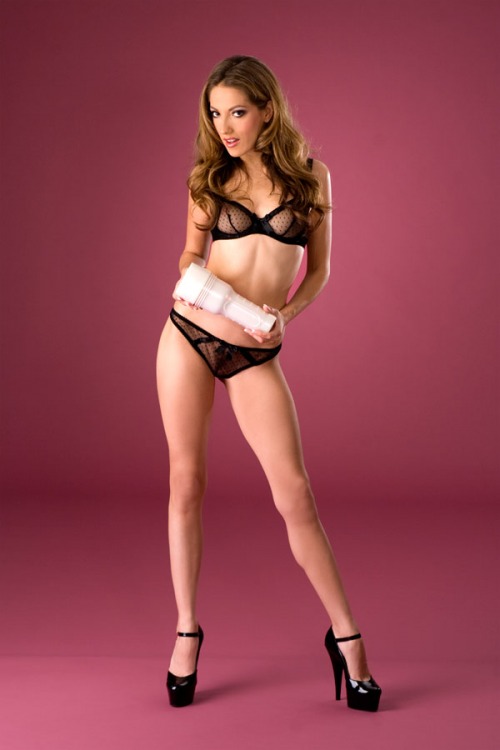 Just remember to use plenty of lube – which your Fleshlight comes with handily, in case you forgot to order any when you purchased it. A quick heads up though, it's really only a sample size lube sachet that you receive, so make sure your plenty stocked up, or add some to your order when purchasing.
Rough Guide Price:
£50-£70, Fleshlight Girls / Fleshjack Boys range closer to £65
In Summary
The market leader for a lot of good reasons.
The inserts have come along leaps and bounds in the last few years, and if you particularly like a certain pornstar, the Fleshlight Girls range can really bring your fantasy to life.
Also worth checking is the Spider – which accepts Fleshlight, and Race Utensil inserts too!
Read More Reviews
Tons of reviews @ Lovehoney – check out each different Fleshlight for more reviews, they have lots of reviews spread across all their different Fleshlights
Plenty of customer reviews @ Official Fleshlight Forums
Video Previews
Where to Buy?
TENGA Standard Edition Deep Throat Onacup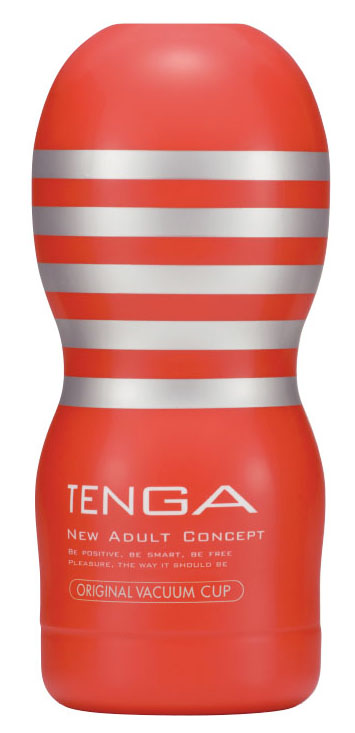 Next up is the TENGA Standard Edition Deep Throat Onacup, a blow job toy that is remarkable in more ways than one.
Firstly, the price is simply unbeatable.
With a bit of shopping about (check out the links below for a list of reputable, low-cost online retailers) this can be had for under a tenner.
Yes, a men's blowjob sex toy for under a tenner.
Secondly, in my opinion, this feels even better – well, more realistic at any rate – than a Fleshlight.
However, you knew there had to be a reason that this wasn't the first toy in the list, and that at that price there was probably going to be a 'but'.
And you're right.
The biggest problem with all the low-priced Tenga sex toys is that they are designed for one use only.
But don't give up just yet, as that's not strictly as true as Tenga would like you to believe.
It's true that if you do happen to orgasm whilst inside your TENGA Standard Edition Deep Throat Onacup – or any of their one use products – that it's difficult to clean up the mess. But it's not impossible. You can simply rinse it out under some hot water, and then reapply a dollop of lube next time you want to use it.
Or you can use a condom, which keeps internal mess to an absolute minimum.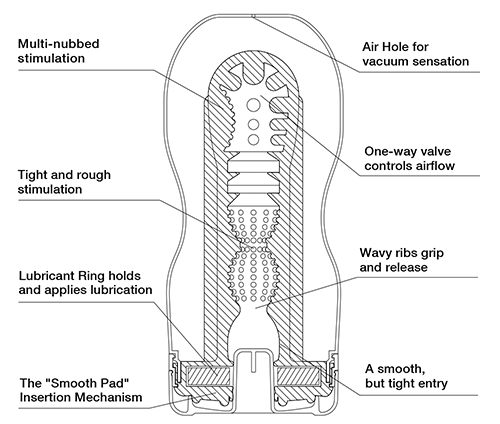 The way in which this toy is really sold as one use is because sooner or later – usually in under 10 uses, or much less if you are vigourous – the inside 'skin' will rip or tear, completely losing all suction.
One sure inside the TENGA Standard Edition Deep Throat Onacup, all concerns about this being the one use product will rapidly dissolve from thought.
This is truly a great blow job complete with realistic sucking, slurping sounds. It's honestly really, really good. And at this price it's almost a no-brainer. Certainly worth a gamble!
If you're feeling adventurous you can put your TENGA Standard Edition Deep Throat Onacup somewhere sturdy – such as between the mattress and the bed – and then go hands-free.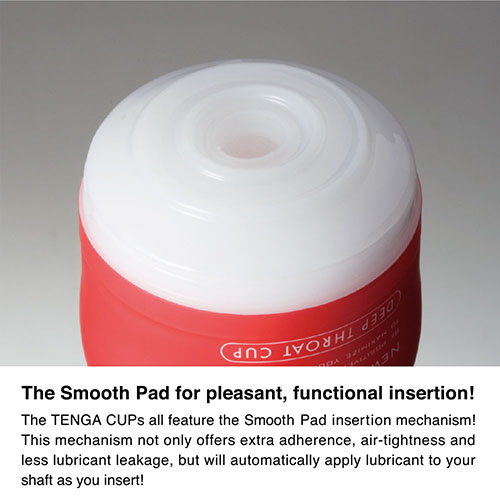 The only disadvantage to this method is that the way in which you control the strength of the suction is by a little air hole, which you have to place your finger over to increase or decrease the suction, and when it's between the bed you can't reach that hole.
I have seen reviews from customers of the TENGA Standard Edition Deep Throat Onacup saying that this was so good that subsequent real blow jobs they received were somewhat disappointing in comparison. I wouldn't go that far, as in my opinion no toy beats the real thing.
But this is bloody close.
And you might be concerned – as I was – about this being a disposable product, that you're going to have to put it into your wheelie bin. Which could prove quite embarrassing.
But fear not, as one of the benefits to the curvy design of the container is that it closely resembles a typical roll on deodorant, and unless you specifically looking for sex toys in someone else's wheelie bin, this probably wouldn't catch your eye.
There are other toys similar to the Standard Edition Deep Throat Onacup available in the Tenga range, so either pick one that more fits your needs, or try this one then try some of the others if you enjoyed the sensation.
Also worth trying are the Tenga Eggs – but that's for another time.
Rough Guide Price:
£9-12
In Summary
A brilliant sensation only let down by it's intended one time use.
With a little care and persuasion, you can get more than one use out of this, but it won't last more than 10 goes for sure.
However, whilst it does last, and for the money, this cannot be beat.
Read More Reviews
Video Previews
Where to Buy?
Bree Olson Deep-Throat Sex Doll Head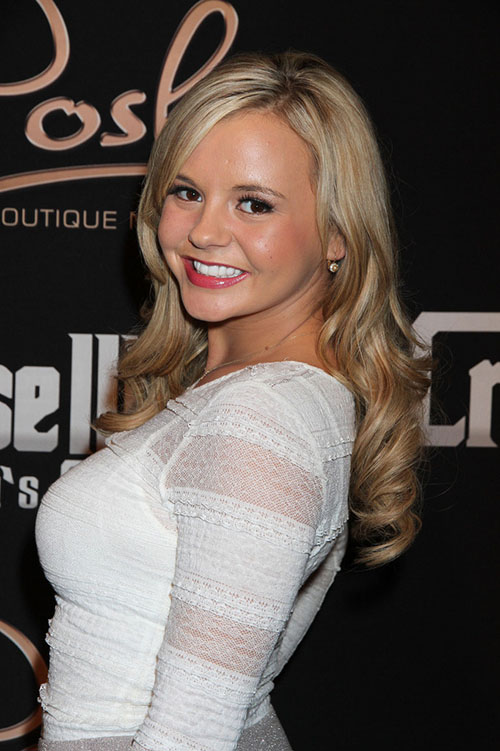 By far and away one of the most popular faces in the porn industry over the last 4 or 5 years has been that of Bree Olson.
So it should come as no surprise then that her likeness has been cashed in upon with this Bree Olson Deep-Throat Sex Doll Head.
Now I appreciate that this is quite a specialist item and not everyone is going to want a life-size head (well, face) of a porn star sitting around the house. It's one thing explaining away the Fleshlight to your other half, but this one is definitely going to scare the bejesus out of her/him.
You may well recognise her from her recent exploits with Charlie Sheen. But more than likely you know her from countless American porn flicks / scenes where Bree can regularly be seen taking cock in all of her holes. But it's her mouth in particular that her toy was made to imitate.
Pro's
Decent detail, but generic enough to imagine she is just about any woman you like
Much easier to hide than a full size sex doll
You can insert a bullet vibrator to give a nice vibration
Varying strength of suction, which you can control
Blowjobs on demand!
Con's
Bit creepy
Almost twice the cost of a Fleshlight 'mouth' insert
If you're face fucking Bree, you won't see her face that much… if you get me.
Rough Price Guide : £120
In Summary
Most guys like blowjobs, and most girls aren't quite as keen on giving them as we are on getting them.
If you need more features to give you that realistic feeling, or you just real like Bree Olson, then this could be a great sex toy for you.
If not, grab yourself a fleshlight mouth opening insert instead.
Available From
Fun Factory Cobra Libre 2 Luxury USB Rechargable Male Vibrator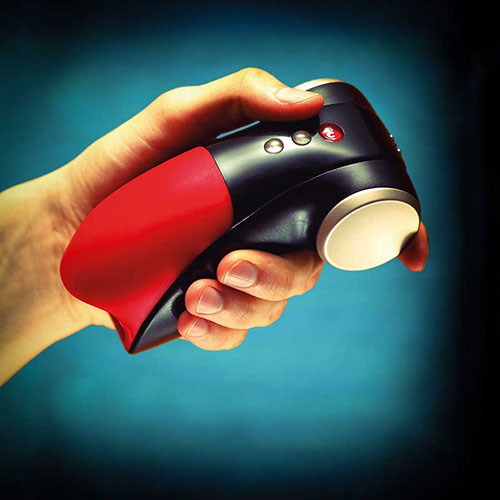 Next up is the Fun Factory Cobra Libre Luxury Rechargable Male Vibrator.
Phew, what a mouthful. No pun intended.
This is perhaps the oddest looking toy I have ever seen. In fact it's so visually unappealing to me that the thought of sticking my member into the hole frankly scared me.
But I was reassured to see a large amount of overwhelmingly positive reviews from other very satisfied customers.
Also, it helped that Lovehoney had a demonstration video (more on that below) that highlighted that the membrane (the scary outer bit) was made from soft silicone material that in real life appeared quite flexible and bendy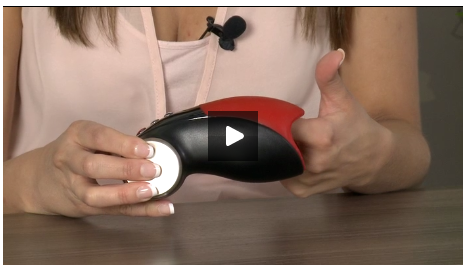 From all the promotional mumbo-jumbo that I have seen further Fun Factory Cobra Libre Luxury Rechargable Male Vibrator, it would appear that the wacky design was inspired by the movie Tron, or a futuristic concept car.
To me however, it looks like a cross between a Gillette razor and a hammerhead shark. Exactly the sort of thing I don't want to ever envisage going near my penis!
Anyway, enough about the crazy looks, let's get on with how this bad boy operates.
The Fun Factory Cobra Libre Luxury Rechargable Male Vibrator is designed to stimulate the glans – or as it's more commonly known, that bit around the banjo string. The main thing to know is that this area is considered the most densely packed with nerve endings on the whole penis, so targeting this area for pleasure can only be a good thing.
Okay so on with the other bad thing, aside from its looks.
The real pleasure killer is that it takes a full 12 hours to charge once it arrives at your house. This is pretty pants as if you're at work, and you are looking forward to playing with your new toy when you get home, you're going to have to delay that pleasure for 24 hours, which may actually add to the intensity of your next orgasm, if you look at the positives.
However, once it is fully charged, it will run for an hour on top speed.
Another positive is that you will never have to buy batteries, something that I consider a real plus point, as vibrating or battery driven products usually aren't the most efficient when it comes to getting a lot of life out of expensive batteries.
But honestly, the big selling point for me for the Fun Factory Cobra Libre Luxury Rechargable Male Vibrator (sorry I have to put it like that from Google's keywords purposes), is that this is the first real product I've ever seen deliberately targeting men that can definitely live up to the name 'vibrator'.
There's also a hint of Apple-esque tech going on here, as the charger connects via magnets, much like on the latest Apple Mac Book laptops. Very cool.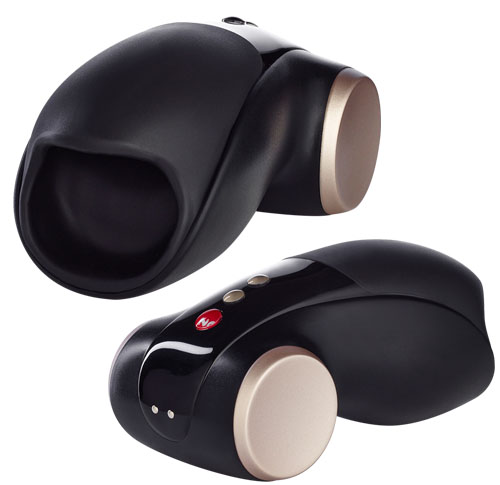 You may have tried Fleshlight's vibro out in the past, you know the one where you put a vibrating bullet in your Fleshlight? The vibrations are pretty strong but they're not focused. It's more of an allover sensation. It's pretty good, especially if you're just used the standard Fleshlight.
It's nowhere near the same as this though.
The vibrations sent through the Cobra Libre have to be felt to be believed. The Lovehoney's video does a pretty good job of showing off just how strong they are. Strong, and silent too. Not like so many badly made or cheap sex toys, this really has that luxury well-built feel.
It's also 100% waterproof – though the vibrations are strong enough to send a noticeable hum reverberating from the bathtub.
I would put this in the same category as many of the male toys from LELO, another luxury sex toy manufacturer.
Definitely one for a man who likes his sex toys to come with a few gadgets.
Rough Guide Price:
£75-£90
In Summary
A true luxury male sex toy for those who like their toys to come with more gadgets and gizmos than a smart phone.
If you can get over the bizarre looks, this can provide a healthy dose of pleasure.
Read More Reviews
Video Previews
Video preview @ Lovehoney
Video reviews on Youtube
Where to Buy?
Doc Johnson Sasha Grey Vibrating Deep Throat Sucker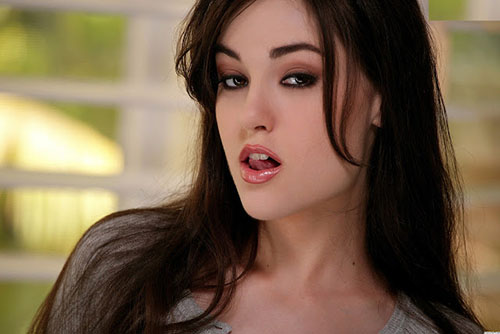 From the super high-tech to the plane and basic low-tech now, as we move on to look at the Doc Johnson Sasha Grey UR3 Deep Throat Stroker.
By low-tech and just mean that there is no buttons or electricity involved here. The actual mould I guess you could say is quite high-tech.
As the name implies this male blow job toy masturbator is designed to resemble the mouth of super sexy porn star Sasha Grey.
The Doc Johnson Sasha Grey UR3 Deep Throat Stroker is made from UR3 cyber skin, so the sensation is very similar to that found inside a Fleshlight, though here you don't have the hard plastic surround.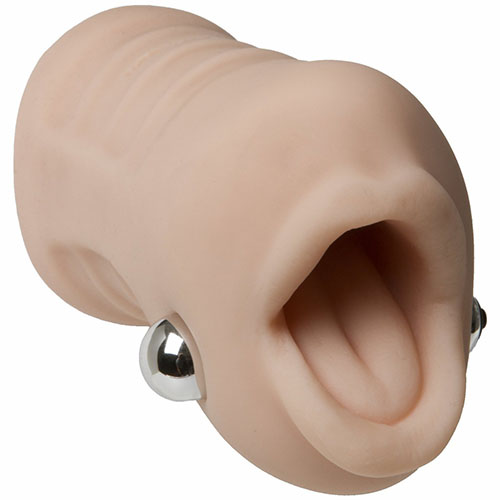 Not having a surround or case can be seen as either good or bad thing depending on your point of view.
It's good because it keeps costs down, so the toy can be sold to you cheaper than if it came in a case.
But it's bad because cases make hiding sex toys much easier, not to mention keeping them clean and dust free when not in use.
Overall however, with 5 ribbed inches to slide into and the nice, tight entry hole, this would certainly be a nice starter toy if you have never purchased a men's sex toy before, but I would honestly recommend spending a little bit more money and getting either a Fleshlight or a Spider.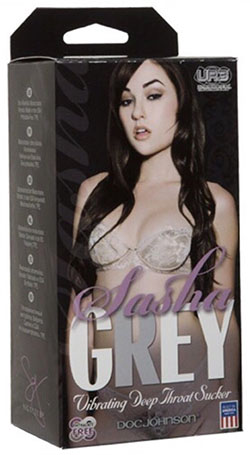 There's also another very similar toy to this, identical in almost every way, other than it is shaped to resemble the mouth of anal loving porn queen Belladonna.
There is nothing particularly wrong with this toy, it just doesn't jump out at you for anything significant either. And if you would rather go for a cheaper option and keep your costs to a minimum, and it might be worth taking a look at…
Rough Guide Price:
£18-£20
In Summary
There are toys out there that do a better job for less, so keep reading!
Video Previews
Where to Buy?
Double Play Mouth and Vagina Masturbator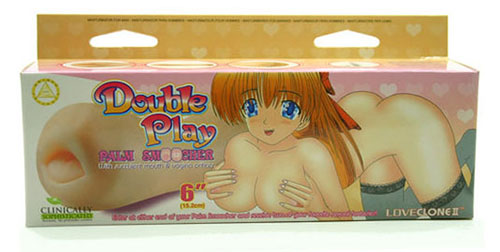 The Double Play Mouth and Vagina Masturbator is the perfect entry point into the low-cost reusable men's sex toys and masturbator's market.
It's the same price (or slightly cheaper) than a Tenga product, but the beauty of this Double Play Mouth and Vagina Masturbator is that it's perfectly fine to be rinsed out, patted down with a bit of talc, and reused again in the future.
It's even better value when you consider that not only do you get the mouth entry point for a blow job, but flip it over and you get and vagina – or if your imaginative, and arse – entry hole also.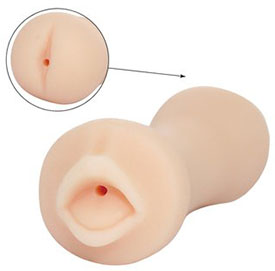 Of course, once you're inside it's not going to have the sensations or details found on the higher end products, but that's to be expected when it costs less than a tenner. And it is still ribbed inside, so it's not just completely smooth.
It's also pretty tight too. Now you may like your toys tight, or maybe a little looser, and on the more expensive toys you get the choice, or at least some way to control the amount of suction. No such luxury here, but again you can't have everything at this price.
If you're unsure about spending £50, £60, £70 or more on your first toy, then this could be a great introductory purchase. It's good enough to give you an accurate expectation of the current state of the kinds of technology and feelings found in men's sex toys.
Rough Guide Price:
£11.99
In Summary
A very wallet friendly option with two holes for the price of one.
A great introduction to male sex toys.
Read More Reviews
Video Previews
Where to Buy?
Sue Johanson Head Honcho
I had to Google to find out just exactly who Sue Johanson is, and I was expecting to see someone like Tracey Cox – you know, a sexpert MILF type figure.
Instead, I found an 81-year-old Canadian lady sucking on vibrator. I kid you not.
In fact here's the picture, and I know some of you are not going to believe that.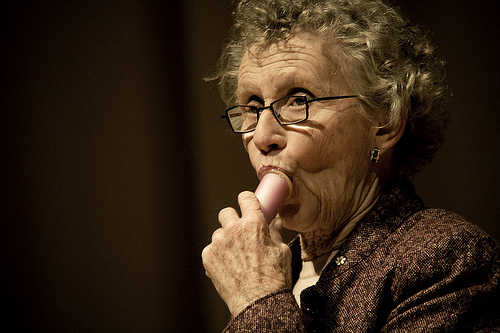 And yes that is actually her. It turns out that Sue Johanson is one of Canada's most well-known and prolific sex educators and media personalities.
Anyway, enough with the pictures of old ladies, if you still are feeling in any way sexual at this point let us continue.
Because it turned out that the Sue Johanson Head Honcho is actually a decent sex toy, though perhaps a little confusing to show up in a blow job sex toys roundup, when the opening is loosely based on a vagina.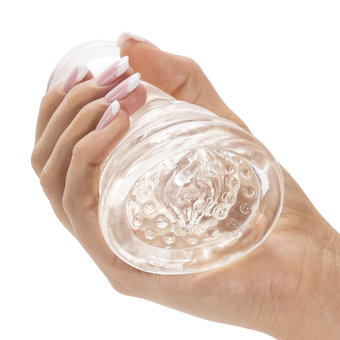 It's very similar to those hand-held masturbators that bear Tracey Cox's name, I don't know if you've ever seen any of them?
As you will have come to expect by now, with a low price point this doesn't have a hard outer casing or shell container, as seen with the Spider or Fleshlight range.
What it does have however, is a nice tight opening that will stretch to accommodate all but the very largest of men (stretches to 2inches diameter) and once you're inside there are three suction chambers, each half an inch apart, which caress, Matt Sarge, and stimulate both the head and the base of your cock at the same time.
Cleaning this toy is a piece of cake, as you can literally just turn it inside out and give it a rinse under the tap.
As with any cyber skin style product, it's best to run it under the hot tap anyway prior to use, so it feels nice and warm to the touch. And make sure you use plenty of lubricant (only water-based for this toy) so you don't get a friction burn.
It's not the quietest of toys once it's full of squishy, squelchy lubricant, so take that into consideration if you're buying it for stealth use.

Rough Guide Price:
£15
In Summary
A high quality, well made product at a very reasonable price.
The only way this could get better is if it came in an outer casing, or shell, like the Fleshlight range.
Read More Reviews
Video Previews
Where to Buy?
Doc Johnson Good Head Blow Job Toy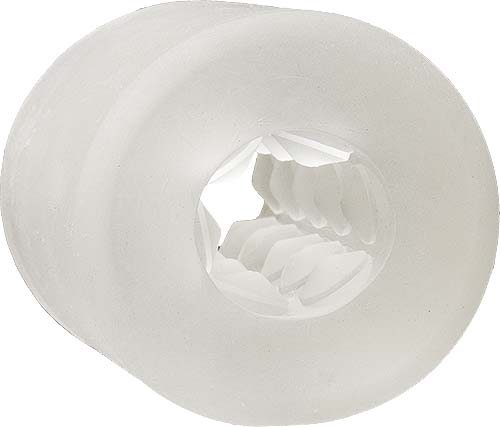 Onwards, and to the Doc Johnson Good Head blowjob toy which can be yours for just £9.99 at the time of writing.
This toy is small, at just 2 inches, but what it lacks in size it more than makes up for in sensation.
What I really like about this toy is that it's most definitely travel sized, and it's not immediately obvious that it is a sex toy. It's great for your travel bag, should you be the kind of guy who spends weeknights alone in a hotel, whilst away on business.
I find the cheaper the toy – in terms of cost that is – the tighter the entry, and the Doc Johnson Good Head Helping Head toy is no different. It really is a tight fit, but it does stretch to accommodate pretty much any size girth.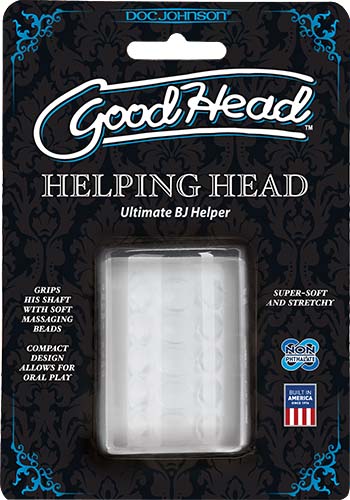 The plus point of this toy being so tight is that you can feel every ridge, notch, and bump as you slide in and out.
Again, as with all the low cost blow job toys shown here, this comes without a case or outer shell, and as it is essentially a wrapper which you hold as you stroke, it can get a little messy whenever your lube spills out onto the outer 'sleeve', making gripping a little tricky.
Thankfully that it is simple in design also make it super easy to clean. You just put water in one end and wait for it to flush out the other. Simple.
This is really a great entry point into the male sex toy marketplace, and whilst you're not going to get all the top of the range features found on the more expensive products, you can't ask for much more for the money.
Rough Guide Price:
£10
In Summary
Plenty of fun for cost concious buyers. Rarely will you find this much fun for less than a tenner.
Read More Reviews
Video Previews
Where to Buy?
Playpal TANGO Mouth Masturbator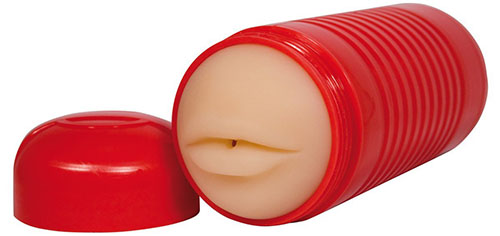 You know when you've been Tango'd.
Or you will at least know when you try to fit inside the Tango just how tight the entry hole can be on the male sex toy.
Just make sure you use plenty of lubricant and are nice and hard before trying to enter it.
With that said this is really a low price imitation of the Fleshlight range.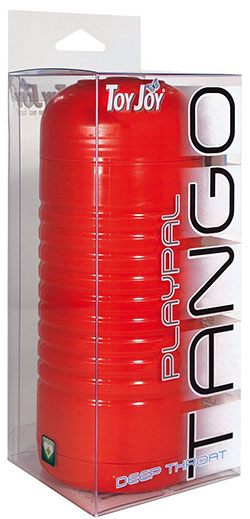 You get a solid plastic outer shell – great for storing your Toy Joy TANGO Mouth Masturbator and keeping it dirt and dust free – and it's also shaped enough like a thermos flask to not draw any unwanted attention. That said, it's still pretty easy to figure out what it is once you pop the lid.
Similarly to the Fleshlight, the insert can be removed for cleaning, or for use on its own, though I'm not sure why you would use it without the case.
The big difference here between this and the Fleshlight is simply the quality of the insert. Both externally on the lips, the entry point, and the feel of the inner texture, is simply not on a par with that of a Fleshlight.
And I guess that's why this rocks in at under half the price of an equivalent Fleshlight.
That said, it's still a good toy in its own right, and if it's the peak of your budget, then it will make an acceptable substitute until you can afford to purchase a Fleshlight or Spider.
Rough Guide Price:
£30
In Summary
A cheap alternative to a Fleshlight, but the insert simply isn't comparable to Fleshlight's latest offerings.
Video Previews
No videos for this one sorry!
Where to Buy?
Fleshlight Quickshot Vantage (or Boost)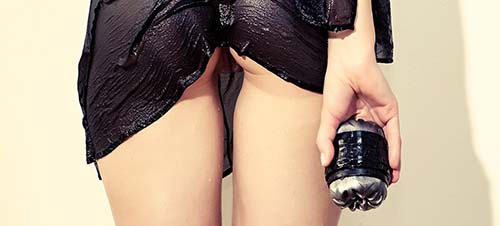 Fleshlight are the dominant force in male sex toys, and with yet another addition to their range, I was wary of splashing out yet more of my hard earned reddies on what at first glance looks like half the product, for half the price.
My biggest question was – how is the Fleshlight Quickshot different to the Fleshlight Flight, or the Fleshlight Go?
Aren't these all similar male sex toys all aimed at the same market? Confusing.
To clarify, from everything I could tell before I took the plunge and purchased my Fleshlight Quickshot Vantage, the Quickshot Vantage and Quickshot Boost are essentially the same product, but the Vantage is 'clear', where the Boost is dark grey.
I opted for the Vantage as I've never owned one of the clear / ice type Fleshlight toys, so thought… why not? Also, it reminded me of the Aston Martin V8 Vantage, which is my dream car, so it would have been rude not to.
Let me address each of my concerns, and hopefully they will help you in making your own choice.
How is the Fleshlight Quickshot Vantage / Boost Any Different to the Fleshlight Flight, or the Fleshlight Go?
The biggest difference is that the Fleshlight Quickshot is not fully encasing. It's not 'anatomically' correct, if you will.
You put your cock in, and the top – I'm not going to say half, as that's dependant on your endowment 😉 – sticks out. In the Flight, Go, or regular Fleshlights, you can't see yourself at all once you are inserted.
As a result, only some of your cock is getting direct stimulation at any one time. Of course, you move it up and down to 'spread the love', so to speak, but it's not the same sensation as its bigger brothers.
The insert has a different texture to any other Fleshlight I have used. It wasn't necessarily better, and of course, you need plenty of lube.
Is It Discrete?
Yes, it's more discrete than any of the other Fleshlights – including the Flight, or Go.
This is simply due to smaller size, and it is much less curiously shaped than its chunky cousins.
However, I bought the Fleshlight Quickshot Vantage, which is see-through / clear, and I would say go with the Fleshlight Quickshot Boost – the black version – if discretion is paramount.
Personally, however, I prefer the more natural skin tones of the bigger Fleshlight range. I would have gone for the black model (Quickshot Boost) if it had have been 'fleshy' coloured inside.
Using it alone is fine, or with a partner also. But you couldn't use this solo without a partner in the same room hearing you do so. It's noisy, in as much as there's slopping and sucking sounds as you slide up and down over your lubed shaft.
What Does Using the Fleshlight Quickshot Feel Like?
I guess this is the most personal part of this whole mini-review.
The closest comparable toy in terms of texture would have to be the Fleshlight Stamina Training Unit. But it's not quite like that either.
It is unique in terms of Fleshlight feel – it doesn't exactly resemble any other of their toys. And that shouldn't be a surprise as it's open-ended.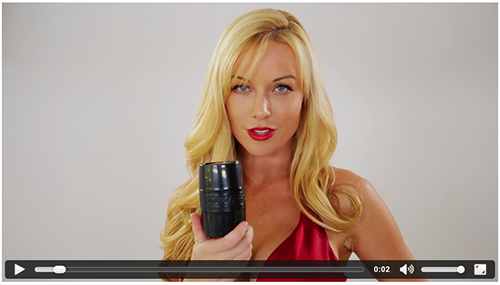 The Quickshot definitely feels more robust than some of the other strokers in this review, but then it should as it's over three times the price of the most basic models.
The inclusion of the solid outer casing makes grabbing hold really easy, and it's straightforward enough to use. It does take a bit of getting used to, or practice, to really get the stroke right though.
One thing that I did like was that as you reach orgasm, there is the possibility of more fine-grained control than with a full sized Fleshlight. With the Vantage's bigger brothers, often I find myself almost coming to a standstill (if you will pardon the expression) as the full encasing of a Fleshlight can become too sensitive at the point of climax.
However, it just isn't as good as a full sized Fleshlight.
If I had to choose between this or a full sized Fleshlight (including the Flight), I would opt for the larger models every time.
Is It Easy To Clean?
Being that it is open at both ends, it is fairly straightforward to clean. I just flush water through, direct from the tap. Being smaller than a standard Fleshlight, it's much easier to do even in a smaller sink – especially those tiny sinks you tend to find in some hotels.
I've read other reviews which say the Fleshlight Quickshot is quicker to dry than a bigger Fleshlight. I didn't find that to be the case.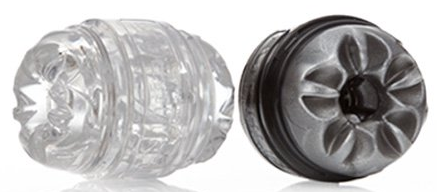 It seemed to take about as long as a full sized Fleshlight to dry. I never use a towel, I just let my toys air dry. If you live alone or have a partner who knows you use toys, this is no problem.
One nice thing with the Quickshot is you can easily turn the entire sleeve inside out, which is impossible to do with bigger Fleshlights. This helps with the shaking off of excess water, and being able to visibly see any remaining water drops. I guess if you were that kinda guy, it would also make using a hair dryer on the toy a possibility…
If your partner doesn't know about your collection of male sex toys then drying a Fleshlight is always a pain. Don't put them away wet though, unless you like mould. Instead, grab some of the Fleshlight renewing powder, which does a much better job at a quickly drying off your toys (Fleshlight or not).
Is It As Good As a Full Size Fleshlight?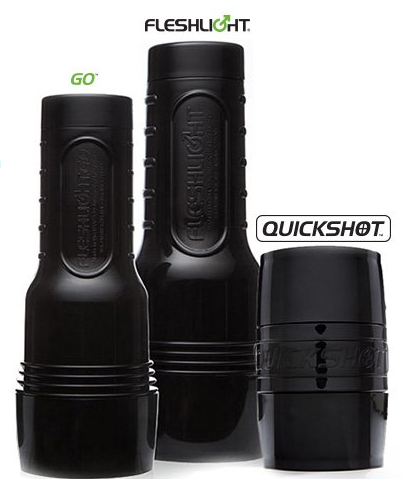 In a word: no.
In more words: It is different.
It cannot compete with it's bigger brothers simply due to the shape and that it is not a full pussy / mouth / arse replica. Nor is it intended to be.
It is good at what it does, but it isn't absolutely mind-blowing.
I have really enjoyed using it, and have never regretted bringing it on my travels instead of the Flight.
That said, I can't say there are too many troubles for me to bring a full sized Fleshlight in my travel case – particularly for national travel. I wouldn't take a sex toy on an international trip, so that's a none issue for me.
If you never leave the house with your toys – buy a full sized Fleshlight. There are plenty of options to choose from.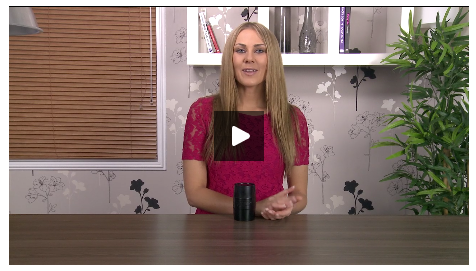 If you do travel, then between this and the Flight, I'd opt for the Flight first. But it's personal choice, as always, and if cost is an issue then this is the cheapest Fleshlight product I know of.
Is It Better Than My Trusty Old Hand?
Yes.
Is it better than a partners hand? That depends on your partners skill. In my case, I'd say a partner's hand wins.
What about a partner using your Fleshlight on you though? That might be something to try.
However, why would you use a toy when you have the real thing?
All that said, if you are the kind of guy who spends a lot of their time in a hotel, this travel sized Fleshlight is pretty awesome way to enjoy a little 'me' time.
Rough Guide Price:
£22-£27
In Summary
A blowjob toy for a man on the go, who doesn't want to lug around a full sized Fleshlight.
Read More Reviews
Video Previews
Where to Buy?
Wrapping It Up
There are two more potential candidates for guys who would like to simulate the sensations felt when getting a blow job by using the men's sex toy.
However I'm well aware that this is now a really long round up, and I'm going to review both of these other two products separately – well in a side-by-side comparison – but as they are not strictly blow job toys, it kind of makes sense to do it that way anyway.
So with that, I'm going to finish up here and hopefully I've helped you come to a conclusion as to which would be the best blow job toy for you.
Keeping Your Toys Clean and Fresh
Many sex toy manufacturers have spotted the opportunity for a quick up-sell with their range of toys.
This isn't necessarily a bad thing, as keeping your toys clean and hygienic is of course, very important.
But you can get away with buying corn flour from your super market and using that instead of the expensive branded options, such as the Fleshlight Powder.

If you can afford it, then of course make sure you get some of the powder with your order, as it really is a bit nicer than using plain corn flour – plus it removes the ball ache of having to remember, and then search for corn flour next time you are in the super market. Plus, the official stuff smells much nicer 🙂
Recommended Lube
It's absolutely essential to use lubricant when using any of these toys.

Some of them come with free samples, and others such as the Tenga are pre-lubricated. But if you want to re-use the Tenga, you need your own lube.
I recommend going with ID Glide. Buy a big bottle – it lasts ages, and works out miles cheaper than buying smaller bottles.
The only time I recommend smaller bottles is for the specialist lubes, like the ones that add a heat sensation or similar, as you might not wish to always have that affect with every use.
And if you are going for the more specialist / sensation enhancing lubes, go for a variety pack, as its good value.
My Final Recommendation

Personally, I love my Jenna Haze Fleshlight Girls blowjob toy, and if I had to recommend just one toy from this list it would be that.