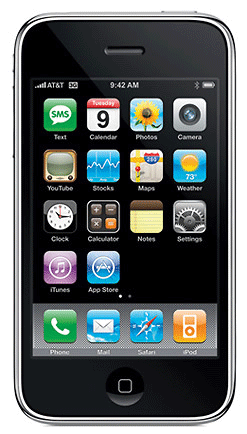 Back in 2009, Apple – still under the helm of Steve Jobs – had a video advert for the iPhone 3G that led with the slogan:
There's an App for that!
So proud of themselves were they that they even registered these five words as a trademark.
At the time, Apple had just over 250,000 apps in their AppStore.
As of 2016 when I write this post, they have over 2 million.
You don't have to be a gambling man to realise there are slim odds that at least one of these apps is a long distance sex toy.
And sure enough, We-Vibe have ensured that yes, there is an app even for that, with their We-Vibe 4 Plus, a remote control clit and g-spot couples vibrator.
An Internet Full Of Sex Toys
Now, I must admit I had no idea that the We-Vibe 4 Plus existed, nor any other toy like it.
In hindsight, that is pretty foolish. If anything, the adult industry in general are some of the most forward thinking, progressive marketers and manufacturers in the world.
Don't believe me?
The adult industry was showing online video content long before Valentines Day 2005.
Virtual Reality sex and all its associated gizmos and gadgets are growing at an incredible pace. The industry is preparing for the next generation of console launches such as Sony's Playstation VR, the Oculus Rift, and HTC's Vive.
This pioneering attitude even goes back to the 1990's when adult film producers got access to VHS, and contributed to the demise of Sony's BetaMax.
If you really stretch your mind back, you might even remember the first adult chat lines appearing in the backs of magazines.
It is therefore no surprise that as the internet has spread from beardy men sat in universities, to beardy men sat in their living rooms, to trim bearded hipsters with their smart phones, that the next revolution of The Internet Of Things should include things like dildos and vibrators.
Always On, Always Watching
Of course, this wouldn't be a story about long distance sex toys and the Internet if we didn't touch on a little Snowden-esque spying.
Only, this time we aren't so much bothered about the NSA as we are about Standard Innovations, the manufacturers of the We-Vibe.
Alas, it transpires that Standard Innovations have been collecting data from their sex toys without their pleasure seeking users quite realising.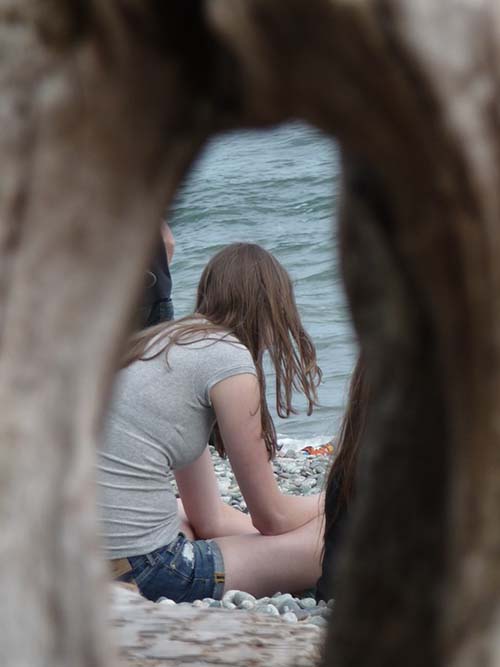 If you've ever used a FitBit or other similar device, you might have enjoyed comparing your performance against a selection of fellow users. However, it turns out users of sex toys aren't quite as willing to share their metrics.
And here's me thinking all I had to worry about were the Chinese watching me wank via my phone's camera.
Long Distance McLovin
What are your options if you and your lover / partner / fuck-buddy are a long way apart from each other?
There's sexting, which is fine if you're 16. I want to stroke your emoji, and such and such.
There's phone sex, which is great if your partner is into that sort of thing.
And then there's the Channel 4 Alternative Christmas Message. The unusual approach that is almost guaranteed not to be to everyone's taste. I think that's where the We-Vibe 4 fits in.
In my humble opinion, it's going to be a difficult sell to convince a partner not already interested in phone sex to put an app controlled vibrator inside herself, and give you the keys.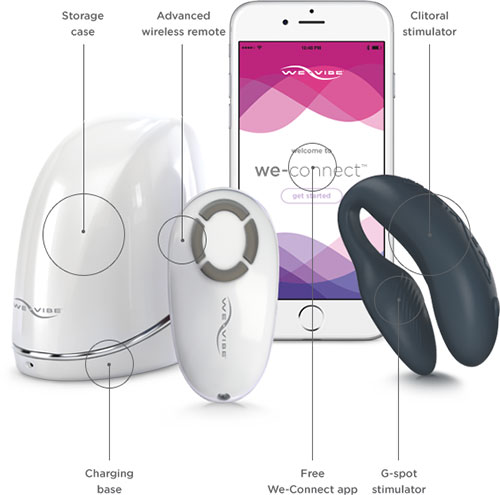 However, if your partner is exactly the sort of rampant rabbit who will send you a snapchat striptease then you could well be in luck here.
Once you have convinced your partner to slide the toy inside her, the real fun can begin – whether you are together or on opposite sides of the world (time zones permitting :)).
You don't need to use the app either, you can use the remote control. This makes it nicer for solo play, as my God, we all use our phones waaay too much anyway.
One nice thing here is that both of you can continue enjoying this sex toy even when you are together. It's not just for remote enjoyment, the We-Vibe gives you pleasure too once you slide inside her.
Feature Packed
There's no denying that the We-Vibe 4 Plus has some decent features.
But then it should, 'cus it is over a hundred quid.
Aside from the smartphone app that we've already touched on, what else is in store?
Well, it has the wireless remote control. That's nice.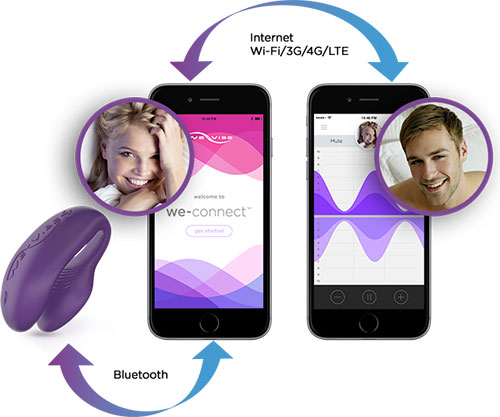 A downside to the remote control is that you can only have either the mobile app, or the remote control paired with the We-Vibe 4 at any given time. Re-pairing isn't that big of a deal, but nothing kills your mood faster than having to do a little "admin".
Using the remote control is simpler than using the smartphone app. However, you can't do everything with the remote control. Some features need the app.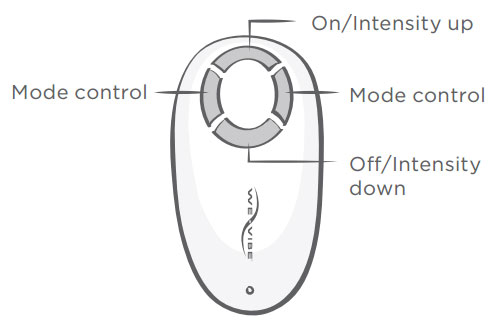 You have a button for turning on your vibrator.
That same button also increases the vibration intensity.
The button directly beneath it reduces the intensity of the vibrations, and if on the lowest vibration setting, clicking again will turn off the toy.
Just like on the app you can choose from the various vibration modes: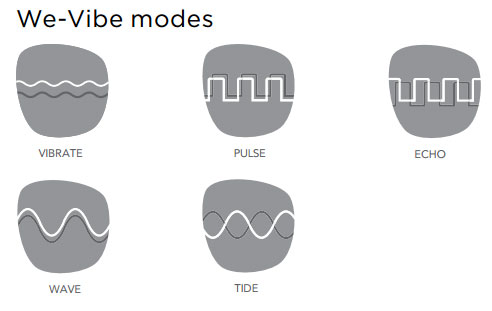 Vibrate
Pulse
Echo
Wave
Tide
And if you use the app, there are some extra "bonus modes" available:
Crest
Bounce
Surf
Peak
Cha-cha-cha
MX Vibe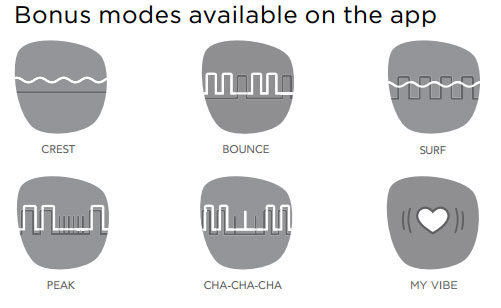 One really nice feature is that by using the app you can draw your own vibration patterns to completely customise the experience. That's really smart.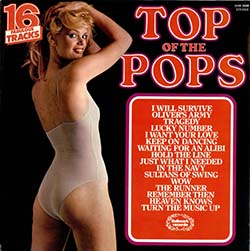 Another nice feature, again only available with the app, is that you can create a playlist of good vibrations, just like you used to do with your cassette tapes and the Top 40 charts.
A USB charging stand comes in the box, and you can expect to charge for 4 hours for 3 hours of battery life.
There's also a discreet case included. I often think the man will be the one that's working away, but this could come in handy if it's your better half off on her jollies.
How Does The We-Vibe Sex Toy App Work?
Well, what you will need to do is download the source files, upload to your C++ server, and then run the compile.exe script from the mainframe.
No, of course not.
In truth, from a technical perspective, I have no idea how the heck the app works.
But work it does.
To get started you simply download the app from the App store – whether that's Google Play, or on your iOS device. Both work.
Here's the official gumph:
We-Connect™ is compatible with iOS (7 or newer) and Android™ (4.3 or newer) Bluetooth® Smart Ready (Bluetooth 4.0) products and has been tested to be compatible with the following devices:
Apple® Devices
(iOS7 or newer):
iPhone (4S, 5, 5C, 5S, 6, 6 Plus)
iPad (3rd Generation)
iPad Mini
iPod Touch (5th generation)
Android™ Devices


(Android 4.3 or newer):
HTC Droid
HTC One (M7, M8)
LG Nexus
OnePlus One
Samsung Galaxy (S3, S4, S5, S6)
Samsung Galaxy Nexus
We-Connect may also work with other devices equipped with Bluetooth® 4.0 and running either iOS 7 or Android™ 4.3 or newer. However, these devices have not been tested and compatibility cannot be guaranteed.
Basically, if your phone doesn't belong in a museum then you should be golden.
And here's some logos to cheer you up:

How Long Is Long Distance?
This depends on how you are using your We-Vibe 4.
Should you be using the hand held remote control then the distance is just a few metres. It relies on blue tooth. Simply put, it's good enough to use in the bedroom – or any other room – but it's not going to diddle your wife whilst you sit in your shed.
If you want to go long distance then you must use the app.
Now, as mentioned, only one or the other – the app, or the hand held remote control – can be actively paired with your We-Vibe 4 at any given time.
Truth be told, both you and your partner are more likely to have your mobile phone handy at particular point than digging around in the sock drawer for the remote control. My advice is to just leave the app paired with the device, as it's all round more fully featured, and the user interface (the app itself) is better, and easier to use.
Once you're using the app, the good news is that it's as long distance as the Internet allows. This is great news should your shed had wifi, as then you can diddle your wife whilst potting your plants. Good news all round for the modern gent, I'm sure you will agree.
To summarise: when using the app you could be on an entirely different continent and still be able to enjoy a little long distance loving with your We-Vibe connected partner.
Unrelated Bonus Fact: Did you know – a woman's clitoris never stops growing. By the time she reaches menopause the clitoris can be up to 7x larger than when she was born.
Excuse Me, Did You Just Say Cyberdildonics?
In digging further into the modern world of web enabled / long distance sex toys I came across the hilarious term of Cyberdildonics. Also commonly (apparently) referred to as Teledildonics. It reminds me of the good old days of the Interwebs, where we used to "log on and surf the web".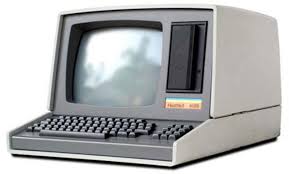 Anyway, it turns out that this whole concept has been around since the 70s. Now, I don't know about you, but the size of gadgets in the 70's doesn't conjure up particularly pleasant pictures in my mind. Certainly not when it comes to insertables. I can just imagine the Tomorrow's World section on robo-sex.
Even the concept of bluetooth enable sex toys has a name – Bluedildonics.
Straying a little further afield, the theory behind cyberdildonics leads to sex with robots, and that sort of thing. Honestly, I still think we are quite some years from that. And even so, where on Earth would the average guy stash his sex robot between uses?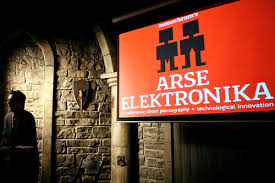 Should you wish to get further involved then consider heading to Arse Elektronika, an entire conference devoted to sex, robotics, and that sort of thing.
How to use the We Vibe 4
You're going to need to use lube with this toy.
Your partner should start off by applying a liberal amount of her favourite water-based lubricant to the G-spot stimulator. This is the smaller / more pointy end, to you and me.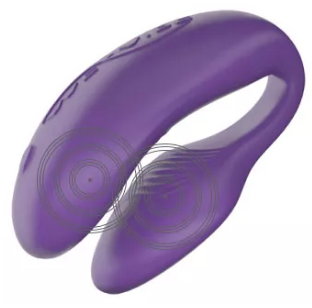 After inserting the G-spot stimulator into your partner's pussy, the "other half" should be sticking out and resting on her clit. So far, all the fun is for her.
Once your toy is lubed up, click the button on the clitty stimulator to turn on the We-Vibe.
At this point you can now use the remote control, or the We-Vibe app to start playing with the various vibration options.
Once you've had your fun, turning off the toy can be done using the phone app, by pressing the power button for 2 seconds on the remote control, or by pressing down the power button on the clitoris stimulator again for 2 seconds.
Does the We-Vibe App Work With Any Other Sex Toys?
Yes, the We-Vibe app – called the We-Connect – works with a number of different We-Vibe toys:
We-Vibe Sync
We-Vibe 4 Plus
We-Vibe 4 Plus – App Only Model
We-Vibe Passionate Play Collection
Charged Up
A full charge takes 4 hours.
If you order from Lovehoney then your package will arrive in discreet packaging, ensuring blushes are saved should your toy be left with a neighbour.
As soon as you get your hands on your We-Vibe, be sure to plug it in and get it charged. Nothing kills a mood faster than flat batteries.
As ever with a vibrating toy, the power of the vibrations drops off as the battery wears down. You should find the battery lasts for at least a couple of months if you charge your toy but don't immediately use it.
Also, as the charging is done via USB, you can charge from your computer or laptop. Handy 🙂
Troubleshooting Your We-Vibe 4
Struggling with your We-Vibe 4?
The best thing to do is to check the We Vibe 4 Instructions (pdf file).
If you are having trouble with the We Connect / We-Vibe 4 app, then there is a dedicated web page for troubleshooting.
We Vibe 4 Movie
If you prefer to see a video of any sex toys before you go ahead and buy then with the We Vibe 4 you are in luck, as there are plenty.
Here are two from YouTube:
And the Lovehoney videos are always worth a watch: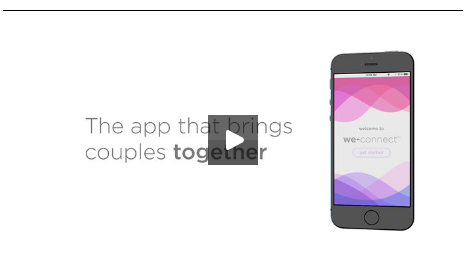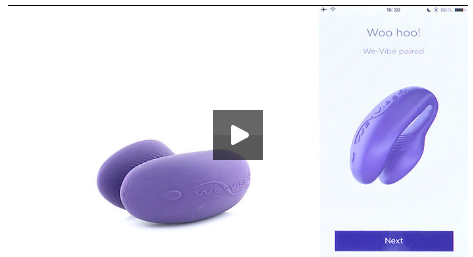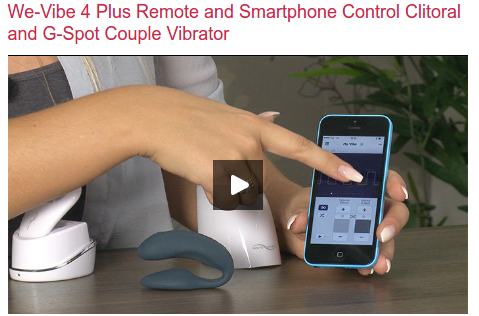 Where to buy the We-Vibe 4 Plus
You can buy the We-Vibe 4 Plus at Lovehoney,   at the time of writing.
At present I am unaware of any We Vibe coupon codes, but if you know of any, please do leave a comment and share.